The full extradition hearing to decide whether Wikileaks founder Julian Assange should be extradited to the United States will take place in February next year, Westminster Magistrates Court in London has ruled.
Assange, 47, is accused by US authorities of conspiring to hack US government computers and violating an espionage law.
He is now fighting against extradition on 18 counts lodged in the US.
Assange told the court: "175 years of my life is effectively at stake."
Addressing the judge as "Lady Arbuthnot", he defended his website against hacking claims, saying: "WikiLeaks is nothing but a publisher."
The court also heard that he has a date at the Court of Appeal, with his legal team later explaining he is to appeal against his sentence.
A crowd of around a dozen supporters held banners, including one with the message "Free Assange", as journalists from national and international publications queued to get into the court, ahead of this morning's hearing.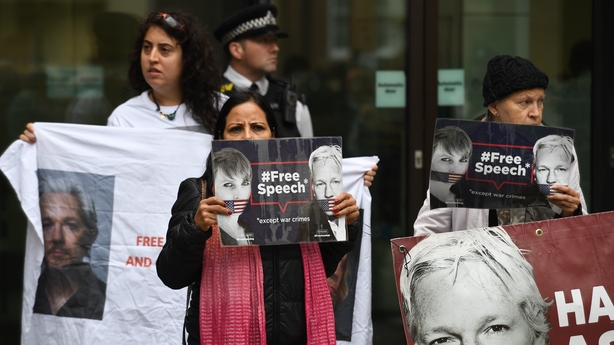 Giving a statement outside court after the hearing, Jennifer Robinson, one of Julian Assange's lawyers, said: "This case is an outrageous affront to journalistic protections.
"This indictment will place a chilling impact and will affect journalists and publishers everywhere all over the world, by the US seeking to extradite and prosecute a publisher outside the US, who is not a US citizen, for having published truthful information about the United States."
She said the material included "evidence of war crimes, human rights abuse and corruption the world over".
---
Read more:
Assange US extradition order signed by British Home Secretary
US files 17 new charges against Julian Assange
Swedish prosecutor files request for Assange's arrest 
---
Assange is serving a 50-week prison sentence after being dragged out of the Ecuadorian embassy in April and jailed for a bail violation.
And an investigation has also been reopened into an allegation of rape in Sweden, which Assange has always denied.