President Michael D Higgins has told RTÉ News that Ireland and the UK will be working closer together after Brexit.
Mr Higgins made the comments following a joint engagement with Britain's Prince Charles in Liverpool.
They both became patrons of the Institute of Irish Studies at the University of Liverpool.
The event was also attended by the Irish Ambassador to the UK, Adrian O'Neill.
''In the circumstances we all find ourselves in after Britain leaves the European Union - if it does - I think at that stage all these relations become all the more important,'' Mr Higgins said.
The president has received a warm welcome during his three-day visit to the UK and he is optimistic that future relations between Ireland and the UK will be strong.
''There's no doubt whatsoever that we will be working ever closer together, but probably doing it in new circumstances,'' he explained.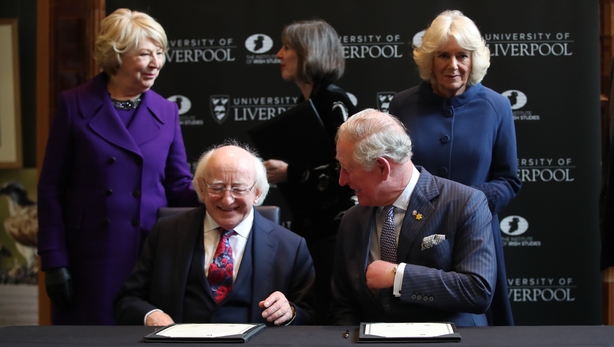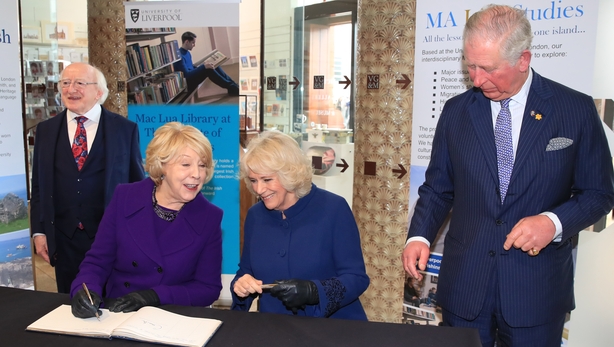 University of Liverpool Vice Chancellor, Professor Janet Beer, said: "The Institute of Irish Studies plays a huge role in shaping the relationship between our islands, through its research, events, student programmes and expertise.
"This visit provides an excellent opportunity for us to showcase this important work."
For many of those attending the event, it was seen as a moment of unity and friendship between the two at a crucial moment in Anglo-Irish relations.
''Having Prince Charles and the President here is hugely symbolic at a moment like this but there's no doubt there's a lot of anxiety in the air,'' said Catherine Heaney, daughter of Seamus Heaney.
During what was his third visit to Liverpool, President Higgins also spoke to Irish business leaders at a lunchtime briefing.
Mr Higgins said that despite the challenges ahead, the €72bn a year trading partnership between Ireland and the UK will be protected.
Earlier, crowds lined the streets outside the University of Liverpool to catch a glimpse of Prince Charles and his wife Camilla along with the President and Sabina Higgins.
At Birmingham Town Hall yesterday, Mr Higgins said "the deep friendships which have grown between Britain and Ireland" will be more important than ever in the wake of Brexit.
He paid tribute to the victims of the 1974 bombings in Birmingham, laying a wreath at a new memorial near the site of the bombings.
Tomorrow, Mr Higgins will have a further day of engagements before departing for Dublin.
We need your consent to load this rte-player contentWe use rte-player to manage extra content that can set cookies on your device and collect data about your activity. Please review their details and accept them to load the content.Manage Preferences