Gatwick Airport was forced to use whiteboards to display flight updates following an IT failure.
Staff at the UK's second busiest airport resorted to manually writing out vital information such as gate numbers as digital screens could not be used.
Some passengers missed their flights due to the issue, caused by a damaged fibre optic cable.
The problem emerged in the early hours of the morning and was not fully rectified until around 5pm.
August is one of the busiest periods of the year for the airport as many families embark on summer holidays.
A spokesman said: "The airport's manual contingency plan, which included displaying information manually in the terminals and having extra staff on hand to help direct passengers, worked well and tens of thousands of passengers departed on time and no flights were cancelled.
"Gatwick would like to apologise to any passengers who were inconvenienced by this issue."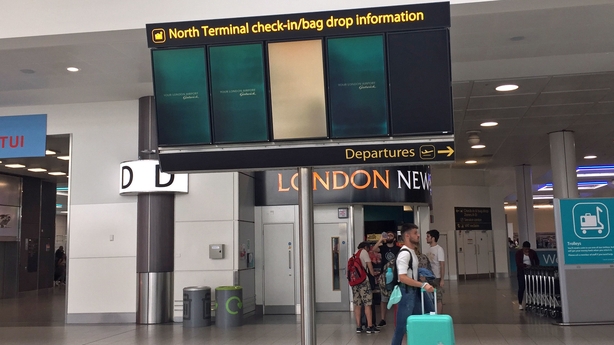 He added that a "handful of people have missed their flights" as a result.
Ayla Herbert, 26, from Penryn, Cornwall, was at the airport for a Flybe flight to Newquay when she encountered a crowd gathered around two whiteboards after passing through security.
She said: "Each flight was written down, flight number, time of departure, time of when boarding would be announced and eventually the gate number.
"This crowd over the hours grew larger and larger. Being in the entrance way of the departures it got incredibly busy, people were agitated, yelling for them to tell them their flight info and to get more boards for the South Terminal.
"This was never done. The guys did well keeping everyone updated, but it was hard to see if you weren't close to the board. They used megaphones to tell everyone of updated information."