Tánaiste Simon Coveney has said there is too much focus on the possible negative consequences of Britain leaving the European Union without a deal given that it is still an unlikely scenario.
Asked if he accepted that Ireland had more to lose from a no-deal scenario than the UK, he said: "There's probably too much talk of the negative consquences of a no deal Brexit."
He added: "Clearly, for Ireland, a no deal Brexit is very bad news. Clearly, for Britain, a no deal Brexit is very bad news too ... We have to prepare, of course, in terms of contingency planning, for that eventuality ... but I do not think that that is a likely scenario."
Earlier, he said that Ireland would "absolutely" support Britain if it asked for an extension to the Article 50 timetable for leaving the EU.
Speaking in an interview with BBC radio he said: "If Britain asks for more time, and if that's necessary to get to a sensible agreement, well then we would support that."
Britain is due to leave the European Union on 29 March 2019 after it formally notified the bloc of Britain's intention to leave the EU by triggering Article 50 of the EU's Lisbon Treaty in March 2017.
Mr Coveney also said that he does not believe that a 'no deal' Brexit is likely to happen.
He said by the end of September multiple government departments will have presented costed detailed plans in terms of Ireland response in the event of a no deal Brexit.
Mr Coveney said he will discuss Brexit with the British Brexit minister Dominic Raab later today.
Mr Coveney said: "We need to be focusing on the intensification of negotiations to try and find solutions and a way forward, as opposed to this tough stance that some people feel the need to take.
"Saying 'Do your worst, we can deal with a no-deal Brexit situation' isn't going to solve this problem.
"What's going to solve this problem is trying to accommodate Britain in terms of its asks where possible while understanding that the EU needs to protect its interests and the interests of its member states."
Speaking during a visit to Belfast, British Chancellor of the Exchequer Philip Hammond ruled out seeking an extension of Article 50.
He highlighted that parliament had legislated for the current exit date
"We don't have a legal basis now for extending our membership of the European Union even if we wanted to do so," he said.
Mr Hammond also rejected any suggestion that Prime Minister Theresa May's confirmation that she was leading the negotiations with Brussels meant Mr Raab had been sidelined.
"The Prime Minister has always been the principal negotiator," he said.
"This deal, to get done, is going to be done at the level of heads of government.
"Of course a lot of the negotiation will be done by our teams in Brussels and Dominic Raab as Brexit Secretary will be heavily involved in that work.
"But, in the end, it's going to be a deal cut round the table between the 28 heads of government and Theresa May will be engaging directly with her counterparts to get that deal for Britain."
Mr Coveney and Minister for Justice Charlie Flanagan were in London today for a meeting of the British-Irish Intergovernmental Conference with the British government's Cabinet Office Minister David Lidington and the Secretary of State for Northern Ireland, Karen Bradley.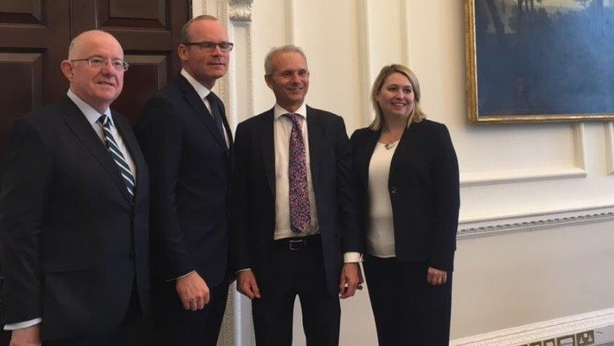 The conference last met in 2007 and its return has proved controversial.
Mr Coveney and Mr Flanagan said the two-hour discussion was worthwhile and there will be another meeting in the autumn.
Mr Lidington said the council respected the terms of the Good Friday Agreement.
"It is consultative, not executive, in format and it is there to talk about those matters that are not devolved to the assembly and executive of Northern Ireland," he said.
The meeting included discussions on security and prisons, he said.
Both sides also accepted there is a need for new structures of communication and contact between the Irish and British governments post Brexit and instructed officials to work up some proposals on that question.
Additional reporting Tommie Gorman