Russian diplomats expelled from Britain over the nerve agent attack on former double agent Sergei Skripal have left the country.
The 23 diplomats and their families flew out of London's Stansted Airport on board an Ilyushin-96 plane this afternoon.
The state-owned Russian plane made a special flight from Moscow to collect the diplomats.
Prime Minister Theresa May blamed Russia for this month's attack on the Russian double-agent and his daughter Yulia in Salisbury.
Last week, she gave 23 Russians whom she said were spies working under diplomatic cover one week to leave London.
It was the first known offensive use of a nerve toxin in Europe since World War II.
Mr Skripal and his daughter are still fighting for their lives after being exposed to Novichok in the city.
Britain's National Security Council is considering the latest developments in the case and how to respond to Russia's reaction to the expulsion of the diplomats.
Russia announced a tit-for-tat measure of throwing out 23 British diplomats, but also said it would close the British Council and shut down the British consulate in St Petersburg.
Mrs May told the Russians to pack their bags last Wednesday and there was lots of activity around the country's embassy this morning as the diplomats and their families prepared to return home.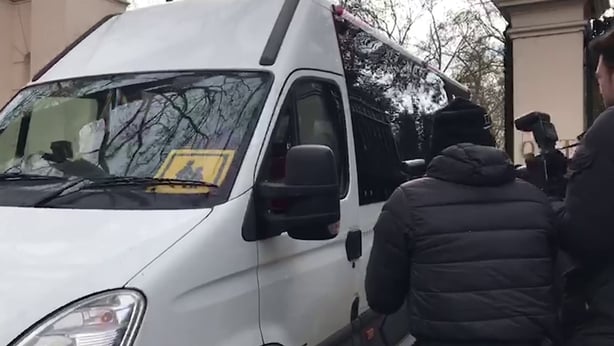 People could be seen heading towards a white coach parked inside the gated Kensington Palace Gardens complex in London, close to the Russian Embassy.
Hugging each other, holding children, pet carriers, suitcases and bags, a number of individuals left in a procession of vehicles including three cars, five people carriers and three small-sized coaches.
Elsewhere, experts with an international chemical weapons watchdog were sent to Britain following the Salisbury attack and the results of the analysis will take about three weeks, according to the agency's head.
"Upon the request of the British government, the OPCW has deployed some experts to the UK and they will collect some samples," Ahmet Uzumcu, director general of the Organisation for the Prohibition of Chemical Weapons, told a news briefing at the United Nations.
Asked about indications of the origin or type of substance used on Mr Skripal and his daughter, he said he "cannot project the outcome of such technical work."
Mr Uzumcu added that results of the analysis will take "three weeks ahead at least."