British Prime Minister Theresa May has said she will carry on providing "calm leadership" at the head of the government following the disclosure that some Tory MPs are urging her to stand down.
Speaking in her Maidenhead constituency, Mrs May said she has the "full support" of the cabinet.
She told reporters: "Now what the country needs is calm leadership, and that's what I am providing with the full support of my cabinet."
Her comments follow the disclosure that former party chairman Grant Shapps is leading a group of rebel MPs urging her to stand down.
Mr Shapps has claimed the backing of around 30 backbenchers, including five former cabinet ministers, although loyalist MPs have accused him of exaggerating his support.
Mr Shapps said there is a "broad spread" of opinion among Conservative MPs who believe they cannot carry on as they were.
"They are Remainers, they are Brexiteers," he told BBC Radio 4's Today programme.
"A growing number of my colleagues, we realise that the solution isn't to bury our heads in the sand and just hope things will get better.
"It never worked out for Brown or Major and I don't think it is going to work out here either," he said.
Senior ministers continued to rally around Mrs May, with Environment Secretary Michael Gove - who ran against her in last year's leadership election - insisting there was no need for a contest.
What would trigger a Tory party leadership contest?
"The prime minister has been doing a fantastic job," he told the Today programme.
"She showed an amazing degree of resilience and courage this week, of a piece with the fantastic leadership she has shown through the time that she has been prime minister."
It is thought that around 30 Tory MPs are backing the calls for a leadership election - short of the 48 needed to force a contest under party rules.
Mr Shapps would not be drawn on the number but did confirm that he had the support of five former cabinet ministers.
He said that while ministers were publicly backing the prime minister, in private some believed she should go.
He said the plan had been to approach Mrs May privately but the government whips had leaked details to the Times.
"I am slightly surprised that the whips decided to brief a newspaper about it. That was their idea to smoke people out," he said.
"The intention was to be able to go to Mrs May with a list of names - probably with the former cabinet ministers going to see her."
He added: "It will have to be her decision. I had rather hoped that we would be able to get to a point where we could go to her privately and have this conversation; I am very sorry that the whips have not made this possible."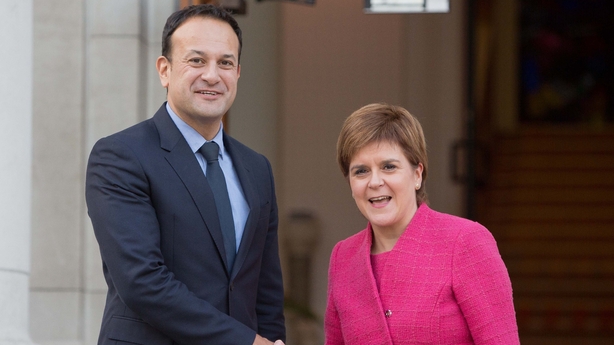 Meanwhile, Scottish First Minister Nicola Sturgeon has said Mrs May is now "without authority" leading a deeply divided government, which is "a big problem for the country as a whole".
She described the Tories as shambolic and said it is not in the interests of anyone in the UK to have such a shambolic leadership.
Speaking on RTÉ's Morning Ireland during her visit to Dublin, Ms Sturgeon also expressed concern about the divisions in the Conservative party, saying a change of leadership "raises a concern that the position [on Brexit] becomes more extreme".
However, she said she "shuddered" at the thought of Boris Johnson as prime minister.
Ms Sturgeon urged a more "pragmatic, sensible" approach to Brexit, urging "at the very least" that the UK remain in the single market and customs union.
She said she is "up against" a Conservative government in London that is determined to see the UK out of the EU, customs union and the single market.
On Brexit, she said as well as a sensible transition period, she is concerned about what happens next and is working her best to ensure Scotland's interests are protected.
She said while it was positive to hear Mrs May concede "this notion of a transitional period" there is still a lack of clarity about what the end result might be.
Ms Sturgeon said she would like to see "as a point of destination'" for the UK to remain in the single market.
She said she does not want to see customs checks at Stranraer or the re-introduction of a hard border on the island of Ireland.