At least one person has been killed after two terrorist attacks in London earlier tonight. 
A van ploughed into pedestrians walking on London Bridge and there were reports of multiple stabbings in the nearby Borough Market area.
Emergency services were seen treating people lying injured at the junction of Thrale Street and Southwark Street, near Borough Market. 
British Transport Police said there were reports of "multiple" casualties following the major incident on London Bridge.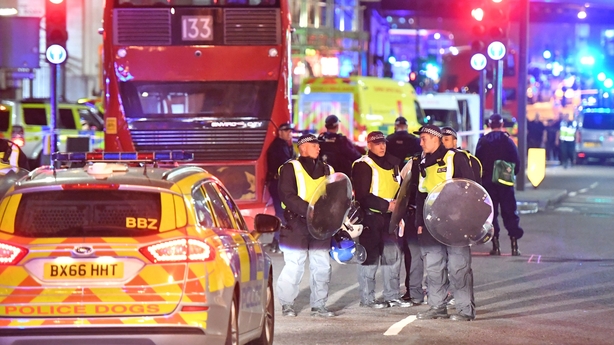 One witness told the BBC she saw a speeding white van veering into pedestrians at London Bridge. That witness said the van hit five to six people. Dozens of emergency vehicles in the area around London Bridge.
And in the popular food market in south London, witnesses said they saw a man with a large blade.
Police boats were searching the river - apparently looking for people who may have been thrown off the bridge.
British Prime Minister Theresa May will chair a meeting of the government emergency response committee in the morning.
The incident bore similarities to a March attack on Westminster Bridge, west of London Bridge, in which a man killed five people after driving into a crowd of pedestrians before stabbing a police officer in the grounds of parliament.
Brutal and shocking incidents reported in London. My thoughts are with the victims and their families. Thank you to the emergency services.

— Jeremy Corbyn (@jeremycorbyn) June 3, 2017
Taoiseach Enda Kenny said "we stand with our close neighbours again tonight" and the Irish Embassy is monitoring the attack. 
London Mayor Sadiq Khan has called the terrorist incidents at London Bridge and Borough Market "deliberate and cowardly", adding: "There is no justification whatsoever for such barbaric acts".
.@dfatirl says number is 01 408 2000 for those concerned about family or friends in #London

— Ailbhe Conneely (@AilbheConneely) June 4, 2017
White House press secretary Sean Spicer said US president Donald Trump had been briefed on the incident by his national security team.
Facebook has activated its safety check for people in London to let loved ones know they are OK.
The attacks come days ahead of a 8 June election and less than two weeks after a suicide bomber killed 22 people in Manchester.