By Yvonne Murray
Swimming in the sea off the coast of Hong Kong should be a magical experience.
The lush green hills sweep down to long beaches, where the gentle breeze and surf combine to create what should be a tropical paradise.
But put your head under the water and the grim reality of marine pollution appears: torn plastic bags, drinks bottles, Styrofoam fragments, cotton wool buds, coloured straws, discarded noodle boxes and many other types of floating rubbish.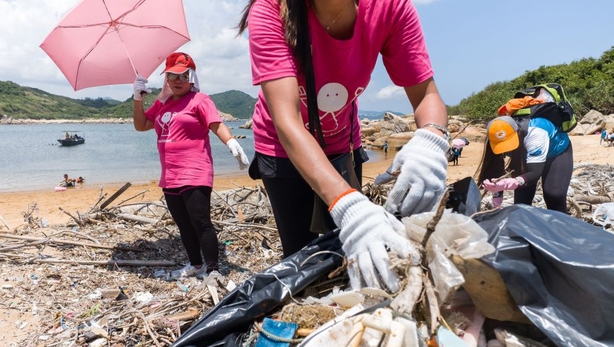 "We have a disposable culture in Hong Kong," says Patrick Yeung, marine project manager with the World Wildlife Fund for Nature, Hong Kong, "like buying bottled water or buying takeaways in single-use plastic and then just dumping it."
"And also we do not have a good waste management system," he says.
"During the rainy season, a lot of trash gets carried down the storm drains and rivers and into the sea."
Hong Kong's domestic pollution problem has intensified since China's ban on the import of mixed waste plastic last year.
Operation National Sword initiated strict customs checks which meant all contaminated waste would be turned away.
Hankang Recycling Ltd in northwest Hong Kong runs an industrial plant which separates, cleans and recycles waste into PET products and plastic pellets which can be sold into China.
Plastic pellets are used in China's manufacturing industry to make new industrial and domestic products.
Hankang Recycling is one of the few Hong Kong businesses that are collecting local rubbish for re-processing.
The sorting process is dirty and time-consuming and much of it is carried out by hand.
On the conveyor belt a line of women dressed in blue overalls, wearing face masks and orange ear plugs, sort through bottles, plastic containers, yoghurt pots, bin liners - much of it contaminated with food and household waste - and drop them down separate chutes.
"It takes time to train people," says a manager, Mr Lai.
"But they stay just three or four months and then quit, even though the salary is good. But the work is hard."
"We need to spend a lot of money on sorting to make our plastics high quality," he adds.
After China stopped taking mixed waste, there were reports that rubbish piled up in Hong Kong. 
We need your consent to load this rte-player contentWe use rte-player to manage extra content that can set cookies on your device and collect data about your activity. Please review their details and accept them to load the content.Manage Preferences
A Sky News investigation found bags marked for recycling from Chelmsford council in England dumped in a Hong Kong landfill site. The waste importer explained that he had expected to receive clear plastic bottles from his European agent but he was cheated. 
The waste was too dirty to send to China, he said, and the sorting and cleaning process in Hong Kong would have been too costly.
In an email exchange, a representative from the company said that for waste coming to them from Ireland or other European countries "the destination would always be Malaysia or Vietnam."
For campaigners, China's decision to refuse imports of "foreign garbage," was a wake-up call to European consumers and industries who, they say, had long used China as a "dumping ground."
Before the ban, Ireland was reportedly exporting 95% of its waste plastic to China. 
But new markets are opening up in other South East Asian countries such as Thailand, the Philippines, Indonesia, Vietnam and Malaysia to where some waste imports are being redirected. 
And while China has officially closed the door, some recyclers inside the country are still managing to obtain imported plastics to feed their machines.
"According to an anonymous source from China customs, waste smuggling decreased between 2013 and 2016," says Ada Kong, Head of Toxics Campaign, Greenpeace East Asia, "both in terms of the number of registered cases and the net total waste."
"However, this increased significantly in 2017 and has remained high in 2018," she adds.
"There have already been 139 registered cases of waste smuggling in the first quarter of 2018, and it's very possible that we'll see this trend continue to increase because of the foreign waste ban."
Nevertheless, the closure of the official market has had a major impact on the global plastic export industry and for countries like Ireland, that largely depended on China for their waste management, either having to find new destinations for their rubbish or deal with it at home.