Presidential candidate Emmanuel Macron this week urged French voters to turn the page on the last 20 years and bring a new generation to power, as he stepped up attacks against resurgent far-left and conservative rivals.
The 39-year-old pro-EU centrist would become the youngest French leader since Napoleon, if elected.
He said recent leaders had betrayed the post-war generation which had rebuilt the country, leaving France unreformed and sclerotic.
"What has been proposed to the French in the last 20 years is not liberation or reconstruction, but a slow, unavowed acceptation of unemployment, state impotence and social breakdown," he told a cheering crowd in Paris.
Investors are glued to the outcome of France's most unpredictable election in decades. Polls suggest growing numbers of voters are turning away from mainstream parties because of disenchantment with the establishment and frustration at years of economic malaise.
With an eye on surveys showing his status as favourite being eroded by a late surge in support for far-leftist Jean-Luc Melenchon, Macron hit back at the Communist-backed candidate who wants France to join a Latin American alliance of leftist leaders founded by late Venezuelan leader Hugo Chavez.
"Some would like France to become Cuba without the sun or Venezuela without the oil," he said.
An Opinion Way poll put Macron and far-right leader Marine Le Pen both on 22% for the first round of the election to be held on Sunday.
Conservative Francois Fillon was just behind on 21%, having recovered some ground since being hit by a scandal over hundreds of thousands of euros of public money he paid his wife while employing her as his parliamentary assistant.
Melenchon gained one point in the same poll to 18%, confirming the election is now a four-way race and making it impossible to predict with certainty which two candidates will contest a deciding run-off on 7 May.
Two other polls had Macron just ahead of Le Pen in the first round, and beating her comfortably in the second.
On the sidelines of the rally, which came hours before Le Pen's own event in the French capital and as Melenchon campaigned on a barge sailing through Paris's canals, Macron's close aides acknowledged the former economy minister and investment banker was not guaranteed to reach the runoff.
"It's tightening. Fillon could find himself in the second round if he mobilises his base," Christophe Castaner, a Socialist politician close to Macron, told reporters.
"And then people on the left will go: 'damn it!', like in 2002," he added, in reference to the shock qualification of Le Pen's father Jean-Marie 15 years ago at the expense of former Socialist premier Lionel Jospin.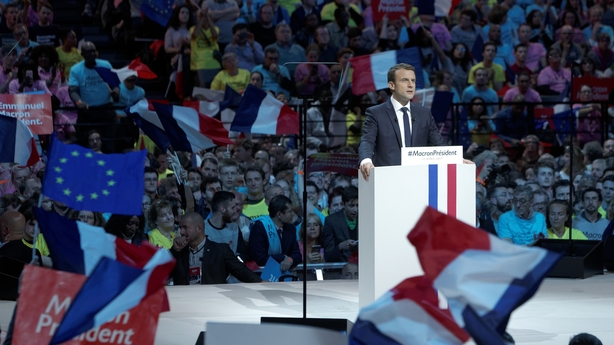 However, many in the crowd, which waved French and European flags, continued to believe he would win because of his pro-EU stance and his pledge to transcend the Left-Right divide.
"We would be proud to be represented in the world by a young and brilliant man, who's also measured and pragmatic," Florence Ombret, a 50-year old teacher from Nevers, told Reuters.
"It would be an earthquake if we were represented by anti-Europe candidates. We can't take this risk, we're nothing without Europe," the former Socialist voter added.