A number of coastal communities around Ireland have what is known as a Community Rescue Boat service in their area. It is a service that is entirely dependent on local volunteers and traditionally set up following drowning tragedies in their communities, writes Mark O'Flynn.
According to Irish Water Safety, 11 people around Ireland drown every month. Statistics show that during good weather, there is an increase in the number of accidental deaths by drowning around the country.
Met Éireann has said that during the period of warm weather in summer 2013, most of its weather stations across Ireland reported their highest summer temperatures in seven to 18 years.
Figures from Irish Water Safety say that the number of accidental deaths by drowning that year was at 62%, a very high percentage when compared to other years such as 44% in 2012 and 48% in 2014.
Listen: Morning Ireland report
CRB groups are a Declared Resource for the Irish Coast Guard and administered by Irish Water Safety. According to the Coast Guard, there are 12 such groups around Ireland.
Gerard O'Flynn, Operations Manager at the Irish Coast Guard, said that the volunteer service is an integral part of the Irish Search and Rescue framework.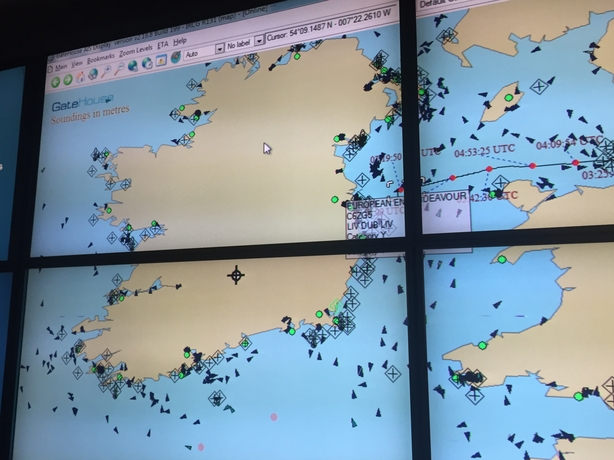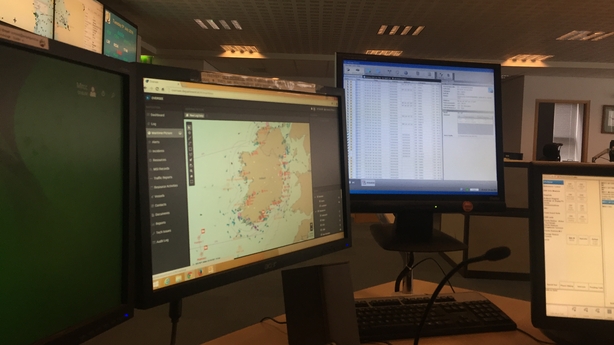 "There are various grouping of volunteers, but the most important are the volunteer Coast Guard unit themselves; the RNLI which is a volunteer based service.
"We also have a Community Rescue Boat service, which are 12 individual community based organisations mainly on the south, south west and south east coast, who provide a local response to maritime incidents as well.
"In addition there are a number of other community groups and organisations that do make themselves available on an individual or case-by-case basis."
One CRB group is Bantry Inshore Search and Rescue in west Cork.
This group was established after two local people drowned in Cove, which is nearby. There are approximately 28 people from the local community who volunteer with the service, comprising shore and boat crew. The group trains every Monday evening and one Saturday a month.
Members of the group, as well as other CRBs, are available on a 24/7 basis.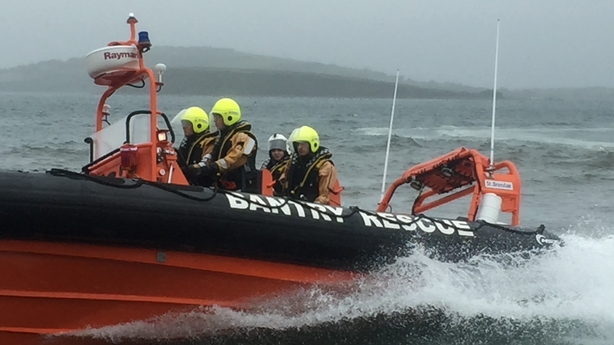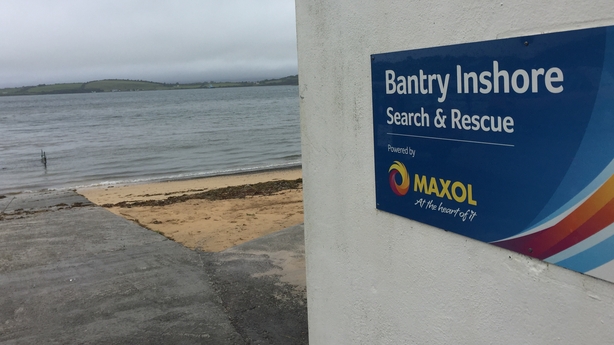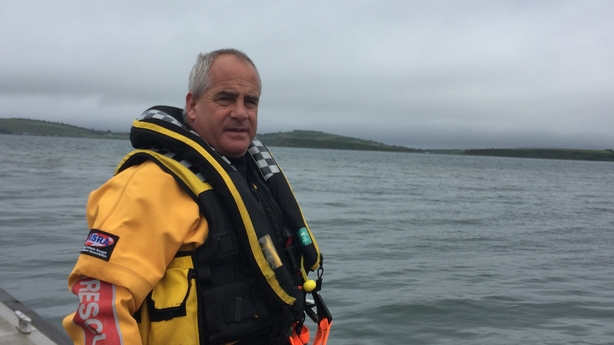 Shane Begley, Operations Manager at the centre, told RTÉ News that members of the CRB group must carry pagers with them, so that if an incident occurs the team will assemble at the station and launch. He said the main criteria for becoming a member is that a person has to live within two miles.
Mr Begley said that the boat, an MST750 rib, has had a positive impact on the Bantry community.
"Our call outs are anywhere between seven and 14 per annum ... Every community would like to have a life boat base there because it just gives you that extra bit of comfort I suppose when you're on the water."
He said that the majority of its funding comes from the local community and surrounding areas in Bantry through fundraising.
Tragedies at sea have been seen by many coastal communities around Ireland, including Union Hall in west Cork.
On 15 January 2012, the Tit Bonhomme fishing trawler sank in heavy seas after it hit rocks and suffered a catastrophic grounding at Adam's Island, 2km from the safety of the village.
Six crew members were on board the vessel – Egyptian fisherman Abdelbaky Mohammed was the only survivor.
The five men who died were skipper Michael Hayes, Kevin Kershaw from Dublin, and three Egyptian fishermen – Wael Abdelgawad, Attia Shaaban and Said Ali Eldeen.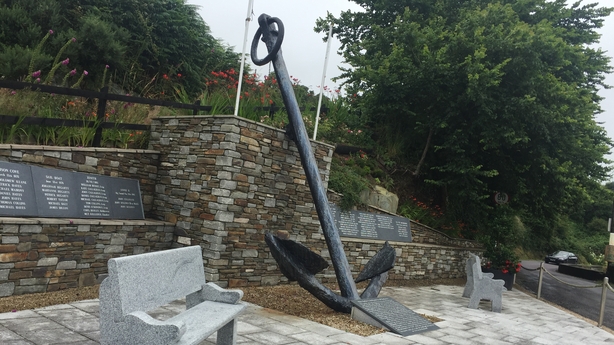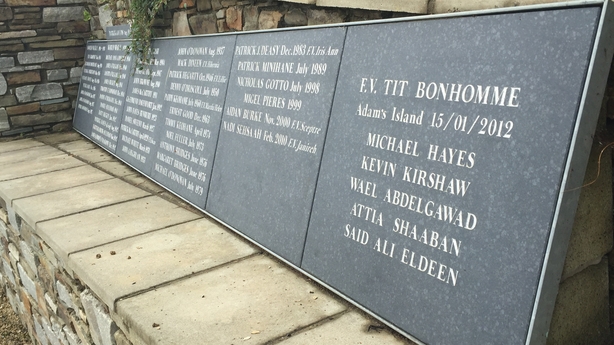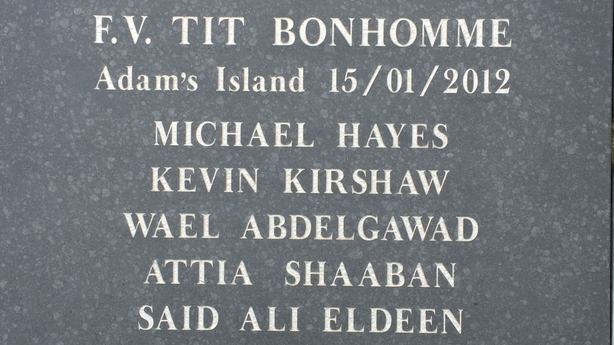 For 26 days, a massive search and recovery operation went underway to recover the bodies of the missing crew members.
Fr Pierce Cormac, who is originally from Union Hall, is the chaplain at Cork University Hospital. He said that at the time of the tragedy, local people from the community wanted to help.
"There was raw grief ... There was a lot of very difficult moments.
"The important thing for us was that we all worked together, and everybody worked together in a wonderful way. It wasn't about any one person, it was a team involvement and I think it brings out the best in community, to see that people can actually work together."
Bill Deasy was one of the organisers of the community response team in Union Hall. He said that people came from all over Ireland to assist in the search for the missing fishermen.
Speaking to RTÉ News, Mr Deasy said that local people donated spare rooms in their homes, and holiday houses were also offered for free for the many volunteers who assisted in the search. "We were given keys to these houses and [they] said 'Use them for as long as you want'".
Mr Deasy said on the morning of the tragedy, a tent was donated and set up on the pier where food was given to the volunteers who took part in the search.
He said that food was donated from all over Cork, and that porta cabins as well as caravans were also donated because, Mr Deasy said, "We felt that relatives of the people involved in the tragedy, they could go in there and be among their own people.
"We just couldn't thank people enough for their generosity at that time."
Now, efforts are underway to establish a rescue boat to be permanently based at Union Hall. Mr Deasy said that if a decision is reached to base a lifeboat station at the village, the late Dr Raymond Fielding has bequeathed the cost of such a new facility.
Currently, a RNLI vessel is on a two-year trial period in Union Hall and ends later this year.