3,500 Irishmen were killed at the Battle of the Somme between July and November 1916. One of them, Thomas Gordon Fitzpatrick, was a prolific writer of letters home to his wife in Dublin.
Alyson Gray, a researcher with Century Ireland, discovers the personal stories behind an extraordinary collection of letters that have remained hidden to all but Fitzpatrick's family for almost 100 years.
Late last year I sat with Belinda Curtis in her kitchen in Greystones, Co Wicklow as she brought out three large folders, marked 1914, 1915 and 1916.
The folders, full of her great-grandfather's letters from World War I, were in remarkably good condition and had never before been viewed by anyone outside the family. And there were so many of them. Alongside postcards, photographs and ID tags, there were almost 400 letters, all of them written by Thomas Gordon Fitzpatrick, a soldier in the 8th Battalion of the Royal Irish Fusiliers to his wife Ethel who lived in Ranelagh, Co Dublin.
Sifting through this extraordinary paper heirloom, Belinda pointed out different lines she liked and recounted anecdotes about Thomas and the family. The family then generously allowed Century Ireland to scan a selection of the letters that open a window not just on the experience of Thomas in the trenches of France; they also shine a fascinating light on the relationship of a couple in the final months of a marriage cut short by Thomas's death during the Battle of the Somme in opening days of September 1916.
READ: Myles Dungan on Ireland at the Battle of the Somme
I met with Belinda again recently to find out more about the Fitzpatrick family and she explained that the letters were kept by Ethel but weren't discovered until after she had died. When Belinda's mother and aunt found them they immediately understood their importance and made it a priority to preserve them and find out more about their family story.
Belinda imagines that the letters might not have been read much by Ethel or her children throughout their lives as it might have been too emotional, too upsetting. In fact the final letter sent home by Thomas was never opened by Ethel and the envelope will remain sealed until September when some family members will travel to France to visit Thomas's grave and open the letter on the centenary of his death.
Thomas and Ethel Fitzpatrick were both from Dublin and although Belinda is unsure of how they first met, she imagines that they may have moved in similar circles in Dun Laoghaire, as both of their families had connections to that area.
On their marriage in 1900 they settled in Mount Pleasant Square in Ranelagh where they raised a family of nine children.
"She was a little bit older than him, although I don't think she let on", Belinda says with a smile. She wonders whether Thomas's repeated references to Ethel as 'old girl' throughout the letters are a nod towards to this, perhaps an in-joke they had between them.
Thomas worked in the office of railway company LNWR in North Wall before signing up to the British army shortly after the outbreak of war in August 1914. On joining the 8th Battalion of the Royal Irish Fusiliers, Thomas spent the remainder of 1914 and all of 1915 in training both in Ireland and England. In February 1916, he was sent to France and within months, he was dead, killed in action during a push across a road near a village called Combles, into Leuze wood on the 6 September 1916. He was just 36 years old.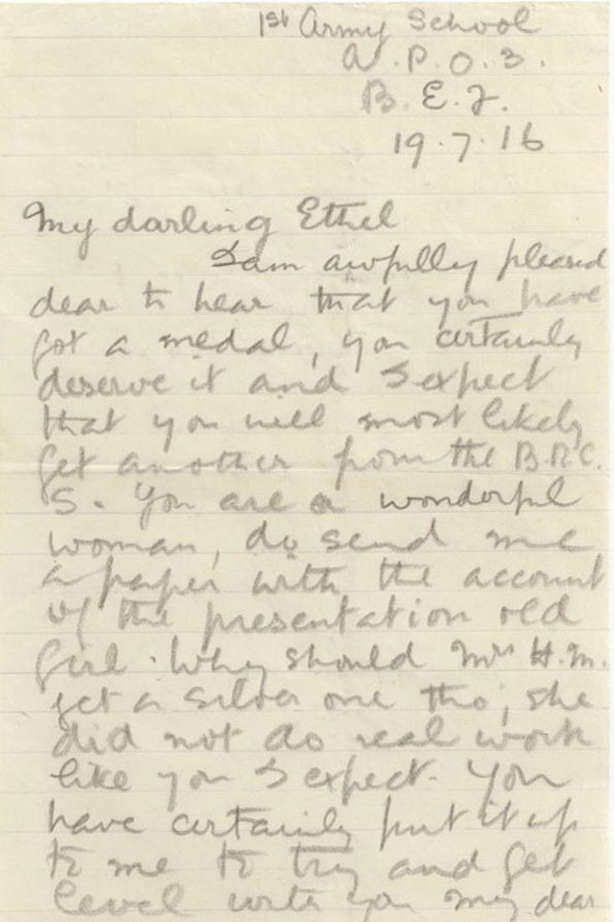 The letters written by Fitzpatrick before his death are striking for their banality. Little is revealed about the realities of the front-line experience or the horrors of war. Instead, the focus is on the personal and the domestic: Fitzpatrick inquires about people and the goings-on at home, and contemplates a future life beyond the war. As Belinda explains, her great-grandfather wrote about "the mundane things like socks, money and the house and how people were at home, to really fun things like the behaviour, or the bad behaviour of the soldiers while they were barracked in Ireland."
The ordinariness of such preoccupations does nothing to lessen the historical value of the letters. Indeed, correspondence from front-line soldiers often affords unique insights into the emotional and psychological well-being of their writers. They allow them to connect with their civilian and human side, from a place where humanity itself is being diminished.
So it is with Thomas Gordon Fitzpatrick. In his letters home, he regularly reminds his wife Ethel that he is doing fine – that he is, as he puts it on several occasions, "in the pink". And he asks her, perhaps against all hope or expectation, not to worry.
"Look here old girl, please don't worry over me I'll be alright and please goodness we will have many happy years together, so remember dear you are a soldier's wife and keep a brave heart and look after yourself well." (19 June 1916)
Read more of Thomas Fitzpatrick's letters here
Belinda believes that in attempting to alleviate her concerns, by focussing on often prosaic subject-matter, Fitzpatrick was just maintaining a brave face and protecting his wife. "I think by sticking with the day-to-day things he probably was trying to protect her so she wouldn't worry, because it must have been terrifying for her. It couldn't have been anything other than terrifying."
It must have been terrifying for Thomas too. For while he made regular mention of the things he was looking forward to doing on his post-war return, Belinda detects in the letters a sense that Thomas didn't really believe that he was ever going to make it home; she suspects that discussion of the future was little more than wishful thinking.
"You can really get a sense of change between the letters from the barracks (in 1914 and 1915) to the ones at the front. You can see that they've gone from complete tedium, day in day out, to bang. It's like a naught to 90, going from nothing to everything happening, it must have been terrifying."
And yet, only rarely does Thomas give any inkling that he was involved in anything combative or dangerous at all – and even then the message was one of reassurance. On 13 July 1916, for instance, Fitzpatrick writes: "Our little lot have made a raid which was a success, so I feel very bucked."
Less than two weeks beforehand, on 1 July 1916 – the first day of the Somme offensive and one of the bloodiest and most costly in British military history – Fitzpatrick writes that he has no news, remarking instead upon on a recent family trip to Kingstown and his youngest daughter losing her first tooth.
Censorship certainly had a role to play in the downplaying of the fighting in the personal correspondence of soldiers. However, Belinda believes that writing about matters ordinary and mundane would have been as much a help to Thomas as his wife at home. It would, she says, have helped him to maintain a positive mind set. It reminded him that he had something to fight for when things got particularly difficult.
That's entirely plausible. Letters are known to have played a vital role in keeping up the spirits of the soldiers while away at war. Contact from home reminded a soldier about what he was fighting for and kept him motivated. The British Army understood this all too well and it has been argued that their most effective weapon throughout the First World War was not shells or tanks, but morale.
That is why, with the help of the post office, they encouraged the flow of correspondence between soldiers and their families to and from the Front. For French-based British soldiers, the traffic in letters and postcards was often quick and voluminous. Geographical proximity, allied to an efficient postal service and high levels of literacy, meant that letters were sent constantly – sometimes at a rate of two a day to ease the boredom and misery of being stuck at the front or in training.
For Belinda Curtis, the large cache of letters that she has so carefully preserved and now so proudly displays are principally a means of connecting with great-grandparents that she never had the opportunity to meet.
"It actually feels like you know them", she remarks. The letters certainly make it possible to better imagine the lives of those detailed within. Reading through them one can easily imagine Thomas continuously checking with the army post office for a reply - he mentions more than once that he was still waiting on a letter.
And one can well imagine, too, the difficulty experienced by Ethel in trying to find time to keep up with the correspondence while raising nine children, looking after her house and going about her daily routines. Indeed, Ethel's story is no less remarkable than that of her husband. For all that she was burdened by onerous domestic responsibilities she was likewise keen to play her part in the war effort and trained as a nurse in Portobello Barracks, where she was also subsequently based.
During the Easter rebellion of April 1916, Ethel tended to the wounded and her services outside the GPO were such that she was later awarded a bronze medal and certificate of honour from the grand priory order of the hospital of St John of Jerusalem – she eventually received her medal from Sir Henry Blake in the RDS on 16 January 1917.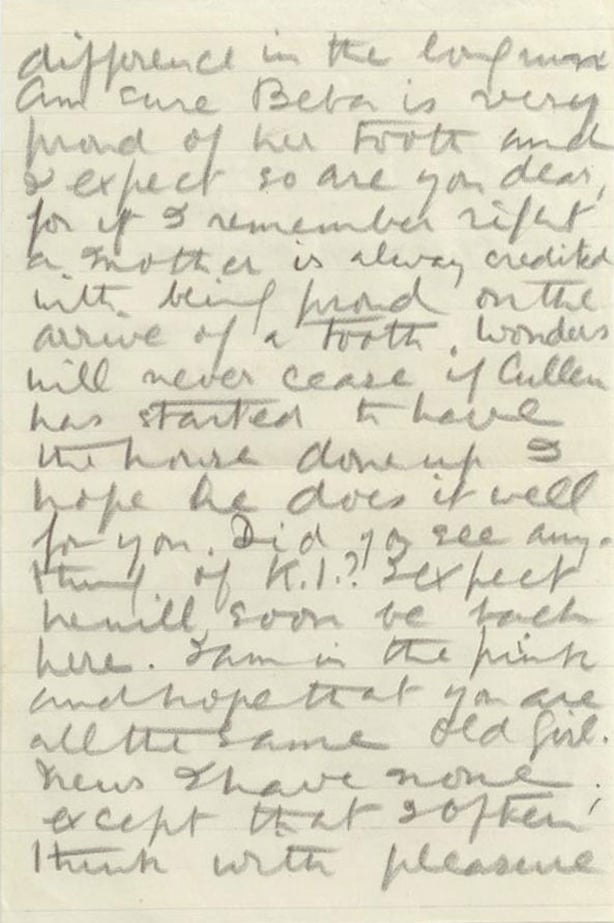 The events of Easter week in Dublin are touched upon in the correspondence between Thomas and Ethel and they give rise to feelings of anxiety, concern and pride. On learning of Ethel's medal, for instance, Thomas voices a concern that his wife is taking on too much work and he worries for her safety in Dublin in the aftermath of a Rising that he considered both 'fearful' and 'disgraceful'. Ultimately, however, Fitzpatrick is proud of his wife, adding in a postscript to one letter. 'You know dear how very proud of you I feel.'
Belinda, too, is proud of her grandmother's actions during Easter week, "I can say my great-grandmother was actually at the GPO. She was actually there and I know she was there. She was putting herself at risk under fire to help people and I don't think it would have mattered if it was a British soldier, an Irish civilian or a rebel soldier. I have no idea who it was but it could have been anyone, but I think that's the point that it didn't matter and that is something to be really proud of."
Ultimately, it is this pride in her great-grandparents' role in World War I that has encouraged Belinda Curtis to make their correspondence publicly available now. She hopes that, in reading the letters that passed between them, people will better appreciate and respect the contribution made by Irish soldiers in World War I.
"People need to think of the bigger picture and take pride in our entire history, rather than picking and choosing. We should take pride in the fact that people went out and did this, it doesn't make them less Irish."
---
Century Ireland is a historical newspaper and online resource that tracks and analyses the unfolding of Irish and international events across the decade, 1913-21. The project is a partnership between Boston College-Ireland, RTÉ and the national cultural institutions. View the current edition and all previous editions here. Visit also Century Ireland's Somme gallery and 1916 Rising Online exhibition.