Storm Desmond and the flooding which followed has left its mark on the west coast of Ireland and the Midlands.
The decision on 4 December by Met Éireann to issue their first status red weather warning since coding of weather warnings began, signified the scale of the storm.
A month's rainfall was forecast to fall in the northwest in just 36 hours.
Residents in the affected areas were quick to prepare their houses for flooding by moving furniture and placing sandbags around their properties as the memories of the flooding in 2009 came back.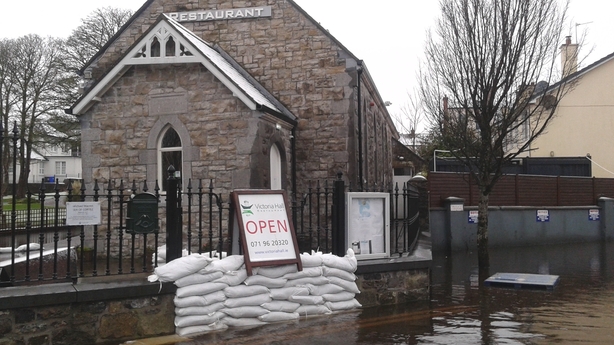 The personal drama facing residents in the flood hit areas was heard on Wednesday's RTÉ Morning Ireland.
Geraldine Quinlivan, a resident of Springfield, Clonlara, Co Clare told the programme that she and her family were "in dire straights down here. Over night the water rose overnight substantially."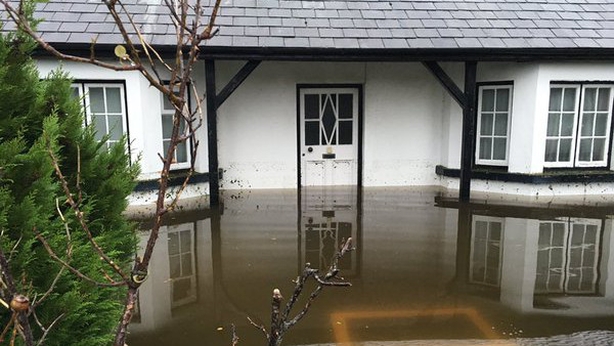 It took what she described as the "mammoth work that everyone did over night" to keep the water out of their homes. Ms Quinlivan explained that "family members didn't get any sleep, they've been manning the pumps"  with the help of both the defence forces and the fire service, who  had been there most of the night.
Ms Quinlivan went on to say that flooding in her area "happening all too regular really. It happened to us in 2009 albeit it was only access in 2014. We were also affect in 2006, the year 2000 and 1995. So we have been affected very badly by this."
She explained that her insurance premiums have gone up substantially since 2009. Fears insurance will become unaffordable, if it's available at all.
She also appealed to the ESB not to increase the flow of water from the Parteen Weir as it would lead to more flooding in Clonlara.
Tom Browne, Engineering Manager with ESB Generation said it was dealing with a very large water system.
He said all the water that finds its way into the River Shannon ultimately flows through Limerick.
Speaking to RTÉ, Mr Browne said: "Basically what happens at Parteen Weir is that the normal flow of the river effectively is split in two.
"One part of it goes down to the Ardnacrusha power station again into Limerick city, and the other part of it allows water down through the old river Shannon.
"It's really only in flood situations such as this … where the excess water has to be diverted down Parteen Weir through the old river Shannon."
Defence forces deployed to high-risk flooding areas
The defence forces were deployed to Athlone, as well as Counties Clare and Limerick, as these areas were at high-risk of flooding.   
Desperate scenes in Ballinasloe as army tries to keep water out of premises pic.twitter.com/HiA8wPGuOn

— Ciaran Mullooly (@ciaranmullooly) December 7, 2015
Two sections of 15 troops and two military vehicles were deployed at Clonlara in Co Clare following a dramatic rise in water levels downstream of Parteen Weir on the River Shannon.
Thirty troops and four vehicles were deployed at Castleconnell in Co Limerick, 12 troops and two vehicles assisted efforts in Ballinasloe, Co Galway, and 35 troops and four vehicles went to Athlone.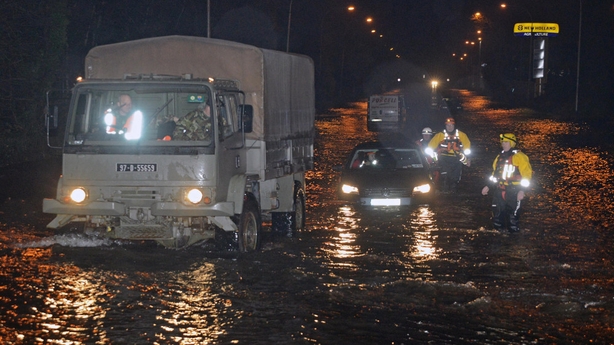 A number of properties in the Springfield area of Clonlara in southeast Clare were flooded, with army personnel assisting with sandbagging in an effort to stem the floods.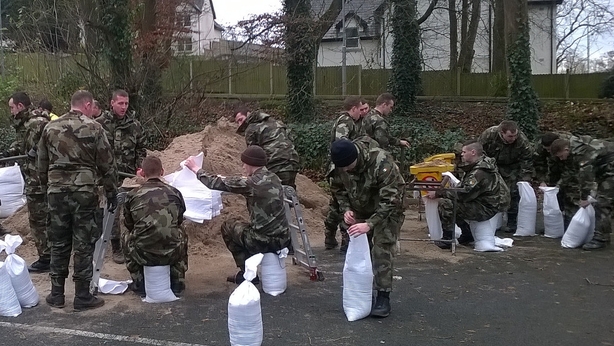 Govt agreed €5m fund to support businesses
On Tuesday, the Cabinet agreed a €5m fund for businesses who cannot get insurance or who are in flood-risk towns.
It is understood there will be an upper limit for funding and it will cover vouched expenses.
The exact details will be worked out by Minister for Agriculture and Defence Simon Coveney.
A €10m humanitarian assistance fund is already in place for householders who have immediate needs.
Application form for assistance scheme for businesses impacted by flooding now available at - https://t.co/ro2KVYY28a

— Simon Harris TD (@SimonHarrisTD) December 11, 2015
Farmers who are affected are to be given flexibility for animal movements and inspections for a period.
Also, the Cabinet has agreed in principle to a proposal for a longer-term flood forecasting and warning service within Met Éireann.
The proposal, from Minister for the Environment Alan Kelly and Minister of State Simon Harris, would require 15 staff being recruited to the service.
Eleven staff would go to Met Éireann and four to OPW.
The service, if approved by Cabinet, would cost over €2m. 
Farmers 'fearful' of impact of floods on livelihood
The flood project chairman at the Irish Farmers' Association,Tom Turley said farmers in the Shannon basin are very fearful about the impact of flooding on their livelihoods.
Mr Turley said flooding in the area straddling the River Shannon is worse now than it was in 2009, a period which saw the devastation of thousands of acres of farmland throughout the country.
RTÉ's Six One News broadcast from Athlone and anchor Bryan Dobson spoke to some of those affected by the floods.