Four extremely rare leopard cubs have been born in a zoo in the US state of Washington.
The clouded leopard cubs were born at the Point Defiance Zoo and Aquarium in Tacoma on 12 May.
The cubs are the fourth litter born to Chai Li and her mate Nah Fun.
The quadruplets, now almost two weeks old, weigh less than half a kilogram each and fit in the palms of the zookeepers' hands.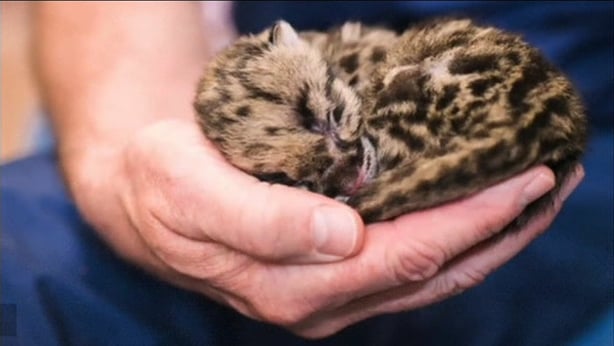 Staff biologist Andy Goldfarb, who has worked with exotic cats for more than 30 years, says the cubs are "active and doing well".
Mr Goldfarb has been kept busy by the newborn clouded leopards, who need to be fed by hand every three hours.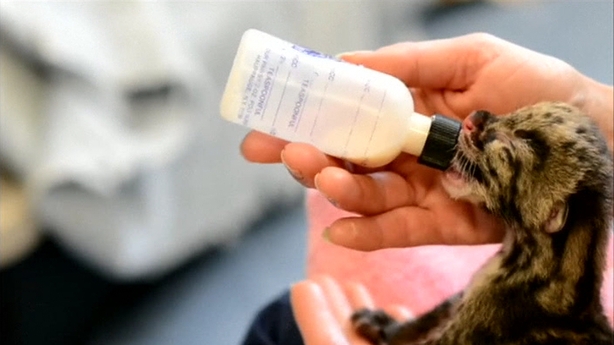 The genders and names of the quadruplets have not yet been revealed and they are not yet on exhibit in the zoo.
Clouded leopards are an endangered species and are shy and elusive in nature. Scientists do not have an accurate estimate of their population in the wild.
Less than 100 clouded leopards live in zoos in the US.
Staff at the Tacoma zoo make regular trips to Khao Kheow Open Zoo in Thailand, where there is a collaborative breeding project for the endangered leopards.
"These cats are precious," Mr Goldfarb said.
"Clouded leopards are endangered, and there is constant pressure on the species from poaching, habitat loss and other human-animal conflict," he said.
Point Defiance Zoo and Aquarium now has 11 clouded leopards, including the newborns.