By David McCullagh
The British government has changed its policy on the release of state documents, moving gradually from access after 30 years, to access after 20.
At least, that's the theory. All files, apart from those retained for legal or security reasons, from 1985 and 1986 were supposed to be released on 30 December.
But in practice many of the 1986 files have been "temporarily retained" apparently because they were not cleared for release in time.
Vetting potentially sensitive documents for release is a time consuming business, requiring staff with the experience to spot something potentially problematic - and with the confidence to release something if it is in the public interest to do so.
That being said, we do now have available many previously secret documents, which give new insights into how and why certain decisions were made.
We have concentrated here on material directly relevant to Ireland, north and south, and particularly to the negotiation of the Anglo-Irish Agreement, signed on 15 November 1985.
This was, of course, the crowning achievement of Garret FitzGerald's time as Taoiseach. Just how great that achievement was is revealed by these documents, which display Margaret Thatcher's deep misgivings about the whole process.
Those misgivings were shared by her influential private secretary, Charles Powell, who cast a distinctly jaundiced eye on the negotiations, which were conducted by Cabinet Secretary Sir Robert Armstrong, with the enthusiastic support of Foreign Secretary Geoffrey Howe.
Douglas Hurd, Northern Secretary up to September 1984, was supportive of the proposed agreement; his successor Tom King much less so.
At this point, Mrs Thatcher was apparently at the height of her powers - mid way through her second term, victor over Argentina and the National Union of Mineworkers, a considerable figure on the world stage - and yet she was in effect manoeuvred into signing a deal she didn't like.
The files can be viewed in person at The National Archives in Kew; many of the more interesting documents can be seen on the TNA website.
Dolours Price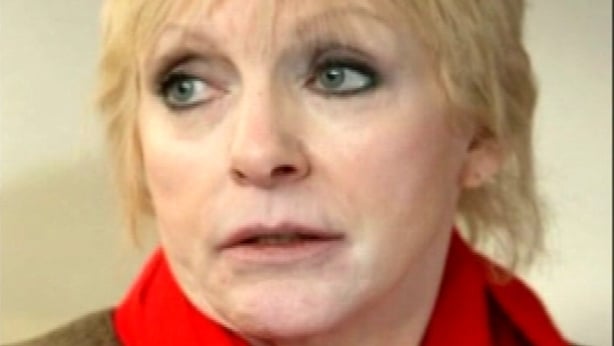 British Prime Minister Margaret Thatcher took a direct interest in the case of convicted IRA bomber Dolours Price, both before and after her release from prison on health grounds.
Dolours and her sister Marian were sentenced to life imprisonment in 1973 for their part in the bombing of the Old Bailey in London.
They went on hunger strike seeking to be moved to Northern Ireland, but were force-fed, which led to significant mental and physical health problems, though they were later transferred to Armagh jail.
Marian was released in April 1980 because of serious health problems. The then Northern Secretary Humphrey Atkins told Mrs Thatcher that she was "in imminent danger of death" and that "to leave her in prison is clearly to sentence her to death."
[Ma1] [Ma2] [Ma3]
In October, the Labour peer Fenner Brockway wrote to Mrs Thatcher raising concerns about Dolours Price's health, and including a letter he had received from Dolours.
She wrote: "…every day is such a long time to me now and each I fill with nothing except my tears and heartache and weariness. I move as a clockwork doll, on and on and on 'til exhaustion and, perhaps, sleep overtake me. I am a soul wandering in the darkness, eternally on the precipice, always unsteady on my feet knowing that at any moment I may fall into the abyss."
Pointing out that her 30th birthday was the following December, she added: "30 is a marker in any woman's life, for me it is more, it means almost all my twenties wasted in prison, it means no babies and my fruitful years passing by me, it means a natural instinct thwarted for so long perhaps never to be fulfilled. I don't think Secretaries of State think along these lines, unless they are women!!! It does hurt me deeply and badly and will scar the rest of my life."
She said Marian visited her rarely, and pointed out that she no longer "even pay lip service to any organisation, I am made to suffer for that too, each day I live my solitary life and am made to feel an outcast, a traitor to their 'cause' because I have declared it to be no longer mine… I want to live, to love life again, to survive… I can't do it here. I am chained to a wall and my voice echoes back to me from wire topped walls. Write, I need you now more than ever…"
Mrs Thatcher noted on the letter: "I am amazed that Marian goes to see her so rarely. That itself must be disturbing for a twin [sic – the Price sisters were not twins]. Can she be moved if she requests? She says 'mentally I will have to starve each day with them' [if a hunger strike starts in the H-Blocks] – the sympathies seem to be there. One person was killed [in the Old Bailey bombing]. I doubt whether her old friends will let her alone when she is out. Sympathetic draft please, but doubt whether we can act at present."
After being asked about the case, a Northern Ireland Office civil servant confirmed that Marian Price had only visited her sister four times since her release the previous April, speculating that this might have been because "she does not find it a happy experience to return to the prison where she spent nearly five years."
He added that medical reports did not give cause for concern for Dolours. "She does suffer from periods of depression, indeed despair at times, but her depression is of the reactive type and is not a constant feature of her condition. She is not regarded as a serious suicide risk..."
Further concerns were raised by Cardinal Tomas O Fiaich the following April; he told Thatcher that he was shocked by the deterioration in her condition, adding that "unless she is released without further delay, I fear she will die in the prison... From being a vivacious young girl... she has become, at thirty, a gaunt spectre, prematurely aged and deprived of any further desire to live. I fear that she has developed strong suicidal tendencies... she is now so seriously ill that to keep her any longer in prison will inevitably lead to her death... I ask you, in God's name, to exercise... clemency in the case of Dolours Price - even next week may be too late."
This appeal had considerable force – the NIO noted that when Dolours Price arrived in Armagh Jail in 1975, she weighed 8st 2lbs; in September 1980 she weighed 7st 8lbs; but by April she was down to just 5st 6lbs. The decision was taken to release her, on licence, on health grounds.
But that wasn't the last Mrs Thatcher had heard of Dolours Price. One of the conditions of her release was that she had to get permission from the Northern Secretary before leaving Northern Ireland, a condition she ignored, moving first to Dublin to work as a freelance journalist, and then, following her marriage to actor Stephen Rea, to London.
Despite the fact that the conditions of her release were being ignored, the Prime Minister resisted suggestions that it should be removed, writing in March 1983: "I think it would be quite wrong to cancel the residence condition. I think we are just being played along and we should resist firmly. The condition will rightly stop her from travelling widely."
In August 1985, the NIO reported that Dolours and her husband were stopped and questioned by police in Folkestone. They didn't arrest her but did report to the NIO that they had seen her.
Northern Secretary Douglas Hurd decided not to have her recalled to prison, but did again suggest changing the conditions of her release. Again, Mrs Thatcher refused, writing: "I do not think Mrs Rea should be allowed to live here. She was transferred to Northern Ireland on conditions and if she and her husband wish to be together they can live in Northern Ireland. If she were still in England she would be in prison..."
The following November, the new Northern Secretary, Tom King, made yet another attempt to change her licence conditions – and yet again Mrs Thatcher refused: "No. Do nothing. She got out of prison on a false pretence." The Prime Minister's instructions were followed, and Dolours Price continued to live in London. [PREM 19/1545]
Security
Secret British government documents newly released to the public claim that some gardaí were supplying intelligence to Britain without the knowledge of ministers.
A report in 1985 said a small number of garda officers were "extremely helpful" to the British Special Branch and MI5.
Throughout 1985, the Irish and British governments were negotiating what was to become the Anglo-Irish Agreement.
One of the issues for British Prime Minister Margaret Thatcher was how closely the Irish Government co-operated on security matters, and whether any new agreement would improve that co-operation.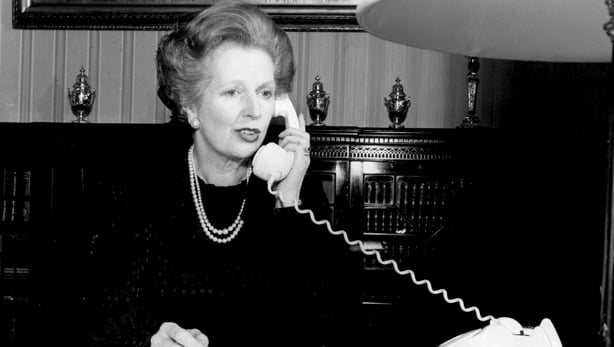 In May 1985, a secret report by Britain's Security Co-ordinator said successive Irish Government had encouraged co-operation but were reluctant to admit this publicly, because they were sensitive to charges of collaboration.
And he said "we believe that even those Irish Ministers who are aware of it in general terms may be unaware of its extent".
He said Britain's Special Branch and MI5 had "excellent relations" with garda Intelligence and Security Branch, and "benefit from a degree of co-operation and from a flow of intelligence which we believe to be at a greater level than is suspected by at least some Irish ministers."
The report said that "a small number of Garda officers ... are... prepared to be extremely helpful" - and their co-operation made "a major contribution to combating the present terrorist campaign on the mainland". [PREM 19/1548]
The newly-released British papers also contain a heartfelt plea from then Minister for Foreign Affairs Peter Barry against the reintroduction of capital punishment. Barry wrote in July 1983, as the House of Commons was preparing to vote on the issue after that year's general election, to give a view of the implications of the decision for Ireland.
Barry wrote to Northern Secretary Jim Prior that the execution of Irish people under British law for politically inspired offences would make the situation faced by the two governments worse than it had been throughout the Troubles, and would create difficulties in Anglo-Irish relations.
"I feel that with your direct experience of the situation in Northern Ireland you are fully aware of the seriousness of the position and that you can see that our fears are not in any exaggerated." Barry added that despite the Irish Government's anxiety on the matter, they had not made any public statements on it, to avoid giving the appearance of lobbying at Westminster.
Prime Minister Margaret Thatcher favoured a return to capital punishment, but the issue was decided on a free vote, and defeated. [PREM 19/1782]
View from the embassy
One of the most interesting aspects of looking at the British state papers is seeing exactly what their diplomats based here were saying about Irish politicians.
In May, British Ambassador Alan Goodison had a revealing meeting with Fianna Fáil leader Charles Haughey.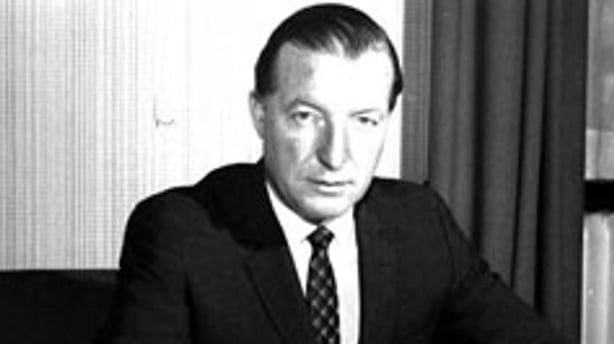 Mr Haughey predicted that eventually the British government would tell unionists that its patience was exhausted, and they would have no alternative but to come to the negotiating table.
Ambassador Goodison asked if he thought Mrs Thatcher was likely to do this. Mr Haughey said he did not – that Anglo-Irish relations would have to await the right man, and there had been no such man since Gladstone.
He also said that SDLP support for an Anglo-Irish Agreement would not deter him from attacking it.
The Ambassador, referring to some recent media reports, assured the Fianna Fáil leader that there was no defence element to the proposed Agreement.
Mr Haughey "seemed to accept this readily" but said "this would not prevent him from talking about the threat to Irish neutrality in public..."
Asked about the domestic situation, he said "there is always something agreeable in watching the suffering of others, that is, in his case, the Coalition Government. He said it was clear that nobody had any solution to the current economic problems of the Republic.... Meanwhile he was content to let the Government bear responsibility." [PREM 19/1549]
Ambassador Goodison also sent London his views on the Coalition Government. He said it had held together well, despite tensions caused by poor opinion poll ratings - especially for the Labour Party.
He added: "Unpopular economic policies have been introduced and adhered to, but little has been achieved in the way of social reform, and disagreements between the parties have led to lengthy delays in introducing legislation." [PREM 19/1552]
Out, out, out
1984 ended with a new crisis in Anglo-Irish relations, thanks to Margaret Thatcher's famous "out, out, out" comments at a press conference.
She was speaking after a summit meeting with Taoiseach Garret FitzGerald, and was asked about the three options put forward by the New Ireland Forum – unity, a federal state, or joint sovereignty. She said each of these options was "out" – leading to fury among nationalists in Ireland.
There was some irony to this, as the Taoiseach himself did not believe any of the three models was a viable option in the near future – he was more interested in pushing other aspects of the Report.
But the Prime Minister's press conference was seen as dismissive of him, and of nationalist aspirations.
Shortly afterwards, her Cabinet Secretary, Sir Robert Armstrong, suggested she might write to the Taoiseach, saying she regretted it, "if the manner in which what you said at your press conference was reported has created difficulties for him at home."
Mrs Thatcher wrote on the proposal: "Certainly NOT. This whole proposal is too contrived and too apologetic. Why?"
Her reply instead said she shared Dr FitzGerald's concern her comments "have been taken totally out of context", adding that there was nothing new in what she had said.
She added: "I acknowledge how much personal effort and commitment you yourself have put into the search for an acceptable way forward… I share your own conviction that our joint search for ways of promoting lasting peace and stability in NI must continue…"
When they met at an EU summit in Dublin in December 1984, the Taoiseach said "there was no point in going back over what had happened at the press conference."
Thatcher's private secretary drily added: "He then proceeded to do precisely that." He was grateful the Prime Minister stuck to the agreed line, but said "unfortunately, her answers... had come over abruptly and dismissively on television".
The record of the meeting continues: "The Prime Minister replied that nothing which she had said at the press conference should have surprised anyone... one had to develop an extra sensitivity for commenting on the Irish problem. Her own style was to give a direct answer to a direct question. The Taoiseach said that, after 800 years, extra sensitivity was indeed needed…"
Dr FitzGerald asked her to refer to the positive aspects of the New Ireland Forum report at her press conference the following day.
"The Prime Minister said that she would not want to give the impression of backing down or changing her mind. But, depending on the nature of the questions at her press conference and the tone in which they were asked, she would attempt to speak in terms helpful to the Taoiseach." [PREM 19/1549]
Agreement
Throughout 1985, the Irish Government under Taoiseach Garret FitzGerald continued the patient diplomacy that led to the signing of the Anglo-Irish Agreement at Hillsborough Castle on November 15th of that year.
It was an uphill struggle, because Prime Minister Margaret Thatcher was unconvinced about the benefits of an Agreement, and deeply suspicious of both the Irish and of some of her own officials and ministers.
At the start of the year, after reading documents about the ongoing talks over Christmas, she commented that the Irish want more than the British could give, and always would, and she doubted that a way forward would be found.
Her misgivings were shared by one of her most influential advisers, Private Secretary Charles Powell. In March, he wrote to the Prime Minister:
"The situation is that the FCS [the Foreign and Commonwealth Secretary, Geoffrey Howe] and RTA [the British Cabinet Secretary, Robert Armstrong, who was conducting most of the negotiations] are clearly keen to clinch a deal with the Irish, and are not too fussy about obtaining a counterpart… The key question, of course, is: what are you getting from the Irish in return for what you are being advised to give? The answer on the evidence before us is: not enough." [PREM 19/1548]
This advice chimed with Mrs Thatcher's own views: she was determined that the Irish would get no more than a consultative role in Northern Ireland; she flatly rejected Garret FitzGerald's pleas for 'joint courts', which would involve judges from the Republic sitting with colleagues from the North on certain cases; and she ruled out any major changes to the RUC or the UDR [Ulster Defence Regiment].
At a meeting on the margins of a European Summit in Milan in June, some of these issues came to the fore, with what appears to have been quite a heated discussion between Taoiseach and Prime Minister.
But then, according to the British record of the meeting, FitzGerald spoke forcefully, seemingly making at least some impression on Thatcher.
"Speaking with considerable emotion the Taoiseach said that he wanted the Prime Minister to understand that the Irish Government and people did not want a role in Northern Ireland. He was regarded as eccentric because of the time and effort which he was devoting to reach an agreement… He did so because he believed that otherwise Sinn Féin would gain the upper hand amongst the minority in the North, and provoke a civil war which would drag the Republic down as well. There were people on the sidelines like Colonel Gaddafi ready to put up millions of pounds to achieve this aim.
"For 800 years Britain had occupied Ireland to protect its flank. There was now a serious risk of ending up with what we had always tried to avoid, an Ireland under hostile and sinister influence.
"All he wanted were minimal steps to protect the minority… He and the PM were the only two people able to reach an agreement.
"If they failed the opportunity would be lost, possibly forever. He was ready to take the risk whatever it might cost him personally and politically.
"The Prime Minister said that of course she shared the Taoiseach's aim of preventing Ireland from coming under hostile and tyrannical forces… But she did not want to mislead the Taoiseach into thinking that publicly announced steps of the sort he had described [such as Joint Courts] were in any way feasible…" [PREM 19/1549]
If Thatcher was moved by FitzGerald's eloquence, it didn't last long. Later that month, she was writing angrily on a memo by Armstrong detailing his latest negotiations with his Irish counterpart, Dermot Nally.
This involved a proposed redraft of the communiqué to be issued after the Agreement was signed to mention changes to the UDR, and a statement on possible prisoner releases.
The Prime Minister wrote: "I an utterly astounded by this minute. I am not prepared to go ahead with either of these things." The last line of Armstrong's memo said: "This proposal has been agreed with the NIO", after which Thatcher wrote: NOT with me."
Armstrong was sent back to the talks with a Prime Ministerial flea in his ear. Then, in September, another voice joined the chorus of dissent.
Newly appointed Northern Secretary Tom King wrote to Thatcher to say that "the Agreement as it now stands strikes me as offering considerably more to the Irish than it does to us." He suggested a major renegotiation of the draft Agreement.
This was, as Charles Powell noted, "a bit of a bombshell", and was "in effect a declaration of no confidence in the present negotiating team". Powell warned that an attempt to renegotiate at this stage could lead the Irish to call off the negotiations altogether.
Foreign Secretary Geoffrey Howe was even more emphatic, warning that if the chance to reach agreement was lost, it "would be seen both at home and abroad as a major missed opportunity, and one that had been missed as a result of a last minute switch of policy on our part." [PREM 19/1550]
Despite the reservations of both Prime Minister and Northern Secretary, the negotiations continued, and the Agreement was signed on 15 November.