An Irish-American dancer has received the highest US honour awarded for achievement in folk and traditional arts.
Kevin Doyle, whose mother and grandparents were Irish, was honoured last night with a National Heritage Fellowship on Capitol Hill in Washington.
Watch: Caitríona Perry, Washington Correspondent, speaks to Kevin Doyle
Watch: Fellowship awarded to Irish-American dancer
The 63-year-old from Rhode Island was taught Irish dancing at the age of eight by his Co Roscommon-born immigrant mother.
She was born in Castlerea, while his father's parents were from Longford.
His 55 years of Irish dancing were recognised by the US; it awarded him the National Endowment for the Arts, National Heritage Fellowship - the highest US honour for the arts.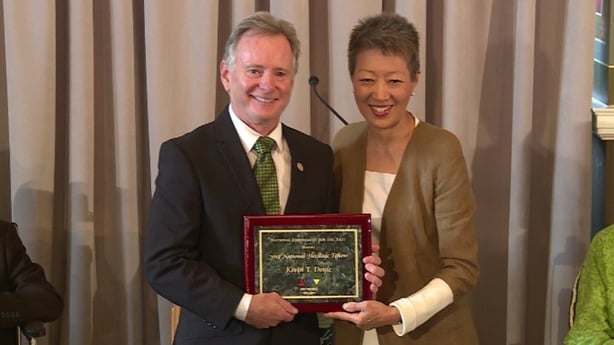 Once a supermarket manager and now a retired bus driver, Mr Doyle says his plans for the future are just filled with dancing.
He currently dances with two bands and teaches several Irish dancing classes.