By Mícheál Lehane
On Friday last, Phil Hogan strode confidently through the corridors of a mainly empty Leinster House.
He wore an open neck shirt and carried a small folder under his arm. It had all the look of a relaxed goodbye to the place he had worked in for 27 years.
Asked by someone if his commission post was sorted? His answer was jovial and bullishly assured. "It was sorted a long time ago."
Just how long ago though is unclear. Those on the Fine Gael side say it was all arranged when the Government was formed.
The reasoning goes like this. A Labour Party person got the Attorney General's job, so it was taken as a given that Fine Gael would get the Commissionership in 2014.
Some in Labour believe it wasn't nailed down but the party did not have a candidate in mind at the time.
Eamon Gilmore's leadership demise and subsequent late interest in going to Brussels was not on the horizon in March 2011.
But the European Commission was something that had interested Phil Hogan, 54, for some time.
Those closest to him say he realised early he would never have the subtly or diplomacy to ever become Taoiseach.
So a five-year high-profile position away from home will mark the zenith of a political climb that began in 1977.
Country's youngest council chairman
Then Phil Hogan was one of the founding members of the Kilkenny branch of Young Fine Gael.
He would work on several national campaigns for the party's youth wing and help write policy documents, including one that looks appropriate with hindsight entitled, 'Young People on the Land.'
In 1982 he was co-opted on to Kilkenny County Council after his father died.
He would retain that seat in the 1985 Local Elections when he topped the poll in his area. Around the time of his 25th birthday he was elected Chairman of Kilkenny County Council. He was then country's youngest council chairman.
But defeat would follow in his first attempt to get elected to Dáil Éireann in 1987. The Upper House of the Oireachtas beckoned for the qualified teacher who was now working as an auctioneer.
His journey to the Upper House was less than straightforward. He was in 13th place after the first count with just nine seats up for grabs.
Indeed the biggest single block of transfers that went his way came from Sean Garland of the Workers Party. They unquestionably helped get him elected. Fine Gael onlookers at the count could never quite fathom how so many votes from a radical left-wing party found their way to the young Kilkenny politician.
If the count was long and arduous it didn't inhibit Phil Hogan's confidence. Colleagues of a similar age remember a man who was always lecturing them on how to get on in politics.
"Phil always had older friends. He was young but always saw himself as older. He was forever telling us what we should be doing."
Some who served with him at the time believe the unwavering confidence then was misplaced. Nonetheless he would serve as a Senator for just two years.
Success in the 1989 General Election saw him enter the Dáil. He would be elected at every subsequent general election.
Throughout it all he would be viewed by party colleagues as a man who was always on the right side of the Leader.
"Phil was very good at positioning himself," said one colleague.
Famed for his part in defeating the 2010 heave against Enda Kenny, his work in this field began much earlier albeit on a much smaller scale.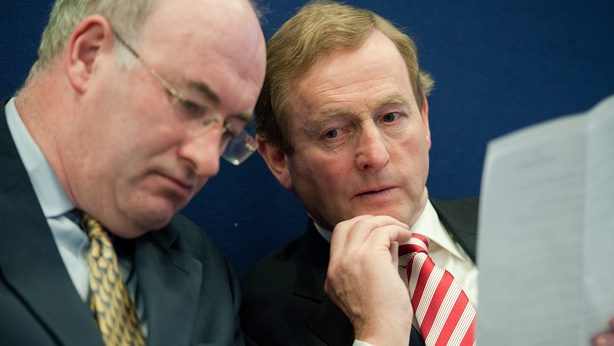 Several Fine Gael TDs of the period remember him making calls to help John Bruton, when he successfully fended off a leadership challenge in 1994.
Some who have known him since the beginning of his time in Leinster House say he invested most personal loyalty in John Bruton. He was rewarded with a Junior Ministry.
Phil Hogan would last just seven weeks as a Minister of State for Office of Public Works (OPW) at the Department of Finance.
Early details of the Budget were leaked by a staff member in his office to a newspaper. "I did something, I think, unique, where a piece of paper went out on Budget day, in error, and where I took responsibility for it and resigned," he would later say.
He was no longer a Minister but would soon become the Parliamentary Party Chairman.
This role saw him acquire even more knowledge about the party and its members. Here he gathered detailed information about the organisation that stretched far beyond the parliamentary party. This some reckon is his greatest strength.
It would make him indispensable to Enda Kenny when he replaced Michael Noonan as leader after the party's dismal election performance in 2002.
Although Hogan challenged Kenny for the top job, he was not punished for it. Instead he would become a key part of the new leader's efforts to rebuild the demoralised party.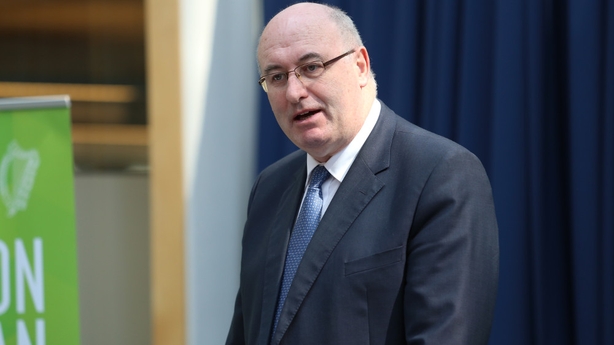 "Phil would know every branch chairperson around the country not to mention councilors. He knew too how to spot good candidates."
That wisdom yielded much fruit in 2004 with big gains made by Fine Gael in both the Local and European Elections.
The 2007 General Election didn't quite match the expectations of many in Fine Gael. Winning 20 extra seats was not enough to keep Phil Hogan in the job of Director of Organisation.
In his own five-seat constituency he was the sole TD returned for the party. "It's forgotten about now, but Phil was very upset to lose that job."
The upset didn't last indefinitely though and the biggest test of his political skills was looming.
On right side
When Richard Bruton's coup against Enda Kenny was afoot in early summer 2010, Phil Hogan would deliver his most bravura political performance yet.
The opinion polls were clear. The winner of this contest would be Taoiseach, and they probably wouldn't have to wait too long. Phil Hogan was on the right side of the leader again.
His approach was simple and highly effective. "He knew who to put pressure on and he knew the people who had to be offered jobs," was how one TD summed it up.
It worked and Phil Hogan was named Environment Minister in Enda Kenny's Cabinet less than nine months later.
The new Minister would oversee the introduction of a property tax, water charges and a cull of hundreds of local Government council seats. It was a substantial amount of unpopular political heavy lifting.
Hence the Taoiseach's recommendation to the European Commission President Jean Claude Juncker that "Phil brings a wealth of experience of delivering difficult policies and real change in difficult times."
It's a sentiment that seems to be shared across the coalition. "Phil knows what he wants and he knows how to get it done. Taking decisions never frightened him. I think he will stand out among the new commissioners," said former Education Minister Ruairi Quinn.
There was no such warmth expressed in Phil Hogan's home place in 2012. When the All-Ireland winning Kilkenny hurling team returned home that year to a reception in Nowlan Park there was booing heard after the local Minister's name was announced.
The tough political decisions earned him no praise here. "You have to remember Phil is the face of water and house taxes in Kilkenny.
He's read the tea leaves and knows it's better for him to go to Europe now," was the view of one politician who has known him well for over two decades.
But as he prepares to exit the domestic political stage, he could find himself forced to explain several controversies before he begins work in Brussels.
Like his involvement in a dispute over the housing of a Traveller family in Kilkenny. Independent Dublin MEP Nessa Childers claims this makes Phil Hogan an unsuitable candidate to become a Commissioner. The Government insists her remarks are utterly without foundation.
Then there's questions raised by RTÉ's This Week programme about when exactly the former Environment Minister learned about the amounts spent on outside consultants by Irish Water.
Documents obtained by the programme show Phil Hogan signed off on the money. But he would insist months later he did not know the exact breakdown of the new company's spending.
That's not all. In the Dáil Sinn Féin have questioned appointments Phil Hogan made to State boards, with the Government insisting many candidates for these boards are now interviewed by Oireachtas committees.
The party also lambasted him over the changes he made to planning investigations ordered by his predecessor.
During his time as Minister, Phil Hogan also had to apologise in writing to a former secretary of John Bruton's over a crude comment he made at an Oireachtas golf outing in 2011.
So how can this level of polarised opinion surround a man held in such high regard by his now erstwhile Cabinet colleagues? It's the price of political longevity and making hard decisions his advocates believe. His detractors prefer to speak of arrogance when answering the above question.
It all makes for a politician that is likely to remain in the headlines long after he leaves Kildare Street.