The elderly man whose hand I have shaken in the front garden of a small house on a Rwandan hillside seems quietly assured about his place in his community.
His answers about what he did 20 years ago are brief.
"Personally I killed five," he says through our translator... "I do not know who they were.
"It was the leaders who made me do it."

RTÉ's Christopher McKevitt reports from Rwanda as the 20th anniversary of the genocide nears
It transpires that Juvenal Mudenge used to be a policeman. In the early years of his career he had been part of the country's presidential security detail.
But in April 1994 his policeman's detail was much darker. He was part of the militias that pulled up outside the nearby Cyanika Roman Catholic Church on the morning of 21 April.
There are points of high ground around the church and the militias started firing guns into the compound and the 30,000 Tutsis seeking refuge there... The figure is 30,000 and there's a reason for that.
The genocide that had started on the 7th had taken a little longer to get to what is now Nyamagabe District in the country's Southern Province and Tutsis from the north had fled there.
The man in charge of the region was a Tutsi and it took a little while to have him put to death.
The 30,000 at the church and the compound surrounding it might have been forgiven for believing some intervention would happen to end the horror... that salvation would come.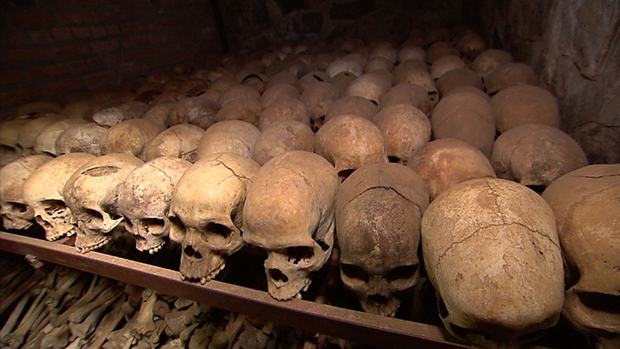 But the international community had decided that there would be no arrest to the unfolding slaughter. And at Cyanika there was to be no moment of reprieve.
Grenades followed the hillside pot shots and more bullets. The people were already weakened. The killing went on throughout the day, and into the night and into the next day.
"How long were you there?" I ask Juvenal in the front garden of the house.
The translator tells me that Juvenal says he was there from 9am until 2pm.
What seemed atrocious to me about this garden is that it is not Juvenal's. His is a little distance away. It belongs to Marie Mukagasana, a Tutsi woman who lost all she had that day at Cyanika Church.
Marie describes how she was sheltering in a walled field at the back of the church, huddled against a wall. Her young daughters were on her lap; the men trying to defend themselves by throwing stones. Uselessly.
As the killing spree wore on, the instruction came to preserve the bullets. The people were weak. Machetes, hoes, clubs and spears could be used to continue the massacre.
With the bodies piling up, the militias cynically scattered pepper on the bodies so those feigning death would be exposed.
Eventually it was Marie's turn.
She was attacked with blades to her legs and the back of her head and her neck.
Cut down, she lost her hold of Athanaise who was five and Clarisse, three.
And, as she collapsed and disappeared into the sprawl of bodies around her, they were separated.
Her husband was murdered elsewhere in the compound.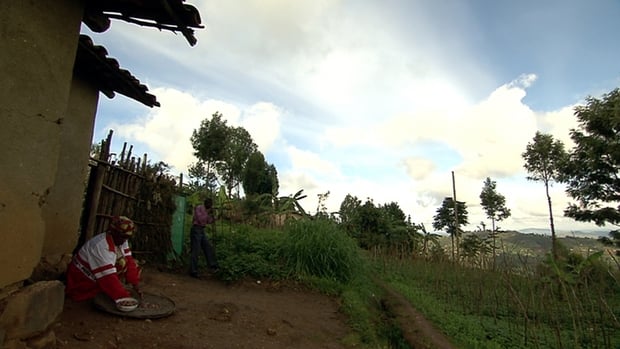 Juvenal was eventually given a life sentence for genocidal murder in specially organised courts to try an estimated 120,000 Genocidiere foot soldiers. (The architects were dealt with separately at a criminal tribunal in Tanzania where some of them are still involved in the legal process)
Marie's home was destroyed and she doesn't live where she resided before the genocide. She went on to rebuild her life and has had three more children since Cyanika.
The smallest of these children is a boy whom she named Gift, a word we're told she derived from the Bible.
Juvenal and Marie are linked through a local Peace and Reconciliation Commission which is working with 2,000 survivors and perpetrators across two districts in Rwanda's Southern Province.
The Commission approached Trócaire, which has been working in Rwanda since 1994.
Trócaire, a faith-based charity, is a serious organisation well used to weighing up the value for money return on the precious money it invests.
Reconciliation is harder to explain on a spreadsheet. Here it would be inconceivable to live next door to someone who had perpetrated such atrocity on you and your kin.
But in the grinding poverty of rural Rwanda the perspective is different. Moving house to a different place is not so easy.
Trócaire Executive Director Éamonn Meehan (whose full interview can be seen here) is thoughtful about the organisation's involvement in this part of assisting Rwanda.
He says the work is vital to healing society here. Participation is voluntary and it may be that the emotional hurt is still there, if as I suggest, you scratch the surface.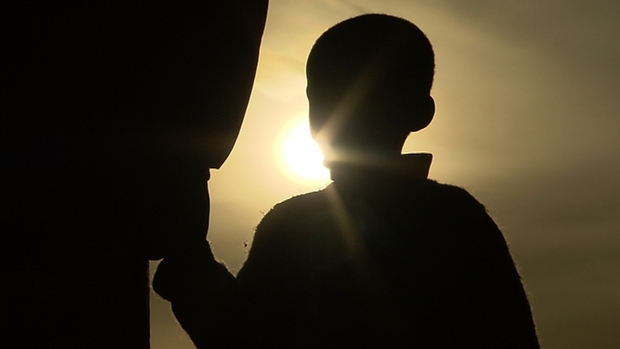 But hours of painstaking and painful work have allowed Marie and Juvenal to at least function in the same neighbourhood as neighbours. We are told they are not close. He helps on her land voluntarily.
Her land is beautiful and it is hard to think that the breathtaking view from her home could have fostered such frenzied hatred.
Juvenal tells us that since he has confessed to the horrors he committed and has been through reconciliation, he is able to sleep a little better.
I had thought about what being civil to Juvenal would feel like. Marie lost her two daughters. I have two daughters ... but they get to grow up in a safe land of relative plenty.
If Marie, as she tells me, has been able to forgive Juvenal, then shaking his hand is not a problem.
He has a warm handshake, and a sincere looking smile, and speaks in a soft sounding way.
Watch Christopher McKevitt's report from Rwanda here.
Watch Christopher McKevitt's report on Rwanda's economy here.