Ghostly images juxtaposing London's finest views with their present day perspectives have been released by the Museum of London as part of the update to an app giving users the chance to do the same.
The images, 16 in total, are part of more than 100 new locations and pictures released by the museum for its update to its Streetmuseum app which gives users a look at London's rich history.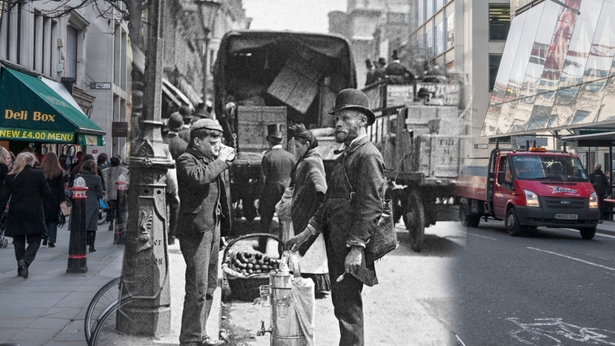 The new views are from as far back as 1868 and as recently as 2003.
Taken by renowned late 19th and 20th century photographers including Henry Grant, Wolfgang Suschitsky, Roger Mayne and George Davison Reid, the new locations show how the capital has changed dramatically over the years.
They include Blackfriars station c.1930, Victoria Station in 1950, the view of London's skyline from Tower Bridge c.1930, and Brick Lane in 1957.
One particular image showing the altered face of the city's stations is of London Bridge Station from 1930 together with one from the present day.
Where it once loudly proclaimed it was a 'Southern Railway' building, the station now has a more modern glass exterior and the Shard directly above dominating a large part of its front.
Another image shows the dramatic difference between what Hyde Park looked like in 1956 and what it looks like today with cars and roads replacing grass where Londoners enjoyed the sunshine on deckchairs and an Odeon cinema close by.
First launched in May 2010, the award-winning app was developed with creative agency Brothers and Sisters and allows users to select a destination from a London map or use geo-tagging and Google Maps to pinpoint their location. The app then provides historical images of a user's London location and offers historical information.