A snapshot of recent events in Ukraine, where parliament has appointed a pro-Western interim leader after ousted president Viktor Yanukovych fled Kiev, in the dramatic finale to three months of protests.
Tuesday, 18 February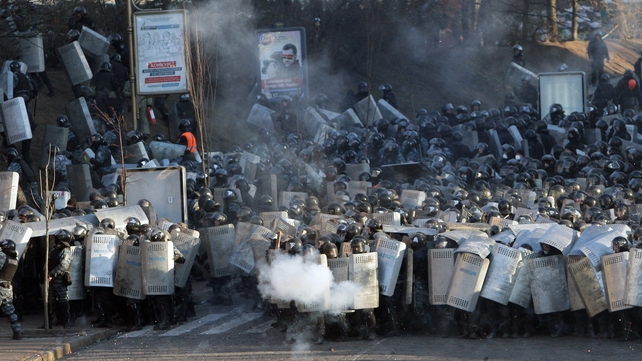 - Violence erupts as 20,000 pro-European protesters march from Kiev's Independence Square to parliament to demand President Viktor Yanukovych be stripped of key powers.
- Kiev shuts down the subway and limits traffic as protesters retake the city hall.
- Riot police break through barricades but thousands of protesters armed with stones, fireworks and petrol bombs refuse to leave the square.
- Unrest spreads to western Ukraine, where protesters swarm public buildings in Lviv.
Wednesday, 19 February
- Security forces halt a drive to take over the protest camp as people stream in with food, clothing and medication for demonstrators.
- Mr Yanukovych fires the army's chief and security services announce an "anti-terrorist" operation.
- NATO warns the army not to take part in operations against the protesters.
- Russia calls the protests "an attempted coup".
- The European Union calls an emergency meeting to mull sanctions against those behind the unrest, which has so far killed around 28 people, including ten police officers.
- Mr Yanukovych meets opposition leaders and calls for a "truce".
Thursday, 20 February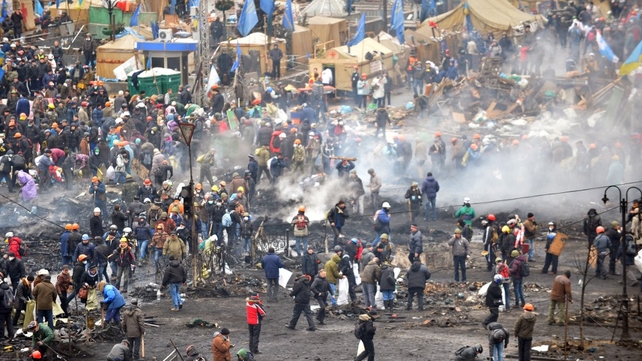 - Police open fire, killing more than 60 people, according to opposition medics.
- The interior ministry accuses "extremists" of holding 67 of its troops hostage.
- The mayor of Kiev and more than a dozen deputies from Mr Yanukovych's Regions Party resign in protest at the "blood bath".
- The European Union says it will impose sanctions on Ukrainians with "blood on their hands" as foreign ministers from France, Germany and Poland meet with Mr Yanukovych.
- The United States voices "outrage" that Ukrainian troops shot protesters.
- Mr Yanukovych appears ready to hold early elections, a key opposition demand.
Friday, 21 February:
- The army's second-in-command resigns, saying the government tried to get soldiers to put down unrest.
- President and opposition leaders sign a deal that includes early elections and the formation of a new unity government.
- Parliament votes to return Ukraine to its 2004 constitution, limiting the president's powers.
Saturday, 22 February:
- Parliament votes to immediately release Yulia Tymoshenko, who was imprisoned for over two years. Her right-hand man Oleksandr Turchynov is elected parliament speaker. Another ally, Arsen Avakov, becomes interim interior minister.
- Having fled Kiev, Mr Yanukovych refuses to step down and denounces a "coup" by protesters.
- Parliament votes to hold early presidential elections on 25 May, passing a resolution stating that Mr Yanukovych has failed to properly fulfil his duties as president.
- Thousands of Ukrainians wander awestruck around the luxury of Mr Yanukovych's abandoned property outside Kiev after it was taken by demonstrators.
- Ms Tymoshenko receives a rapturous welcome from supporters on Independence Square.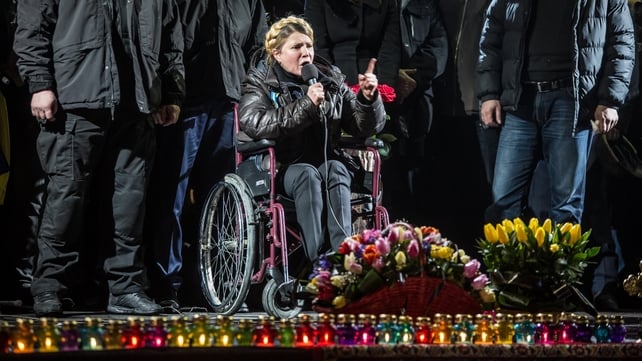 Sunday, 23 February:
- Mr Turchynov is elected interim president by parliament. He is given until Tuesday to form a government of national unity.
- Mr Yanukovych's Regions Party abandons support for the deposed president, saying he is "responsible for these tragic events".
- The White House, France, Germany and Russia call for the territorial unity of the country to be protected.
- Ms Tymoshenko says she will not seek the post of prime minister in the new coalition government.