It only takes one word for people on Independence Square - hardy though they are - to dash for cover: "Sniper!"
A handful of snipers have been wreaking havoc on the frontlines of Kiev's urban conflict, picking off targeted individuals among protesters with kill-shots to the neck and head.
Self-defence groups on the protesters' side say at least two snipers, and possible as many as four or five, operating from vantage points on higher ground, reduced a small area on the edge of Independence Square yesterday to a battlefield.
Anti-government protesters hold snipers on the police side responsible for deaths of at least 15 people in Kiev's spasm of violence - the last possibly victim being a man who was sipping coffee with his wife at dusk when he was shot in the neck.
Even as the opposition-led protest movement were poised to savour a victory over President Viktor Yanukovych, there was little cause for jubilation after violence which had claimed at least 77 lives since Tuesday.
The snipers did their deadly work yesterday in an area about 300 metres up a steep rise from Independence Square, known locally as the Maidan, which leads to the heavily-protected presidential offices.
"I saw three people fall," said 27-year-old Roman, a former sniper himself from the Berkut riot police who is now part of a self-defence detail at the Hotel Ukraine, where the reception area has been turned into a field hospital.
"They were shot in the head or neck."
Protesters said snipers, armed with Soviet-made SVD or SVS weapons and given cover by armed police, used high ground near the October Palace to shoot down onto protesters who earlier that day had advanced up the hill to reclaim lost positions.
TV footage showed several sniper victims - helmeted and wearing body armour - being dragged away like lifeless rag dolls by their comrades after apparently being hit by a precise shot to the side of the head or neck.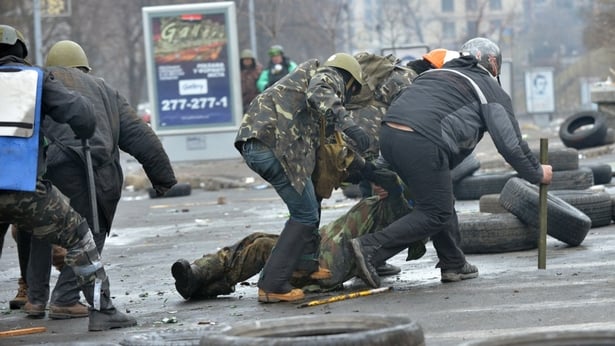 Within two hours of the violence starting yesterday, police issued a statement saying it had been initiated by protesters who had used snipers.
Long before the carnage, and as the protest movement against Mr Yanukovych grew increasingly violent, rumours had abounded that police were using snipers.
That appeared to many to be the only explanation for the first two deaths in the conflict in late January: two young activists were found - one dead, one dying - with gunshot wounds after a night of violence in front of Dynamo Kiev football stadium.
But television footage and photographs of yesterday's violence left no doubt that police snipers were at work.
One Reuters news photograph, taken from television footage, showed a police sniper - flat on his front and legs splayed -taking aim through a telescopic sight on a Finnish-made weapon mounted on a rest.
The marksman responsible for the three deaths which Roman saw was located on a roof of a metro station further up the hill, he said.
He thus had a clear line of sight down into the protest zone and the sprawling Independence Square, citadel of revolt, beyond.
Other protesters said snipers had been operating from the roof of Kiev's main musical conservatory and from atop government headquarters.
Kolya Ververa, from western Ukraine like many of those on the barricades, lost his friend, Roman Tochin, 43, in a burst of firing and believes he was killed by a sniper.
"They were over there," he said gesturing to higher ground behind October Palace. "Roman was one of five whom they got."
Igor Znativ, an artist from Lviv, who says he came across the country to Kiev two months ago because he wanted his children "to grow up in a more civilised world" said he felt there were three snipers at work.
Even as he spoke men in balaclavas and battle fatigues at a nearby barricade control point were turning people back because of a sniper who they said was located further up the road.
Roman, who confessed to having killed one member of a criminal gang in the line of duty before leaving the Berkut in2008, said: "There were definitely professionals working out there."
An anaesthetist at the Hotel Ukraine medical centre, who would give only his first name of Volodymyr, said the last sniper victim had possibly been a man standing with his wife in the grounds of October Palace, drinking coffee.
After a day of violence which tailed off in mid-afternoon, he may have thought the danger was over.
"The bullet hit him in the back and side of the neck," said Volodymyr.
"We could not do much for him. He was still alive when we sent him for care to another hospital. I do not know what happened to him."