Efforts are under way to trace the descendants of a group of Belgian refugees who came to live in Monaghan town in 1914.
Councils around Ireland and Britain had been called upon to accommodate the exodus of refugees from Belgium at the start of World War I.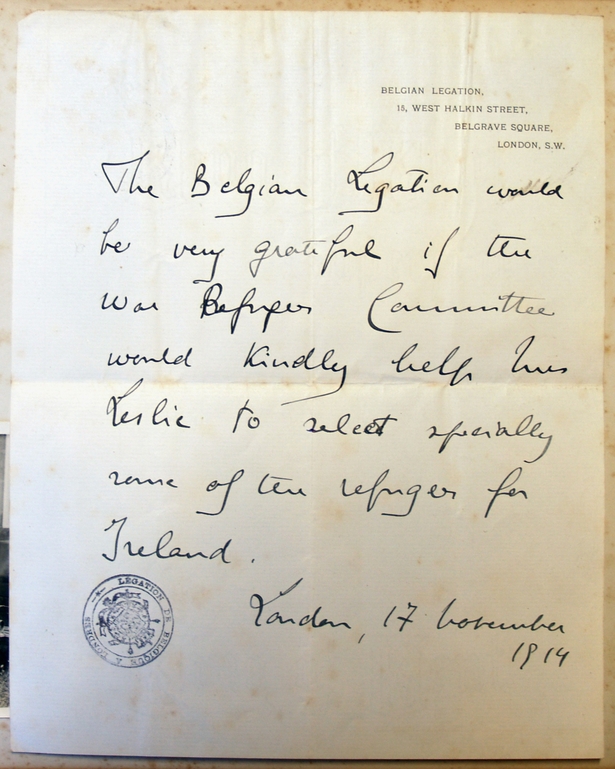 Fifteen refugees arrived by train in Monaghan on Friday 30 October 1914.
View images from Castle Leslie Archives
Grace Moloney of Clogher Historical Society 
A committee of local women, including Leonie Leslie of Castle Leslie, had prepared for their arrival by raising money and donations.
Leonie's son, Norman, had been killed in action at Armentieres during the previous fortnight.
The refugees were housed in a new development, which was later named Belgian Square.
Their impact on local industry was also significant as a number of Belgian women were employed by the successful Belbroid lace company.
Now, as the 100th anniversary of their arrival approaches, the Clogher Historical Society is trying to trace their descendants.
It believes the group came from the Mechelen (Malines) area just south of Antwerp.
But it says while the Register of Belgian Refugees, held by the UK National Archives, lists the names of Belgian refugees, it doesn't index them by location.
This "makes it very difficult to find the names of those who came to Monaghan".
The society, which includes current residents of Belgian Square, is appealing for anyone in Ireland, Belgium or further afield who could help in the search.
It says it wants to mark the 100th anniversary of the refugees' arrival by inviting descendants back to Monaghan later in the year.