RTÉ's David McCullagh examines newly released British government files from 1984, with much focus on Northern Ireland.
British unimpressed with New Ireland Forum report
The British were unimpressed with the Report of the New Ireland Forum, published in May. Jim Prior described it as disappointing, rhetorical and thin on practicalities. He said they had hoped for signs of Taoiseach Garret FitzGerald's new thinking on the North, but "the substance of the report is in the Fianna Fáil tradition, with some modification of the phrasing and presentation". [PREM 12/1286]
Mr FitzGerald sent an advance copy of the report to Margaret Thatcher, though he asked the British not to admit he had done so. He pointed out that it had been difficult to bring all his partners along, which meant the report had to stress traditional nationalist beliefs, before then going on to acknowledge the rights and identity of Unionists, and talk about being open to other ideas on the future of the North.
"It is my firm hope that you will be able to see, as I do, the real merit of this unusual exercise and, in particular, the fact that it creates a solid and realistic basis for any action we might contemplate in the future." [PREM 12/1286]
In her reply, Mrs Thatcher pointed out that she too had to have regard for domestic reaction in the United Kingdom, and this would be reflected in the British response to the report. But she added that they would do their best "to avoid saying things which could make it harder for you and for us to continue the dialogue". [PREM 12/1286]
But while the forum and its report were being discussed in public, the real action between the Irish and British governments was going on in private, with a series of important contacts between the most senior civil servants on each side – Dermot Nally, Secretary to the Government in Dublin, and the British Cabinet Secretary Robert Armstrong.
The process had begun in 1983, when senior Irish civil servant Michael Lillis – with FitzGerald's approval – had suggested Dublin was prepared to consider a new way forward, in which the Irish Government would be given input into security in the North, possibly including having gardaí help police nationalist areas.
While Mrs Thatcher was hesitant, she agreed that British counter-proposals should be drawn up, and at the beginning of March, Armstrong presented Nally with his suggestions, including the Republic dropping the Constitutional claim on the North, in return for an Anglo-Irish Security Commission to oversee joint policing arrangements on both sides of the Border. [PREM 19/1408/1 15/3/84, Armstrong to PM]
In May, senior Irish officials told London that secrecy must be maintained – as the Taoiseach's "position in relation both to Irish public opinion generally and to opinion within his own government (which was deeply divided on these issues) would be seriously prejudiced if it became known that he had put to us the specific ideas which we should be discussing".
But they rejected the British suggestions as being too narrowly focused on security, with the danger that Irish security forces on the ground in Northern Ireland would be seen as "British stooges", unless there was a significant political element.
Dublin wanted a Joint Authority made up of a Minister appointed by each Government – a suggestion Mrs Thatcher immediately vetoed. [PREM 12/1286; 14/5/84, Armstrong to Thatcher]
In return, they were offering a referendum to remove Articles 2 and 3 of the Constitution – though Peter Barry told a British official that some members of the Government would not welcome this move. "'If we run our flag up this particular mast, don't expect everyone in the government to stand to attention and salute it." [PREM 12/1286: Ireland. Situation in NI, part 16; 31/5/84, Goodall to Coles]
Dublin also wanted fundamental reform of the RUC, which British officials felt was going too far. "We cannot offer the Irish a veto on Northern Ireland security decisions; nor can we demoralise the RUC, scrap it and start again. But we are prepared to consult, and be seen to consult, the Irish closely about security policy through the medium of a Joint Security Commission." [PREM 19/1408/1, 29/8/84, Goodall to Powell]
The Chief Constable of the RUC, Jack Hermon, was critical of the Irish proposals, saying it would be "crazy" to deploy gardaí in West Belfast, as "they would quickly be shot". He said he was prepared to try to increase recruitment of Catholics, but insisted what was really needed was more gardaí on the border, and suggesting selective internment of IRA leaders on both sides of the Border. [PREM 19/1408/2, 14/11/84, Andrew note of discussion with Hermon]
But Mrs Thatcher told Cabinet colleagues that the talks would continue, in complete secrecy, and that the British government must "look further ahead in Ireland" than ever before. "Ten thousand British soldiers could not be left in Northern Ireland forever, nor could the very considerable cost of subsidising the Province be sustained, without continuing the search for possible forward movement". [CAB 128/80, Most Confidential annex to Cabinet minutes, 28/6/84]
FitzGerald was also anxious to maintain secrecy, as he stressed to Robert Armstrong in November, shortly before a summit with Mrs Thatcher.
"Very few people in Dublin were privy to the sort of ideas he was mentioning to me: only a small group of Irish Ministers was involved and he had said nothing to the rest of his Cabinet. The discussions would have to be kept to a very restricted group of people … He would not want the Foreign Offices involved on either side, because one never knew what got out on to diplomatic telexes; and he would not want the Northern Ireland Office involved, because if they were what was being discussed would become known about all over Northern Ireland." [PREM 19/1408/1, 8/11/83, Armstrong to Thatcher.]
The IRA bombing of the Conservative Party Conference in Brighton, which killed five people and narrowly missed Mrs Thatcher herself, caused the Prime Minister to think again about the talks. She told her private secretary: "The events … at Brighton mean that we must go very slow on these talks if not stop them. It would look as if we were bombed into making concessions to the Republic." [PREM 19/1288, 11/10/84, Powell to Thatcher]
A week later, she repeated that the bomb "may in the end kill any new initiative because I suspect it will be the first of a series". [PREM 19/1288, 11/10/84, Powell to Thatcher]
But others insisted the bombing could not be allowed to stop progress. Her Foreign Secretary, Geoffrey Howe told her they must do something to check the advance of Sinn Féin, or "your own fear of a government of radical extremists in Dublin on the Cuban pattern could one day become a reality." [PREM 19/1408/2, 16/11/84, Howe to Thatcher]
In advance of the Chequers summit, the British Ambassador in Dublin said Dr FitzGerald could not afford to come away empty-handed – to which Mrs Thatcher replied: "That is NOT my problem." [PREM 19/1408, 12/11/84 Goodison telegram to FCO]
At the summit, Thatcher told FitzGerald she was worried about the rise of Republicanism. "The IRA did not represent just an Irish dimension, it had a Marxist and an international terrorist dimension grafted onto it. She was beginning to understand what the United States felt about Nicaragua."
FitzGerald said changing Articles 2 and 3 "was feasible", as "a united Ireland was no longer regarded as a serious prospect..." But he said the minority needed to be policed by people from its own community.
Mrs Thatcher said he seemed to want a Republican enclave in Northern Ireland. According to the British minutes, "the Taoiseach reacted strongly: 85,000 Catholics had been driven out of their homes in the mixed areas into ghettos, the biggest forced population move in Europe since World War Two. In their ghettos they were terrorized by the IRA and the police would not go in. All he was seeking was effective policing with which the minority community could identify in the areas where it predominated …"
He said he was prepared to amend the Irish Constitution to make clear that there could be no change in the status of NI without the consent of the majority. This was a big risk for him. (The PM said that she recognised that.) He simply had to have a package which would enable the minority in the North to support his Government in the referendum campaign. This had to be sufficient to give the minority hope of being able to live in dignity as Irish people with fair policing and courts and a role in determining their own future."
But Mrs Thatcher said this still gave her major difficulty, adding: "it would be ideal if the Republic were to change its Constitution. But the essence was to take a step forward, if necessary a more modest one. It seemed to her that the best prospect lay in security cooperation." [PREM 19/1408/2; 19/11/84, record of meeting]
In a later meeting including Ministers from both sides, Dr FitzGerald said the discussion had left him "rather depressed". [PREM 19/1408/2, 19/11/84, further meeting with Ministers] He was about to be a lot more upset.
Although she had initially been doubtful about holding a press conference after the summit (asking "What for?" when it was first suggested) Mrs Thatcher finally decided to do so. [PREM 19/1408/2, 12/11/84, Powell to Thatcher]
When asked about the New Ireland Forum Report, she dismissed each of the potential solutions outlined in it – unity, federation, joint authority – in her famous "Out, out, out" comments. She also appeared to dismiss the idea that there was 'alienation' in the nationalist community (apparently because she thought the term had Marxist overtones).
At his own press conference an hour later, FitzGerald was visibly taken aback, and was perceived to dither over what to say or do in response.
There was a media storm in Ireland, and FitzGerald told the British Ambassador that "we faced a considerable crisis in our relations", while Tanáiste Dick Spring said "he could not overestimate the damage which had been done. There was a country-wide feeling of annoyance and frustration". [PREM 19/1408/2, 22/11/84, Goodison telegram to FCO]
Noel Dorr, the Irish Ambassador to London, protested to Armstrong, saying "it may not be understood in Britain how profoundly the Anglo-Irish relationship has been altered for the worse, in a manner that may be very difficult indeed to recover" by the press conference, which had "profoundly shocked the whole of Irish opinion". [PREM 19/1408/2, Dorr Aide Memoire]
The British Ambassador in Dublin reported that FitzGerald was seen as "servile and ineffective in defending Irish interests" after being "humiliated" by Thatcher. The Ambassador suggested she might say something to alleviate the impression left by her press conference. "But this does not mean that the Prime Minister should say anything in praise of Dr FitzGerald, since this would confirm Irish suspicions that he is her poodle." [PREM 12/1289, 29/11/84, Goodison to FCO]
But despite everything, Nally told Armstrong that FitzGerald wanted to press ahead with "a broad and balanced set of measures", which would include changes to Articles 2 and 3. The Taoiseach believed this was necessary "to give much-needed durability (he even used the word 'finality') to whatever emerged from the discussions". [PREM 12/1289, 17/12/84, Armstrong note]
Though the shape of the Anglo-Irish Agreement signed the following year was to be very different, these secret documents show Garret FitzGerald's determination to reach an agreement – even with a very unwilling and difficult British Prime Minister.
Gorbachev: 'A man one can do business with'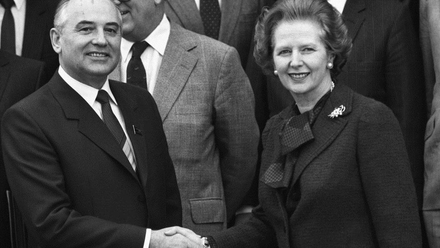 The newly released British Government documents include a fascinating record of Mrs Thatcher's first meeting with Mikhail Gorbachev, shortly before he became Soviet leader – and her initial assessment that he was "a man one could do business with".
Gorbachev came to Britain in December 1984 on a trade mission, during which he met Mrs Thatcher for discussions in Chequers.
Over lunch, she criticised Communism, which she said was "synonymous with getting one's way by violence". She suggested that the Soviet Union had sent funds to support the miners' strike, and said people like miners' leaders Arthur Scargill and Mick McGahey "gave Soviet Communism a bad name".
Gorbachev asked if she really thought that the Soviets "were so strong as to be able to keep the British miners out on strike for over 10 months". He said the Soviet Union had transferred no funds to the National Union of Miners – though after a "sideways glance" from one of his colleagues, he added the phrase: "as far as I am aware".
Mrs Thatcher also criticised the Soviet system for not allowing people to leave freely.
Later she described the meeting in a letter to President Ronald Reagan. "He gives the impression of confidence and authority. He is relatively open in manner and intelligent. He is affable and has some charm and humour. He listens carefully to what the other person says. He talks readily and, in contrast to the stultified manner of Soviet leaders, does not just stick to prepared statements ... He was clearly not used to the sort of rigorous questioning which he got from me on things like human rights in the Soviet Union and Soviet payments to our mine-workers' union. But he kept cool … I certainly found him a man one could do business with. I actually rather liked him – there is no doubt that he is completely loyal to the Soviet system but he is prepared to listen and have a genuine dialogue and make up his own mind."
Later, the British files describe a "curious incident" when Gorbachev and his party, who were driving up Whitehall, decided to take a look at the outside of No 10 Downing Street. The policeman at the door allowed the Soviets into the front hall of the Prime Minister's residence. An official reported: "They had gone before any private secretary reached the spot – reportedly in good humour." [PREM 19/1394]
Reagan recording dismissed as forgery due to its fluency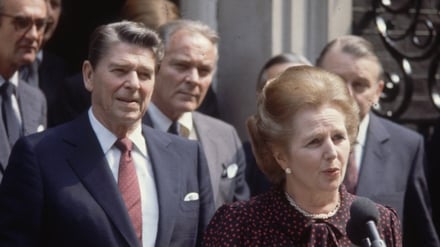 Mrs Thatcher's press secretary dismissed a purported tape recording of President Ronald Reagan as a forgery – because it sounded "far too fluent and articulate".
The tape recording, which surfaced in the Netherlands in 1984, claimed to be of a telephone conversation between Mrs Thatcher and Mr Reagan at the height of the Falklands War, in which the President was supposed to have criticised the sinking of the Argentinean battleship the General Belgrano.
British officials checked their records and found that no such phone call had taken place, although portions of Mrs Thatcher's side of the conversation seemed to be very similar to a television interview she had done during the crisis.
Press secretary Bernard Ingham said he regarded the tape "as a fabrication, a hoax, a put up job. I said the eccentric and unstructured nature of the transcript (and actual conversation) did not ring true; that the voice simply did not sound anything like that of President Reagan – it was far too fluent and articulate for the man in ordinary animated conversation; and that the PM on tape did not sound like her, though it sounded closer to the real thing than Reagan's alleged voice on the tape."
Officials later noted media reports that the tape had in fact been put together by the punk band Crass, from various interviews and speeches by Thatcher and Reagan. [PREM 19/1380]
Appeal from mother of hunger striker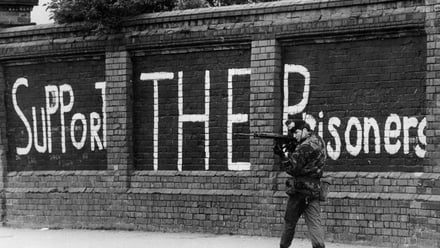 The newly released British State papers include an emotional letter to Mrs Thatcher from the mother of a Maze hunger striker in 1981.
On September 1st, Philomena McCloskey wrote that she hoped the Prime Minister would "receive this letter personally, as I write to you in despair and desperation".
She continued: "I am the widowed mother of Liam McCloskey who, today, completes thirty days on hunger strike in the prison hospital of Long Kesh. I would like to meet you and believe that such a meeting would perhaps give you a better understanding of my position. If you will grant me an interview I would like to be accompanied by Mrs B. Lynch, mother of dead hunger striker Kevin Lynch, also from Dungiven and by Mrs M Hinphey a close friend who has helped me a lot throughout the years of my son's imprisonment. We want no publicity whatsoever either before or after this meeting, if you decide to see us. We can travel to London on any day and at any time you may suggest."
Mrs Thatcher's private secretary, Michael Alexander, sought a draft reply from the Northern Ireland Office, suggesting that "you might think that, in present circumstances, the idea of a meeting between the Prime Minister and the mother of a hunger striker is worthy of more consideration than might have been the case a month or two ago."
However, the NIO was opposed – although a note on the background of the three women, based on intelligence material, has not been released by The National Archives, a letter describes Mrs Hinphy as "an activist" who should not be seen by the Prime Minister.
While the NIO accepted that if the meeting went well it might support families who had in recent times been "exerting a powerful influence that has been working in our interests and against those of the Provisionals... Against that, it is questionable whether we ought to create, as Dr FitzGerald did, a precedent for seeing relatives which we might subsequently have to breach."
Mrs Thatcher accepted the latter advice, and replied to Mrs McCloskey that she had read her letter personally with "I hope ... true understanding. I do care very deeply about those to whom the hunger strike has brought pain and bereavement, as I do for all those in NI who have suffered from violence in whatever form that has taken. You ask if you can come and see me. I hope you will understand that I really do not mean to disappoint you and Mrs Lynch, but I am afraid I do not see how such a meeting could help. I believe myself that the Government's position has already been set out very clearly. But my officials are, nevertheless, ready to explain it again carefully to anyone to whom that would be of value ..."
[From PREM 12/1293; 1/9/81, Philomena McCloskey to Prime Minister; 7/9/81, Alexander to Boys-Smith; 14/9/81, Hopkins to Alexander]
Spring snubbed by Thatcher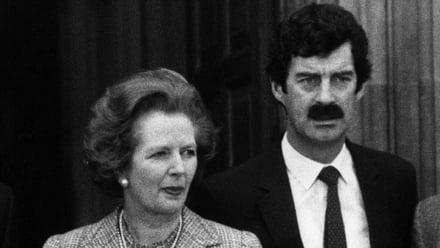 The Irish government made several attempts to set up a meeting between Margaret Thatcher and Tánaiste Dick Spring.
In June, the Irish Ambassador in London, Noel Dorr, asked if the Prime Minister could see him when he was in London. Mrs Thatcher wrote: "I have nothing to say to him and shall be seeing Dr FitzGerald at [an EU summit in] Fontainebleau. I doubt the wisdom of seeing Mr Spring." [PREM 12/1286, 2/6/84, Goodall to Coles]
The following month, the Taoiseach told the British Cabinet Secretary, Robert Armstrong, that he hoped Mrs Thatcher "might be able to find an opportunity to receive Mr Dick Spring ... He thought that it would be useful for you to hear at first hand Mr Spring's commitment to the kind of policies which the Taoiseach was himself following in relation to Northern Ireland."
However, Armstrong advised Mrs Thatcher that there might be other motives for the suggested meeting. "It would not surprise me if domestic Irish politics had something to do with this: there are suggestions that the Fine Gael-Labour coalition has been under strain, and Dr FitzGerald may feel that your receiving Mr Spring would help to buttress it." [PREM 19/1408/1, 16/7/84, Armstrong note of conversation with Taoiseach]
Maze security concerns highlighted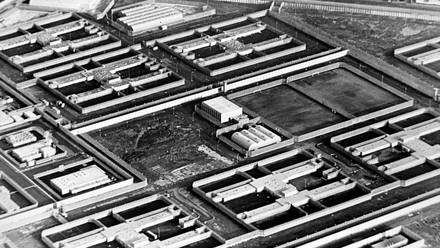 In April, Northern Secretary Jim Prior told Mrs Thatcher about security concerns at the Maze Prison.
The governor there was worried that "some prison officers were so intimidated by fear of attack outside the prison that they were turning a blind eye to some of the rules and regulations and opting for a quiet life."
He was also worried about de facto segregation between Republican and Loyalist prisoners.
Prior wrote that after all the struggles which had taken place, including the 1981 hunger strikes, he did not believe they could allow this to happen.
The Governor proposed to introduce a new disciplinary regime – prisoners who were segregated would be required to do prison work and there would be strict limits on how many were allowed out of their cells together.
Prior said an adverse reaction was likely from prisoners, with the possibility of violence against prison officers and protests outside the prison. But he believed action was needed to avoid slipping back into special category status. "Action of the sort I have outlined must be taken at the Maze if we are to maintain control ..." [PREM 12/1286]
Thatcher bemused by FitzGerald's interest in 'Dowra' affair
British officials believed Taoiseach Garret FitzGerald had "political reasons" for trying to find evidence of malpractice in the so-called Dowra affair.
In 1982, a witness due to give evidence against the brother-in-law of then Justice Minister Sean Doherty was detained by the RUC for questioning.
Newly released secret British documents show that the case was "viewed as one of several examples of senior officers in the Garda using their powers to do improper 'favours' for Mr Haughey and his Government".
After he returned to office, Dr FitzGerald frequently raised the issue with Margaret Thatcher – to her considerable bemusement.
British officials said the Irish government thought that former Deputy Garda Commissioner Ainsworth had arranged for the witness to be arrested, but an RUC investigation found that "evidence of a conspiracy is lacking".
They said the arrest was "based entirely on information obtained by the RUC and was not prompted by Mr Ainsworth or the Garda".
John Lyon, an official in the Northern Ireland Office, wrote: "We detect a sense of frustration in Dublin that having so far been unable to 'nail' their predecessors over the ... affair we – or, more specifically, the Chief Constable – have not been able to do the job for them." [PREM 19/1408/1, 17/11/83, Lyon to Coles]
Thatcher toyed with idea of redrawing border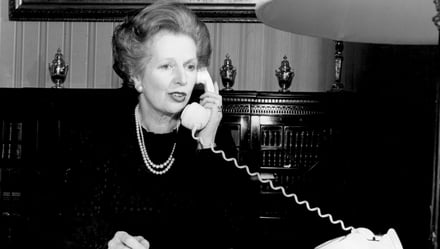 Throughout 1984, Margaret Thatcher toyed with the idea of redrawing the Border in order to move mainly Catholic areas into the Republic, while strengthening the Unionist majority in the remainder of the territory.
After she raised the idea in May, Northern Secretary Jim Prior had a discussion paper prepared, which showed "the enormous difficulties, both practical and political, which would be involved in redrawing the border and moving parts of the population ... I do not believe that this offers an acceptable solution. We might possibly be driven to such draconian measures if we were faced with imminent civil war, or as a result of civil war; but I do not believe that we have reached that stage." [PREM 12/1286, 24/5/84, note of meeting between Thatcher, Howe and Prior; 18/6/84, Prior to Thatcher]
At a meeting in June with Prior, Foreign Secretary Sir Geoffrey How and senior officials, there "was agreement that repartition did not offer a way forward", and it was decided to press ahead with confidential talks with the Irish Government on a possible way forward. [PREM 12/1286, 21/6/84, Thatcher meeting with Howe, Prior and officials]
But as those talks continued to prove difficult, and in the wake of the Brighton bombing, Mrs Thatcher returned to repartition. In advance of a summit meeting with the Taoiseach, she said "there was a case for deciding to round off the talks at the Summit … it might be better to contemplate some more limited arrangement in the field of security co-operation and the criminal law. Or the idea of border adjustments could be looked at again." [PREM 19/1288, 31/10/84, Thatcher meeting with Howe and Hurd]