Johannesburg wakes early. 7am is our 9am, or so I've found since being here.
So this morning was no different, sometime after 6am the funeral got underway, whilst the official ceremony did not begin until 8 am, at the Mandela house in Qunu things were under way.
Keep in mind too that since around midnight last night, diplomats were being brought by bus to the funeral dome. Many of them sat through the night waiting.

RTÉ's Fran McNulty is in Soweto as a nation buries its father
In cities across the country public viewing areas were set up so that people could watch the first time South Africa buried a President. I said Soweto might be a nice place to go, it is where Mandela lived, and his former wife Winnie still has a house there.
It is a sprawling township just outside Johannesburg that is full of life and energy. At his old house on Vilakazi Street, there was no event. It was locked up, closed. Outside seven or eight men stood in the middle of the road and sang struggle songs.
There was no screen, no ceremony, nothing. The house is now a visitor attraction and you can visit for a fee, otherwise you can look in through the bars at the small familiar red brick house.
As the funeral of Madiba was under way in Qunu, at his first family home, there were struggle songs, a candle and mounds of flowers.
Perhaps then the Orlando Stadium nearby would be busier, the government had set up screens and speakers and the stadium is ideal for many people walking from the township.
However inside there too it was quiet. The 40,000 seat stadium was empty. The English team trained there during the World Cup, it would be easy to conclude that the training squad and support team would have had bigger numbers.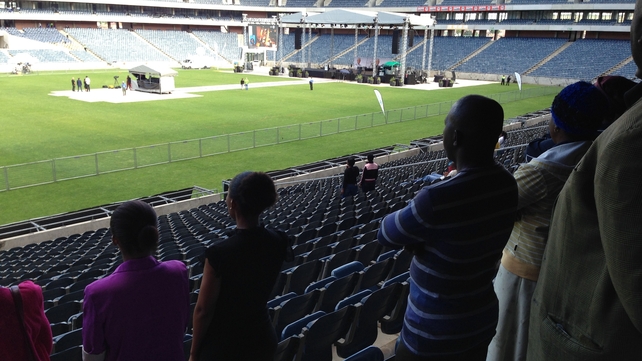 One woman tells me she'd expected more people to be here, but she snaps, "People forget where they came from and the struggle it took to get them where they are". "This place should be packed to capacity, we are celebrating a hero."
Next stop, the Mandela family home in Houghton. It has been a shrine for people. Outside there are metres and metres of flowers stacked waist high. The street is covered in candle wax.
A local man is taking pictures of people and selling them. Close by street sellers are making the most of the turnout.
An ANC Women's League group is singing in the middle of the street, amongst them, two Indian men and a number of white South Africans. Police sat close by and listened to the funeral on their car radios, the sound track of the crowd in the background.
People say they turned out to say thanks, to celebrate to mark the fact that Mandela has changed their lives.
The singing and dancing on the street is in stark contrast to the solemn ceremony talking place a long distance away in Qunu.
In the huge dome that has been built behind the Mandela house, 4,500 people are attending the funeral, amongst them Archbishop Desmond Tutu.
Last night there was a flurry of activity here in South Africa, Tutu said he wasn't going to the funeral. He claimed he wasn't invited. It turns out he was on a list of "accredited" people.
No surprise then that he turned up this morning. He's at loggerheads with Jacob Zuma and the current government, the saga, a likely point proving exercise by Tutu.
His good friend is gone, perhaps he now feels as if he is carrying the flame.
So Madiba is gone, the ten days of mourning will end tonight.
South Africa has bid the father of the Nation a fond farewell. Zuma called him a "fountain of wisdom, a pillar of strength, a beacon of hope".
Nelson Mandela is laid to rest in the very land he grew up on.
The father of the Nation is gone.