RTÉ's Ray Kennedy spent some time with the US First Family and was impressed with their down-to-earth attitude.
Try as she may in her frequent speeches, Michelle Obama could not convince anyone that she was just like us.
Gallery of the Obama's visit to Dublin and Wicklow
For she is clearly a very special person who is surely destined to outlive her current eight year occupancy at the White House and perhaps even return one day.
That's not say for a second her words are not sincere, they are. When she reaches out to empathise with young people from inner city Chicago or Dublin- she means it, and what she says is true.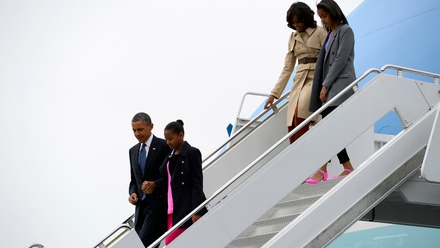 She did start out just like many of us, making her way through regular school, grinding it out through college then community work, law, marriage, kids and one day the White House, with her husband Barack as President of the United States.
It is also true when she tells young people; work hard and they can match what she and Mr Obama have achieved.
Well, apart maybe from the Pennsylvania Avenue part.
But hard work, determination, belief and fulfilling your dreams is possible. I know because she said so, right in front of me in her speech this week.
She was incredibly smart and awe inspiring for the young people from community groups across Ireland that attended a special performance of Riverdance at the Gaiety.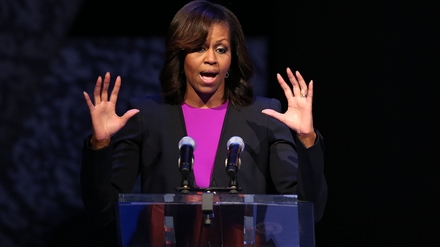 I suspect they will remember that speech and many present will have been uplifted by it, it may stay with them as they make it all the way to the top in years to come.
After all, she did remind them they would be the ones in charge in the future; they would be making the decisions.
And yet, at the same time, here was a mother showing her two well behaved girls around a world that watched their every move. Capturing it and commenting on it.
This week as we toured with them around locations in Dublin and environs, it was clear this was a tight family unit. Three strong women in a difficult world, meeting those who needed support while supporting each other throughout.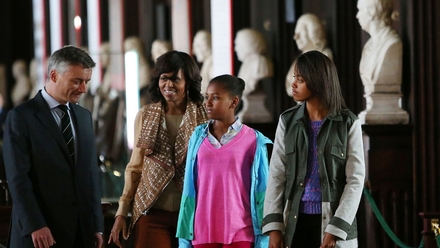 Sure, they looked tired at times, they had flown across the Atlantic. And perhaps they all enjoyed some parts more than others, but they did all of them together.
When it was time to meet the press the Obama family looked to each other for support, when it was time to leave they all looked to each other in support again.
They worked together and came to visit us; say hello, say thank you, offer words of advice and then politely said goodbye. Holding hands, and waving goodbye together.