As election day draws near in the US, we take a look at some of the key issues that will decide how people vote.
Economy
The economy is by far the biggest issue in the race, with both President Barack Obama and Republican challenger Mitt Romney seeking to convince voters they have a plan to usher in faster growth and job creation.
The economy has struggled to break above a 2% annual growth pace since the 2007-2009 recession and unemployment remains uncomfortably high at 7.9%.
About 23 million Americans are either unemployed, working only part-time although wanting full-time work, or want a job but have given up the search.
Mr Obama takes credit for preventing deeper problems and says the economy, while not ideal, is on the road to recovery and that Mr Romney would reinstate the policies that led to the collapse.
Mr Romney says the continued economic weakness demonstrates the failure of Mr Obama's policies and, noting his own record as a successful businessman, says he knows how to stimulate the private sector and create jobs.
Healthcare
A top issue in the election, the $2.8 trillion US healthcare system is the world's most expensive.
The centrepiece of Mr Obama's domestic agenda was the Affordable Care Act, nicknamed "Obamacare". In what was the US healthcare system's biggest overhaul in nearly 50 years, the law seeks to provide health insurance to more than 30m previously uninsured Americans and to slow down soaring medical costs.
However, critics say it is expensive federal interference.
Mr Romney says he would seek the repeal of Mr Obama's law, saying the answer is not to have the federal government take over healthcare.
He said: "The answer is not to have the federal government take over healthcare and start mandating to the providers across America and telling a patient and a doctor what kind of treatment they can have.
"That's the wrong way to go. The private market and individual responsibility always work best."
Foreign Policy
Mr Obama has pointed to his efforts against terrorism, including authorising the military operation in Pakistan that killed Osama bin Laden, and his withdrawal of US forces from Iraq.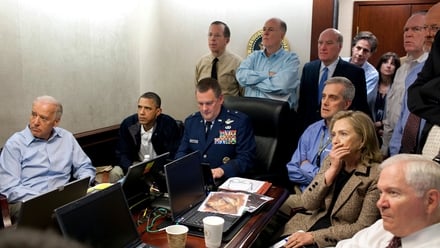 He defends military funding cuts as necessary in a harsh fiscal climate, but says Democrats are committed to a strong military to ensure US global leadership and national security.
Mr Romney says Mr Obama has been weak with US adversaries, such as Iran, and unsupportive of allies, such as Israel. The Republican has also promised to crack down on what he sees as unfair trade practices by China.
He would reverse Obama-era defence cuts and says core defence spending - on personnel, operations and maintenance, procurement and research and development - will not fall below 4% of GDP.
Illegal immigration
Mr Obama announced during his presidency that hundreds of thousands of illegal immigrants, who were brought into the United States as children, could be able to avoid deportation and get work permits.
Most illegal immigrants in the US are Hispanics.
In this year's Republican primaries, Mr Romney said illegal immigrants should be encouraged to "self-deport".
He has softened his rhetoric somewhat since then. He told Hispanic leaders in June he would replace Mr Obama's executive order with a long-term solution, but did not give details.
Energy
Mr Obama included $90bn in 2009 economic stimulus package for energy projects including solar and wind power, energy efficiency and bolstering the electric grid.
He wants to cut US oil imports in half by 2020 by supporting more production of fossil fuels.
The president has delayed the Canada-to-Texas oil pipeline, citing environmental concerns in Nebraska, and has not said whether he will eventually approve the entire project after the election.
Mr Romney has vowed to make North America energy independent by 2020 by expanding oil and gas drilling, allowing more state oversight of energy projects, streamlining regulations and working with Canada and Mexico.
He also opposes government spending on clean energy projects. He has promised to approve the Canada-to-Texas oil pipeline on the first day of his administration to create jobs and help reduce US oil imports from the Middle East and Venezuela.