US Republican presidential candidate Mitt Romney, the former governor of Massachusetts, is pursuing the White House for the second time.
Mr Romney, 65, espouses traditional Republican positions to cut taxes, reduce federal regulations, shrink government spending and bolster the US military.
He vows to create 12m jobs in his first term with a plan focused on domestic energy development, expanded free trade, improving education, reducing the deficit and championing small business.
Mr Romney lost the 2008 Republican presidential nomination to Senator John McCain, but entered this year's race with a large campaign war chest and the blessing of many in the party establishment.
Conservative unease over his reputation as a moderate led to a stiff challenge in the Republican primaries.
His net worth has been estimated at between $190m and $250m, making him one of the wealthiest people to ever run for the presidency.
Mr Romney has been attacked for holding money overseas and for not disclosing as many tax releases as his opponents have demanded.
He proposes to lower individual income taxes across the board to 20% while closing some loopholes, which he says would stimulate economic growth without widening the deficit.
He supports restructuring the social security retirement programme and the Medicare health entitlement for the elderly.
Mr Romney is a fifth-generation member of the Church of Jesus Christ of Latter-Day Saints, or Mormon church. He was a Mormon missionary in France for more than two years after leaving high school and later became bishop and stake president in Boston, roles akin to being a lay pastor.
His faith, however, is viewed with suspicion by some conservative evangelical Christians.
Born into a well-off family and raised near Detroit, Mr Romney was exposed to politics early. His father, George, was chairman of American Motors Corporation and governor of Michigan from 1963 to 1969.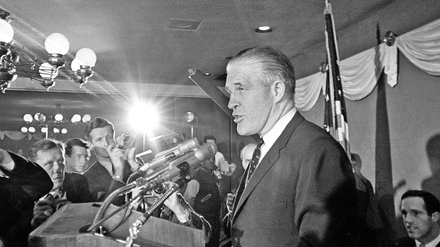 George Romney lost a bid for the Republican presidential nomination in 1968 and served in President Richard Nixon's Cabinet.
In 1994, the younger Romney ran for a US Senate seat in Massachusetts as a moderate Republican, but was handily defeated by incumbent Democratic Senator Edward Kennedy.
Eight years later, Mr Romney was elected governor of Massachusetts, where he instituted a state-wide healthcare reform that became a model for Mr Obama's 2010 national healthcare overhaul.
In 1999, Mr Romney took over as head of the committee organising the 2002 Winter Olympics in Salt Lake City, Utah, which had been plagued by cost overruns and scandal, and produced a successful event that helped establish his national reputation as a problem-solver.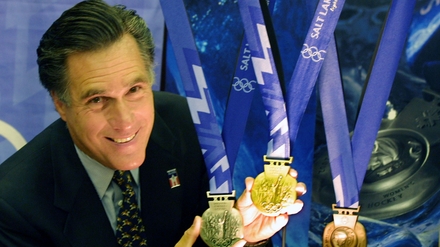 As his party moved to the right, Mr Romney changed his positions on sensitive social issues, including abortion and gay rights. That fuelled criticism that he lacked core beliefs and was motivated only by ambition.
Mr Romney referred to himself as "severely conservative" during the 2012 primaries but has projected a moderate image during the general election campaign.
He met his wife, Ann, at a high school dance and they married in 1969, while they were still in college. They have five sons and 18 grandchildren.
Mr Romney has an English degree from Utah's Brigham Young University, which is owned and run by the Mormon church, and a joint law degree and MBA from Harvard. He speaks French.
He joined the management consultancy Bain & Company in 1977 and climbed the ranks, and in 1984 co-founded the highly profitable private equity arm Bain Capital, which invested in start-ups and fledgling companies including Staples, Sports Authority and Domino's Pizza.
Critics have highlighted the number of jobs Bain cut while Mr Romney was at its helm.
Mr Romney has battled a reputation for being uncomfortable and stiff when campaigning and somewhat aloof when relating to ordinary Americans. The New York Times once described his campaign persona as "All-Business Man, the world's most boring superhero".
He has little foreign policy experience. He stumbled in August during a gaffe-filled trip to Britain, Israel and Poland that was meant to burnish his credentials on the world stage.
Mr Romney has labelled Russia as America's "number one geopolitical foe" and said that preventing Iran from obtaining a nuclear capability should be the US's highest national security priority.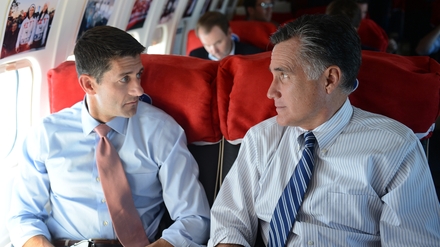 Representative Paul Ryan, Mr Romney's vice presidential candidate in the 2012 election, is a "young gun" out of the Republican Party's more conservative wing.
Mr Ryan, 42, a rising star among the fiscal conservatives who dominate the Republican Party, has served seven terms in the House of Representatives since first being elected in 1998 on a platform opposing tax hikes and espousing gun rights.
A budget hawk committed to cutting federal spending and promoting small government, he put forward a controversial plan in 2009 to reform the tax code and eliminate the federal deficit, relying on tax cuts, reduced spending and a drastic overhaul of healthcare entitlements for the elderly.
It was defeated in the House but it has become closely associated with him.
Both his father and grandfather died of heart attacks in their 50s, making Mr Ryan mindful of a healthy lifestyle.
He leads some of his fellow politicians in a gruelling daily exercise group. He is also a fan of the P90X DVD workout and his hobbies include hunting, fishing and camping.
Mr Ryan became the top-ranked Republican member of the powerful House Budget Committee in 2007 and the committee's chairman in 2011 after the Republicans took control of the House in the 2010 mid-term elections.
He has spent most of his career in Washington and has had little business experience beyond a stint at the construction firm his great-grandfather started.
Mr Ryan is recognised as an articulate and nimble debater who has a sense of humour and intellectual ability.
Even Democrats say they admire his grasp of complicated fiscal issues and sincerity in attacking problems contributing to a mountain of US debt.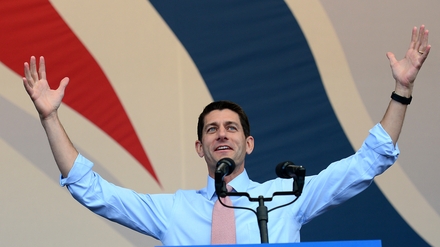 US President Barack Obama has commended Mr Ryan for his serious approach to budgeting, while attacking the specific proposals.
Mr Ryan is perhaps best known for his proposal to restructure the popular government-run Medicare programme by giving the elderly a set amount, or voucher, to buy private health insurance, a move he says is necessary to save the system.
Democrats say that would cost American seniors thousands of dollars a year and accuse Mr Ryan of trying to balance the budget on the backs of the disadvantaged.
Mr Ryan is a Catholic and he has tempered his publicly stated strict anti-abortion position since becoming Mr Romney's running mate, saying a Romney-Ryan administration would permit the procedure in cases of rape, incest and when a mother's life is in danger.
He was born and raised in Janesville, Wisconsin. He is a fifth-generation resident of the state, which voted for Mr Obama in 2008, but is a hotly contested battleground in this year's White House race. He frequently cites his Midwestern roots and is an avid Green Bay Packers football fan.
Mr Ryan graduated in 1992 with a double major in economics and political science from Miami University in Ohio. He has named conservative economist Milton Friedman, pro-capitalist philosopher and novelist Ayn Rand among his heroes.
When Congress is in session, Mr Ryan sleeps in his Capitol Hill office instead of renting a home in Washington.
He says the practice makes sense because he often works to midnight and gets up at 6am. He showers at the gym. He travels back to Wisconsin frequently to spend time with his wife, Janna Little, a tax lawyer, and their three young children.
Mr Ryan was largely absent from the big fiscal debates of 2011 - from Republicans' showdown with Mr Obama over a deficit-reduction plan, to the failed "super committee" effort to find an additional $1.2 trillion in savings, and the fight over a payroll tax cut extension.
He voted against a massive deficit-reduction proposal floated by a presidential commission in 2010, complaining that it did not do enough to control healthcare costs and relied heavily on tax increases.
When navigating the halls of Congress, Mr Ryan almost always is seen listening to music through earphones, making it easier to breeze past reporters. His favourite bands include Rage Against The Machine and Led Zeppelin.