As the 44th president of the United States, Barack Obama passed a revamp of the national healthcare system and authorised the raid that killed Osama bin Laden, but he has struggled to revive the economy and create jobs.
Ahead of the US Presidential election, here are key facts about Mr Obama, the nation's first black president.
Mr Obama, 51, has a personal background like no other president in US history. His mother, Ann Dunham, was a white woman from Kansas and his father, Barack Obama Sr, was a black Kenyan who saw little of his son after a divorce when the boy was a toddler.
The president spent much of his childhood in Indonesia and then Hawaii, where he lived with his maternal grandparents.
He struggled with his mixed racial background while growing up, writing in a memoir that he wondered "if something was wrong with me". He also was troubled by the absence of his father, who he considered a "myth", and said that may have contributed to him using marijuana and cocaine in his youth.
Mr Obama graduated from New York's Columbia University in 1983 and then worked in the business sector in New York and for a Chicago community group.
In 1988, he went to Harvard Law School, where he became the first black president of the prestigious Harvard Law Review.
Mr Obama's relationship with Congress is not great. Even when Democrats controlled the House of Representatives and the Senate, Republicans often stymied his initiatives.
The situation became more difficult when tax-averse Republicans took over in the House in 2010.
In the early 1990s Mr Obama worked in a voter registration campaign in Chicago, taught constitutional law at the University of Chicago and joined a law firm that specialised in civil rights and neighbourhood development.
He married Michelle Robinson after they met at a law firm when he was an intern and she was assigned to be his adviser.
In his rare spare moments, Mr Obama pursues his lifelong love of basketball with semi-regular games at an FBI gym.
He also makes time for school functions and sports events of daughters Sasha and Malia and tries to get out for an occasional "date night" with his wife.
His political career began with election to the Illinois State Senate in 1996 and soared in 2004 when he gave a rousing keynote address at the Democratic National Convention. In November of that year he was elected to the US Senate.
Mr Obama won the 2008 Democratic presidential nomination by defeating Hilary Clinton, the former first lady and New York senator, and then took the presidency by beating Republican Senator John McCain. His energetic campaign was built on a theme of "hope and change" fuelled by powerful oratory.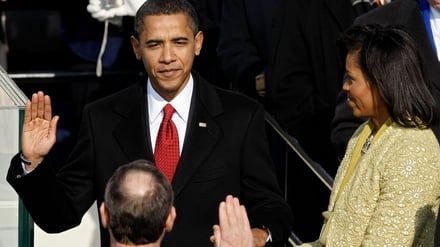 A mood of national optimism prevailed at Mr Obama's 20 January 2009 inauguration, which drew an estimated 1.8m people to the National Mall in Washington despite bitter cold. He began his presidency with a 68% approval rating.
Mr Obama simultaneously oversaw wars in Iraq and Afghanistan, as well as the US military involvement in Libya that helped oust Muammar Gaddafi.
In May 2011, he authorised the raid in which US Navy SEALS killed al-Qaeda leader Osama bin Laden in Pakistan, a triumph he points to as indicative of a strong national security policy.
Mr Obama inherited an economic crisis so persistent that it remains a threat to his re-election. Almost 800,000 jobs were lost the month he took over.
In the early days of his administration, he pushed through an $831bn economic stimulus package and renewed loans to carmakers, even making the government a temporary part-owner of General Motors.
The centrepiece of his domestic agenda was the Affordable Care Act, the healthcare reform law better known as Obamacare.
Its purpose is to give all Americans affordable insurance and more protections, but critics say it is expensive federal interference. A key aspect of the reform - requiring most Americans to get insurance or pay a penalty - survived a 2012 US Supreme Court challenge.
Mr Obama has a reputation as a charming communicator but he is criticised for being aloof and not building better relationships with congressional leaders.
Some have questioned his preparation skills, especially after a sub-par performance in the first Presidential debate with Republican opponent Mitt Romney.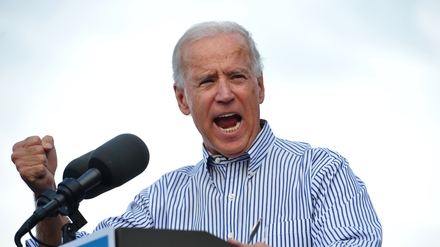 Joe Biden spent 36 years in the US Senate, served four years as Barack Obama's vice president and twice ran unsuccessfully for president. His chatty, off-the-cuff nature has led to some memorable gaffes.
Mr Biden, 69, grew up in Scranton, Pennsylvania, and Wilmington, Delaware, in a middle-class family. Occasional financial hardships while he was young gave him a good ear for the concerns of blue-collar workers.
A football player in high school and at the University of Delaware, he overcame a stutter in his youth by reciting long passages of poetry before a mirror.
He was only 29 when he won a US Senate seat from Delaware in 1972, ousting an incumbent Republican to become the fifth youngest elected senator in US history. His only political experience at the time was two years on a county council.
A few weeks after the election, Mr Biden's life was shattered when his wife, Neilia, and their three children were in a car crash while shopping for a Christmas tree. Neilia and their year-old daughter were killed and their two sons were injured.
The tragedy left Mr Biden suicidal but he chose to go ahead with plans to serve in the Senate. Five years later he married Jill Jacobs, who he met on a blind date; they have one child.
After his first wife's death, Mr Biden chose not to move to Washington but instead made a two-and-a-half-hour daily round-trip train commute from Delaware to his Senate job so he could spend more time with his sons.
He said he made the trip more than 7,000 times and in 2011 the Amtrak station in Wilmington was renamed after him.
While on the campaign trail in October, Mr Biden made a reference to Americans having a chance to vote for him for president in 2016. It was unclear if he was serious and his campaign officials would not comment on the remark.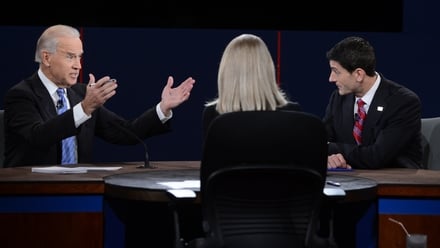 His performance in his October 2012 vice presidential debate with Paul Ryan was notable for the way he smiled, chuckled and sometimes interrupted while the Republican nominee was speaking.
He is known for his friendly but blunt and loquacious manner, which sometimes leads to embarrassing gaffes and contrasts with President Barack Obama's cautious manner.
Mr Biden was caught using the F-word on a live microphone during a White House ceremony with Mr Obama and upstaged the president in 2012 by endorsing same-sex marriage before Mr Obama did so.
He has been troubled by two incidents involving plagiarism. In law school he was accused of plagiarising a law review article, which he said was due to a mistaken citation.
While running for the Democratic presidential nomination in 1987 he lifted parts of a speech by a British politician without attribution. Backlash from that incident led Mr Biden to drop out of the presidential race the next month.
Mr Biden ran for president in 2008 and dropped out of the race early in the year, but not before making a verbal misstep involving his future boss.
His description of Mr Obama as "the first mainstream African-American who is articulate and bright and clean and a nice-looking guy" seemed to some to be condescending, with possible racial undertones.
Mr Biden was on the Foreign Relations Committee for his entire Senate tenure, sometimes serving as its chairman. He focused on Soviet relations, arms control, the Balkans and NATO expansion.
He voted for the invasion of Iraq during the George W Bush administration, but later said he regretted it and spoke against the war.
From being a rival in the nomination stakes, Mr Biden has avoided the curse of vice presidential insignificance and become a close aide to Mr Obama.
He often takes the role of contrarian within the administration to ensure all views are being considered and spoke out against the US special forces raid that killed Osama bin Laden in 2011 as being too risky.
Mr Biden is the first Catholic vice president in US history and his pro-choice position differs from the Vatican's abortion stand. Because of that, he came under fire from the bishop of his Wilmington diocese.