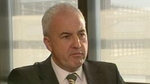 Economics Correspondent Sean Whelan reports that defaulting on national debt does not make all one's problems disappear.
Next week President Michael D Higgins will be in Buenos Aires, where he will honour the memory of Admiral William Brown, the founder of the Argentine Navy.
But it is the fate of the pride and joy of today's Argentine Navy that is probably worrying the Admirals and Commodores in Buenos Aires.
For the ARA Libertad, a majestic sail training tall ship with a crew of 200 has been seized in Ghana on foot of a court order obtained by a US bondholder, who lost money when Argentina defaulted on its debts a decade ago.
On Tuesday, a court in Ghana ordered an injunction and interim preservation order to NML Capital, a subsidiary of Elliott Capital Management, a New York based hedge fund run by a billionaire called Paul Singer.
Back in 2001 Argentina, burdened by heavy debts, defaulted on its loans. Bondholders lost heavily, with an average haircut of 70%. So for every dollar they invested, they only got back 30 cents.
Elliott/NML is one of the 7% of bondholders who did not agree to these terms, and is holding out for repayment in full.
They are one of a number of so-called holdout creditors who have sued Argentina. Courts in the US and London have ruled in favour of NML in claims worth $1.6 billion.
While the awards are still being fought through the courts by the Argentine state and its creditors, NML/Elliott set about tracking the movements of the Libertad, waiting to strike against an Argentine state asset to pressure Buenos Aires into paying up.
Elliott Capital expects to be awarded ownership of the Libertad.
It is valued between $10m-$15m, only a fraction of what the hedge fund is claiming.
But as mobile symbols of national pride go, nabbing a Naval tall ship was certain to catch the attention of the Argentine government, itself under international scrutiny for nationalising a Spanish owned oil company earlier this year.
The Libertad and its crew of Naval cadets on their graduation tour can only leave port if the Argentine government posts a bond with the court in Ghana, which the hedge fund could then seek to recover.
The Libertad saga is a reminder that defaulting on national debt does not make all one's problems disappear.
When the tall ships race finished in Dublin a few weeks ago, some of the biggest vessels tied up where the south quays meet Admiral Brown street, named after the founder of Argentina's Navy, and complete with a bronze statue of the man himself.
The street cuts through the new office buildings in Dublin's south docks, home to banks and law firms in the financial district, all housed in the shiny new offices that symbolised Ireland's property boom, buildings that were financed by banks who borrowed the money...from bondholders.