Japan marks the one-year anniversary of the biggest earthquake in its history, which along with a massive tsunami on the northeast coast killed nearly 16,000 people.
Nearly 3,300 people remain unaccounted for.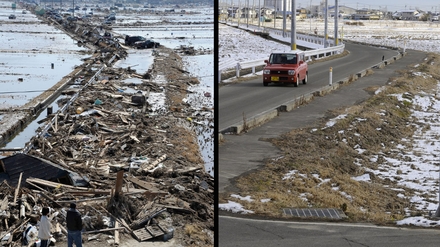 The magnitude 9.0 earthquake struck on 11 March 2011, followed by a large tsunami and several after-shocks, which triggered the world's worst nuclear crisis since Chernobyl.
The thousands who had to flee radiation from the crippled Fukushima nuclear plant may never be able to return home.
Some towns will effectively pass into history, little more than names on a map where no one lives because it is too dangerous.
Outside the zone in Fukushima prefecture as a whole 1.5 million have been affected, with livelihoods lost as farmland has been polluted and businesses, such as hotels or shops have closed
Progress has been frustratingly slow in cleaning up the disaster zone and more than 40,000 have fled the three worst-hit prefectures.
Traditional Japanese music echoed through the large General Assembly hall of the United Nations this week during a commemoration concert ahead of the anniversary.
Addressing the audience, UN Secretary-General Ban Ki-Moon, praised Japan's resilience in recovering from the devastating effects of the 2011 quake and tsunami.