The world's youngest mac app developer is celebrating the release of his second computer game app.
Harry Moran from Cork made history last year when his game PizzaBot topped the Apple charts – beating such titles as Angry Birds and the Call of Duty app along the way.
He has since developed a follow on game - PizzaBot Season(ing)s.
The game, described as a modern-day Space Invaders, is now available from the App Store.
Harry learned how to write code at CoderDoJo computer club at the Glasheen Primary School in Cork.
"I started doing a club called Coder Dojo… and it teaches kids, and anyone else, how to code and get computers what you want them to do," said the 13-year-old.
Harry said he never expected it to be the success that it was.
"I basically only made it, I wasn't expecting it to be half the success – I only wanted to put an app up in the app-store"
"Within the first day it was number one."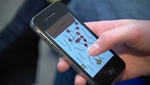 Elaine Dempsey, Harry's mother, was also taken aback by the success.
"We knew Harry was working on it, and it was great he got it up on the App Store, but were really surprised," she said.
Elaine said there is a huge difference from the average computer game and the type of technical code writing that Harry had to do.
"There's a lot of logic and creative reasoning in this – you can notice the child's form while he's doing it – its completely different."
PizzaBot Season(ing)s is available for download from the App Store.