Here is a timeline on the revolt in Libya since the first protests against the rule of Muammar Gaddafi began in February 2011:
15/16 February - A riot in Benghazi is triggered by the arrest of human rights activist Fethi Tarbel, who has worked to free political prisoners, Quryna newspaper reports.
17 February - Activists designate a day of rage. It is the anniversary of 2006 clashes in Benghazi when security forces killed protesters attacking the consulate of former colonial power, Italy.
24 February - Anti-Libyan government militias take control of Misrata after evicting forces loyal to Gaddafi.
26 February - The UN Security Council imposes sanctions on Gaddafi and his family, and refers Libya's crackdown on rebels to the International Criminal Court (ICC).
28 February - EU governments approve a package of sanctions against Gaddafi and his closest advisers, including an arms embargo and bans on travel to the bloc.
5 March - The National Council meets in Benghazi and declares itself sole representative for Libya.
10 March - France recognises the Libyan National Council as the legitimate representative of Libya's people. Libya suspends diplomatic relations with France the next day.
16 March - Forces loyal to Gaddafi are near rebel-held Benghazi. Gaddafi's son Saif al-Islam tells France-based TV channel Euronews: 'Everything will be over in 48 hours.'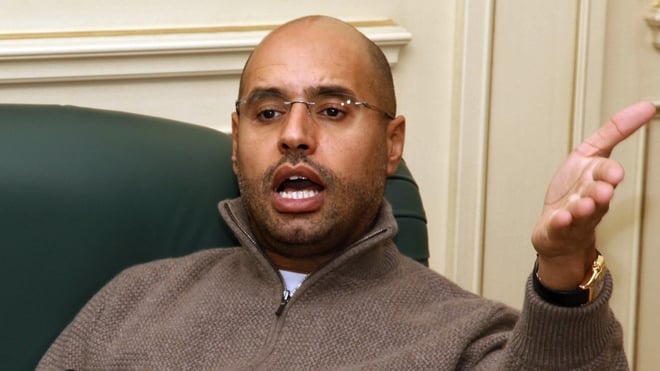 17 March - The UN Security Council votes to authorise a no-fly zone over Libya and 'all necessary measures' - code for military action - to protect civilians against Gaddafi's army.
19 March - The first air strikes halt the advance of Gaddafi's forces on Benghazi and target Libya's air defences.
28 March - Qatar becomes the first Arab country to recognise the Libya's rebels as the people's legitimate representative.
29 March - A London conference of 40 governments and organisations agrees to set up a contact group comprising 20 countries to coordinate efforts in a post-Gaddafi Libya.
30 March - Libyan Foreign Minister Moussa Koussa defects and flies to Britain.
10 April - Gaddafi accepts a roadmap for ending the conflict, South African President Jacob Zuma says after leading a delegation of four African leaders at talks in Tripoli. Rebels reject the plan the next day.
30 April - A NATO missile attack on a house in Tripoli kills Gaddafi's youngest son and three grandchildren.
30 May - In his first appearance in a month, Gaddafi renews a ceasefire call in talks with visiting South African President Zuma but gives no sign he will heed demands to step down.
1 June - Libya's top oil official Shokri Ghanem appears in Rome, saying he defected after the relentless bloodshed.
8 June - Western and Arab nations meet rebels in Abu Dhabi discussing what US officials call the 'end-game' for Gaddafi.
15 June - Libya approves a $31.4bn budget for the rest of 2011, to show it is functioning as normal.
27 June - The ICC issues arrest warrants for Gaddafi, his son Saif al-Islam and intelligence chief Abdullah al-Senussi, charged with crimes against humanity.
15 July - Libya's rebel National Transitional Council (NTC) wins recognition as the legitimate government of Libya from the US at a meeting in Turkey of the contact group on Libya.
16 July - A rare meeting between US diplomats and Gaddafi envoys is held 'to deliver a clear and firm message that the only way to move forward, is for Gaddafi to step down'.
26 July - UN envoy Abdul Elah al-Khatib says after talks with Libya's prime minister, the government and the rebels remain far apart in efforts to end the crisis.
27 July - Rebels win diplomatic recognition from Britain which also expels the remaining Gaddafi diplomats from London.
28 July - Abdel Fattah Younes, Gaddafi's former interior minister who defected to the rebels on 22 February and became their military chief, is killed.
30 July - NATO says it has bombed satellite dishes in Tripoli to stop 'terror broadcasts' by Gaddafi, but state TV remains on air.
9 August - Gaddafi's government accuses NATO of killing 85 civilians, in an air strike near Zlitan, west of Misrata.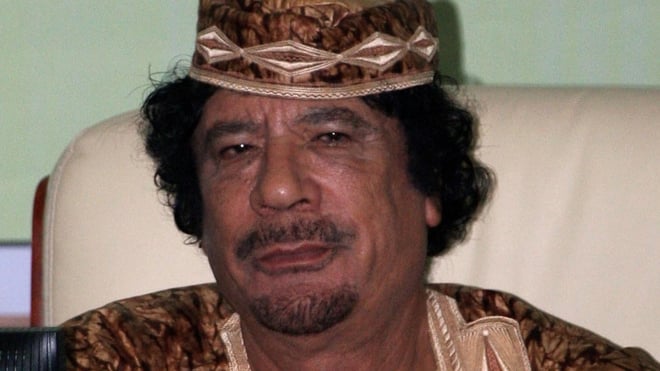 11 August - Libyan rebels say they have captured part of the oil town of Brega. Gaddafi's forces still hold western parts of the town where the oil facilities are located.
14 August - Libyan rebels take the centre of Zawiyah, near Tripoli, cutting the coastal highway to Tunisia which keeps the capital supplied with food and fuel. Gaddafi troops still hold its oil refinery, the regime's last fuel supply.
Gaddafi forces fire a scud missile from near Sirte. There are no casualties.
15 August - In a barely audible telephone call to state television, Gaddafi calls on his followers to liberate Libya from rebels and NATO. 'Get ready for the fight… The blood of martyrs is fuel for the battlefield,' he says.
Rebels say they have captured Garyan, which controls the highway leading south from Tripoli and linking it to Sabha, a Gaddafi stronghold deep in the desert.
16 August - Libya's rebels say they have completed moves to cut off roads to the capital after rapid advances in the west.
19 August - Rebels fight battles in two coastal cities near Tripoli in a drive to topple Gaddafi, but meet stiff resistance.
20 August - Explosions and gunfire rattle Tripoli after days of battlefield defeats left Gaddafi's government and troops penned ever more tightly in the besieged capital.
21 August - Rebel fighters enter Tripoli with little sign of resistance, despite a call by Gaddafi for citizens to take up arms and save his 41-year-old regime from annihilation.
22 August - Libyan government tanks and snipers put up scattered, last-ditch resistance in Tripoli after rebels sweep into the heart of the capital, cheered on by crowds.
The international community says the Gaddafi regime is 'coming to an end'.
Rebels claim to capture two of Gaddafi's sons. Overnight, Gaddafi's son Seif al-Islam reappears after being reportedly arrested by rebels and defiantly says that Tripoli is 'under control' of the regime. His brother Mohammed escapes after having been arrested by rebels.
23 August - NATO declares that Gaddafi is not a target.
Rebel fighters capture Gaddafi's heavily fortified compound and headquarters in Tripoli after a day of heavy fighting. Rebels say there is no trace of Gaddafi and his sons. They say 400 have been killed and 2,000 injured in three days of fighting.
To the east, rebels overrun the eastern oil hub of Ras Lanuf on the road to Gaddafi's hometown of Sirte. Forces loyal to Gaddafi fire several Scud missiles from Sirte at Misrata.
President Nicolas Sarkozy of France and US counterpart Barack Obama say to continue military action against Gaddafi until he lays down his weapons.
Senior Libyan rebel official Mahmud Jibril says that the political transition in his country 'begins immediately'. Mr Jalril says that the rebel council will move from Benghazi to Tripoli progressively from Thursday.
Gaddafi says in audio messages he has abandoned his Tripoli compound in a 'tactical withdrawal'. He says he walked incognito in Tripoli and urges residents to cleanse Tripoli of 'rats'.
There is gunfire and sporadic explosions during the night.
24 August - Fighting rages near Gaddafi's compound and the nearby Abu Slim area as loyalist troops stage a fightback, an AFP reporter says. Not far from the fighting some 30 foreign journalists are still unable to leave their hotel after four days of siege.
Mr Jalril says that the rebels want to take Gaddafi alive. He says Libya will hold free elections in eight months and Gaddafi will be put on trial in the country.
Russian President Dmitry Medvedev says Russia will be prepared to open full diplomatic ties with the rebels if they are able to unite the country.