RTÉ News has obtained documents giving a blow-by-blow account of how the Irish financial institutions came to call on billions in emergency funding from the Irish Central Bank.
An estimated €50bn in emergency loans have been extended by the Central Bank to date.
Documents released under the Freedom of Information Act reveal how one-by-one these institutions ended up needing that help.
Anglo Irish Bank provided the template. On the night of the banking guarantee in September 2008, the Minister for Finance Brian Lenihan wrote to Central Bank Governor John Hurley saying Anglo might require emergency funding.
He said if Anglo was unable to return the money it was the 'intention' of the Government that the Central Bank would be paid back in full.
He would have to write the same type of letter for every other Irish financial institution.
As money left the Irish banking system late last summer, banks began lining up for Central Bank help.
AIB came first. Large amounts of money appear to have left AIB in September. Correspondence shows a rush to put emergency funding in place.
On 28 September, Mr Lenihan sent a 'letter of comfort' to the Central Bank governor saying 'it would be the intention of the Government' that the Central Bank did not incur a loss.
Fast-forward to November's bailout talks and Mr Lenihan received word Ireland's biggest lender Bank of Ireland had 'lost a significant amount of funding'
He provided another letter of comfort - again releasing emergency loans.
By December, the bailout was not stemming the flow of deposits with EBS requesting help on 15 December.
On New Year's Eve, an official e-mailed colleagues saying Irish Life and Permanent would need to draw down money when it re-opened on 3 January.
Take a closer look at the documents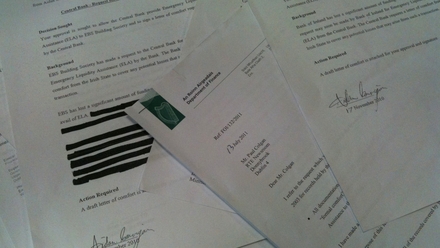 Exchange of emails between officials at the Department of Finance stressing the need to put emergency funding in place for AIB
Letter of Formal Comfort from Brian Lenihan to the Central Bank governor Patrick Honohan – releasing emergency loans to AIB.
Memo to Brian Lenihan saying Bank of Ireland has 'lost a significant amount of funding' and that the Central Bank needs a letter of comfort.
Letter of Comfort releasing funds to Bank of Ireland
Document 12, 15 December 2010 (Page one | Page two)
EBS Building Society has 'lost a significant amount of funding and has been trying to avoid having to avail of ELA'.
Email: 'Please note that Irish Life and Permanent will be in receipt of ELA from January 3rd'
'Irish Life and P has lost a significant amount of funding in recent week'