Garret FitzGerald could be a poster boy for Bealtaine, the festival celebrating creativity in older people; at 84, the former Taoiseach is busier than ever. Donal O'Donoghue meets him at his home

You can tell the house by the parrot in the window. It seems a curious landmark but true enough, a stuffed bird confirms a terraced redbrick on Dublin's southside as the home of Garret FitzGerald. The former Taoiseach and leader of Fine Gael leads us through a warren of rooms in the house that is connected to his daughter's. The walls are lined with books; in his house, it's primarily history, politics and economics while his daughter's is all music, arts and literature. The centrepiece is a piano. Does he play? 'No I never was able to do anything useful like that', he says and smiles, mischievously.
Sporting a canary yellow shirt and one of his trademark colourful ties, the 84-year-old is surprisingly light on his feet. Asked whether he follows an exercise regime, his eyebrows arch in bemusement. 'I was taken out for walks by a woman from the age of five to nine but I never walked much after that', he says. His sense of fun resides with a sense of purpose and self-possession, there from the beginning. At the age of six, having challenged his father on some local matter, he was banished to his bedroom. 'Apparently I came back down to the living-room later and said 'I disagree with all of you' and went back to bed again.'
Garret FitzGerald is one of the last of the political heavyweights. Of the local big three, Charles J Haughey has passed away and Margaret Thatcher has moved out of public life. FitzGerald remains as sharp as a tack, tapping out a weekly column for the Irish Times and offers occasional contributions on TV and radio. In the week we met, he was planning a working trip to economically beleaguered Greece and he continues to toil on two books, an updating of his 1991 autobiography, All in a Life, and an analysis of Irish education pre-1824. When RTÉ celebrated his 80th birthday in 2006 with a four-part TV series (FitzGerald at 80), he pronounced that he would continue working as long as he could. Four years on, he has remained true to his word. 'No change!' he says with alacrity and laughs.
Today, FitzGerald has been up and about since seven o'clock but at eleven has yet to sit down to breakfast. Most nights he makes do with six hours sleep (more time in which to work he reasons). When a cup of coffee and a plate of digestive biscuits does arrive, he stirs, sips and dips into a life full of incident, acclaim and anecdote.
There's the curious tale of how he came to be born in Bray, Co Wicklow. Back in 1915, his parents lived in Kerry but were thrown out of the county by the Royal Irish Constabulary when they were suspected of signalling to German U-boats. In fact, his mother was feeding the hens late at night to boost productivity and as the oil lamp twinkled across the bay, the Forces of the UK Crown deduced that some nefarious activity was afoot.
His father Desmond FitzGerald, born and bred in London, was Minister for External Affairs in the fledgling state when Garret was born in 1926. A poet and philosopher, Desmond Fitz was in the GPO in 1916 and was director of publicity for the government during the War of Independence.
But FitzGerald always regarded his mother, Mabel McConnell, a Belfast Protestant nationalist, as the more political of his parents. She too was in the GPO in 1916 and instilled in her youngest son a love of politics. 'I had a very close relationship with my parents and I had an easy childhood', he says. 'But I was argumentative, which is why my father thought I should become a barrister.'
Contrarian that he is, he studied economics and history at UCD and later worked with Aer Lingus, where he became an authority on transport (from the age of nine he has nurtured a life-long obsession with transport timetables). While at university, he met Joan O'Farrell, the Liverpool-born daughter of a British army officer. 'The 25th of November 1943', he says of the day. 'It was a debate in the French society on Jazz. I taught her and another student how to play three-handed bridge. She was a few years ahead of me and saw me as an immature first year. But a year or so later we went to the pictures a lot together with other friends. 13 times in 19 days, which must some sort of record.'
He graduated in 1946 and, after a few spurned proposals, they were married in 1947 and remained so until Joan's death in 1999. What was the secret of their relationship? 'There's chemistry but I don't know what that means', he says with a smile. 'But I was always interested in having children. Even at college I set up the children's party in the Iveagh Gardens. She was a great mother to her children and was a good judge of people, much better than I was. That proved useful when I wanted advice on picking my cabinet.' In the latter days of her life, when she was ill, he nursed her around the clock in their Dublin home. He still thinks of her every single day.
He also met Charles Haughey for the first time in his first year at college. 'We were studying Spanish together', he says. 'He wasn't very good at it, got only 23% in his first year exams, but we didn't interact much.' Later, especially during the bleak mid-'80s, when FitzGerald was Taoiseach for two terms and Haughey was leader of the Fianna Fáil opposition, they frequently clashed on the political stage. Otherwise, their relationship was amicable. 'That was really to (Haughey's) credit because I did say a few harsh things about him', he says, but his one regret was his reference to Haughey's 'flawed pedigree'. Many years later he visited Haughey at his Kinsealy home during his final illness. In those final hours together they talked about old times and the people they had known. 'We didn't talk politics, there was no point in that', he says.
By his own admission, FitzGerald had 'an interesting relationship' with Margaret Thatcher. On one occasion, the British Prime Minister admitted to her civil servants that she liked FitzGerald 'more than she should'. Did he like her more than he should? 'She wasn't my kind of person but I had to 'woo' her from the time she became Prime Minister', he says of the years leading up to the landmark Anglo-Irish Agreement of 1985. 'A good relationship with her was very important and my main concern was to bring peace back to the North and make sure the IRA didn't come out on top.'
He retired from party politics in 1992. Does he ever think that he may have left the fray too soon (he campaigned for a Yes vote in the second Nice referendum in 2002)? He shakes his head vigorously. 'No. You see, the path of my life was determined quite early. Journalism at age 20, consultancy from age 32, lecturing from age 37 (Economics at UCD).'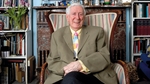 So when he left party politics in 1992, he didn't look back. Putting his name forward for the Arás was never an option. 'I was 14 years in office in some form or other, as a minister, as Taoiseach, as leader of the opposition and unable to say what I thought', he says. 'You want to escape from that and not go back into it again. So the Presidency was never a question for me. I like to say what I think and I wanted to be released again, to be independent.'
Asked to name his most treasured possession, he lists the cutlery that he inherited from his parents. Apart from their considerable emotional significance, there was a definite usefulness for the knives and forks at a time when things were lean. 'I was the youngest in the family so the rest of them were all set up when my mother died in 1958', he says. 'So I went for all the things I didn't have, including the fridge.' He paid for that according to its estimated worth (£5) and that fridge survived until 1982.
Over the years, FitzGerald has been called many things but no nickname has stuck as surely as the sardonic 'Garret the Good'. 'That came from a backbencher who astutely worked out that it would be damaging', he says. 'It just tells you something about the type of country we were that to call someone 'good' was an effective way of damaging them. I always found that rather odd.'
Now FitzGerald busies himself with revisiting his own story. 'It will be much shorter', he says of the revamped biography. 'Less history, more anecdotes. I might call it Garret Lite.' Shaking the family tree once more has produced some regrets. 'All those questions I never asked and things I'd love to know', he says of his parents. But while many of his old friends have passed, this man who loves children remains 'insulated by family'. He waves aside questions about his legacy and shrugs at impending mortality. 'When I was in my 30s the doctor told me that my eyes would stop watering when I was 75', he says, dabbing at a moist cheek. He lists the physical signs: only 40% lung capacity, the bypass he had in 1994 and his diabetes. 'I don't think about death', he says. 'It's going to happen at some stage and you can't do anything about it. All you can wonder is what form it will take. Hopefully, it will be reasonably peaceful.'
First published in the RTÉ Guide on 23 April, 2010