Staff from the Port of Galway have covered a former army reconnaissance vehicle, bearing the Russian flag, which was parked in the Harbour this morning.
The eight-wheeled OT 64 was left close to an apartment building near the entrance to Galway Docks.
Labour Party Councillor Níall McNelis said he was alerted to the tank like vehicle by a number of Ukrainian refugees who were upset by its presence. He described it as "grotesque and offensive" to those fleeing the conflict in Ukraine.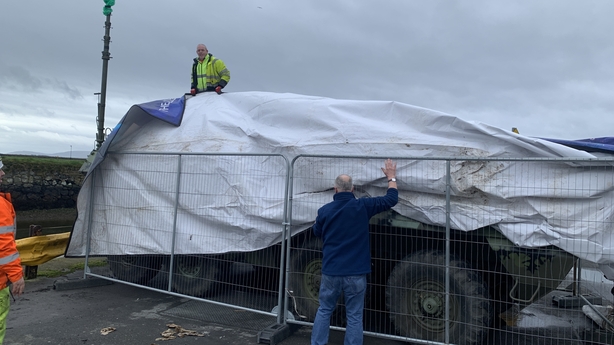 On foot of complaints, harbour personnel covered the Russian flag with a bag earlier this morning. They subsequently erected fencing around the vehicle and covered it, with a number of plastic sheets.
It's emerged that the personnel carrier was transported to Galway last night and was left in its present location after it developed a mechanical fault.
The vehicle's owner Sam Corbett has outlined how he purchased it for use as part of an escape room, which will be housed on a disused ship.
He intends to use the former military vehicle as part of the planned nautical themed adventure facility.
Mr Corbett said he bought the carrier, along with a range of other military props, from an arms dealer in Kosovo recently.
While the OT 64 is in working order, he says a problem with its gearbox means it can only travel in reverse at present.
For this reason, Mr Corbett says it had to be left at the harbour verge, instead of being moved to a nearby storage location.
The Russian flag was among the paraphernalia on board the vehicle and was erected by one of those involved in moving it last night. Mr Corbett said no harm was intended by the action.
He is hopeful that a mechanic will be able to carry out repair work on the now concealed carrier in the coming days, so that it can be moved to its intended location.
Former Defence Forces Sergeant Larry Carthy said the vehicle in question was one of a number that had been developed by the Polish and Czech administrations in the late 1950s.
They went into service in the early 1960s and were equipped for a number of different uses.
As well as operating on land, they have an amphibious capability and are fitted with rear propellers.