The GAA has backed a campaign to upgrade a road in Co Tyrone where dozens of people with links to the association have lost their lives.
A new group set up by the Tyrone County Board was launched last night.
The group, 'Enough is Enough', has pledged to fight for a long promised dual carriageway between Aughnacloy and Derry.
The Stormont Executive made the 58-mile road scheme a priority project back in 2007.
But between then and now it has been delayed by repeated legal challenges by a protest group.
It's estimated that in the intervening years, 44 people have been killed on what remains a stretch of mostly single carriageway.
The authorities are making another attempt to progress the scheme. A public inquiry into planning matters is expected to take place on the spring.
The A5 is the main link road between Donegal and Dublin.
The Irish government has promised to part fund the scheme - the total cost of which is now put at more than a billion pounds.
Niall McKenna is the spokesman for 'Enough is Enough' and the current Tyrone County treasurer.
He said he'd been motivated to act when a young clubmate of his, 21-year-old John Rafferty from Killyclogher was killed on the A5 last October.
He was an accomplished footballer who had played at minor and U-20 level for his county.
Mr McKenna accepts protesters have legitimate concerns but says safety must come first.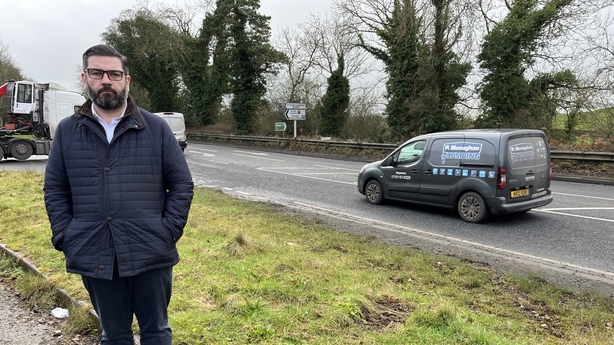 "When you listen to the families and the pain and devastation they're going through - nothing is more important than the loss of human life."
"We live in this community, we knew there was a lot of support for us and the vast, vast majority of the people in this area want this road delivered."
Families of some of those killed in recent years also attended the event.
Among them was Damian Corrigan whose son Nathan died along with two friends in December 2021, close to his home.
"We went to the scene of the accident and saw the car turned upside down," he told BBC Radio Ulster.
"Unfortunately, there are three body bags sitting on the side of the road."
The new group says it wants to secure the new dual carriageway, promote road safety, get short term mitigation measures in place pending scheme completion; and offer people who support the new road a public platform.