A food bank in the midwest has said that 2,000 children have accessed its services due to increases in the cost of living.
It comes as the number of people looking for help to pay for bills, food and other essential living expenses saw a percentage increase of 50% since October, according to new figures.
The Midwest Simon Community, which runs food banks in Limerick, Clare and north Tipperary, said that out of 7,000 people who used their services this year, 2,000 were children.
Speaking on RTÉ's Morning Ireland, Jenny Walsh, Midwest Simon Community's Food Bank Coordinator and Distribution manager, said. "Up to quarter three this year we have between six and seven thousand people accessing the service across the board in Limerick, Clare, and North Tipperary. That includes over 2,000 children."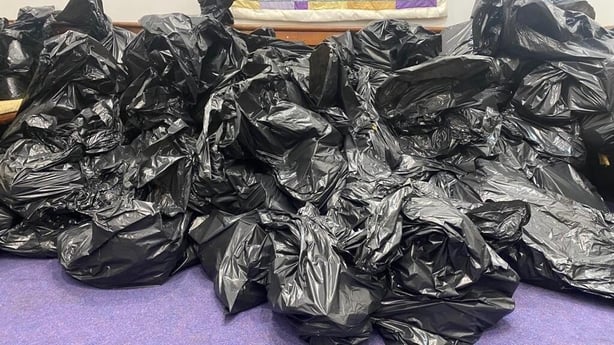 Around 400 more people per day are also seeking help from Saint Vincent de Paul to deal with the impact of the cost of living crisis, the payment of bills, food and other living expenses.
"At the end of October we were receiving an average of 800 calls per day seeking help across a range of needs. Last week, that figure had jumped to 1,200 per day," Dr Tricia Keilthy, SVdP head of Social Justice and Policy said.
When recent figures are compared to last year, SVP has had a 20% increase in the number of calls it gets for help.
"I just don't think we should be living in a world or in a society where people are crying asking for bag of porridge"
With 350,000 people - approximately 7% of the Irish population - impacted by food poverty one in three of calls to SVP relate to requests for food.
Earlier this month FoodCloud - a social enterprise that connects businesses with surplus food with charities across Ireland - revealed that there is a "stark increase this winter in demand for food for families and people who are struggling with inflation and the cost of living crisis".
In a survey, the charity found that almost 75% of volunteer and community groups working with the charity said in a survey that they are experiencing "an unprecedented increase in demand for food from the public" and 34% of those groups said they "can't meet the basic foods needs of their service".
Last Friday, the Midwest Simon Community held its monthly food bank in Limerick and distributed 340 bags of food to 180 people, which included 146 families. On the same day the charity had 11 new registrations for help.
"The people that are coming into us are struggling enormously. People might come in at the start of the month and they're coming back sometimes at the end of the month and saying we don't have food. Is there any way you can help us out? They're also struggling with the cost of living with their energy costs as well," said Ms Walsh.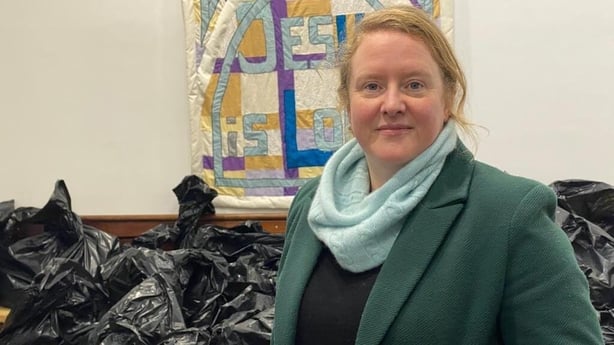 Jackie Leonard, head of fundraising with the Midwest Simon Community, said the number of people who turned up for the Limerick food bank last Friday was "scary".
"It's cold, it's wet, it's miserable. People's heads are down. There's a big crowd here this morning. It's pretty bleak to be quite honest with you," said Ms Leonard.
"This service is a lifeline for people. People really, really need us. I saw one woman when she came to the door. She asked for porridge and she had tears in her eyes.
"I just don't think we should be living in a world or in a society where people are crying asking for bag of porridge."
Ms Leonard added the costs of running the service had increased.
"I was paying all my bills but by the time I actually paid my rent, electricity and heat I was left with barely anything"
"We too are feeling the pinch. Like everybody else our electricity bills are up. The diesel costs more to run the vans. It is costing us more money to run the service. It is a vital service and we have to run it.
"We need financial support from the community for the operations of the foodbank," she said.
The People's Food Bank, which is part of the Blue Bell Community Development Project in Dublin, has seen increases in the numbers of people using its service.
The service's co-founder, Jimmy Dunne, said: "180 hampers to 300 hampers would go out weekly from roughly 1100 people.
"People are struggling and are struggling badly," he said and added that in the new year "needs are going to get greater".
Mother-of-three Rosie, who uses the People's Foodbank, said it helps her survive.
"I was paying all my bills but by the time I actually paid my rent, electricity and heat I was left with barely anything," she said.
"At the minute, I just need to worry about my kids waking up on Christmas Day and being happy."
The People's Foodbank is part of a public awareness campaign celebrating the impact of almost 35,000 charities, communities and social enterprises in Ireland called 'WeAct'.