Students at a school in Co Offaly have welcomed two new additions to their school.
Two calves called "Buttercup" and "Oreo" are being cared for by the pupils of St Francis Boys National School in Clara.
It is part of the 'Hooves for Hospice' project which aims to raise money for a new hospice in the midlands, the only region in the country without a hospice.
The project involves recruiting farmers, community groups and even schools, who are willing to rear a young animal.
When ready for sale, the animals will be sold by the Lions Club and the entire proceeds of the sale will be donated to help fund the building of the hospice.
The Hooves for Hospice campaign was set up by Tullamore Lions Club.
"It's the only region in the country that doesn't have a hospice and in the Lions Club we said we had to get involved," said Pat Lawlor, Chair of the Hooves for Hospice Campaign.
"This school is fantastic. They came to us and volunteered to rear the animals for us. We never dreamt we would get such support" he added.
For the pupils, it's been a learning curve but one they're enjoying.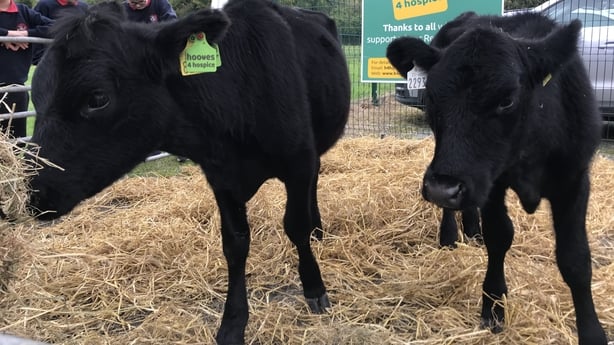 "I've learned how to tell if the cow is happy or sad. If they're running around with their head up and eating, they're happy but if their coat isn't shiny and they have their head down, they're sad," explains sixth class pupil Frank Scanlon
"I mostly like looking at them and having the chats," said Dean Bracken.
The students take turns feeding and watering the animals, but they explain that calves are not always on their best behaviour.
"They can be sneaky at times and get out into other fields. During the summer they escaped into another field with lots of other cows, so we have to keep an eye on them," said Scott Mannerings.
The calves will remain at the school for another year.
"Many of these boys are from the town and a lot of them wouldn't have the opportunity to work with animals so you can see the smiles on their faces and the kick in their steps when they come in from doing their few jobs with the animals," said Ronan Ward, sixth class teacher.
Last month the campaign to provide a midlands hospice received a massive boost with the announcement of €20 million in funding by Taoiseach Micheál Martin.
The hospice, which is expected to be completed by 2025, will provide essential access to specialist palliative care for patients and their families across the midlands.