The Ukrainian Ambassador to Ireland has met refugee families attending the National Novena to Our Lady of Knock in Co Mayo.
Today marks prayers for peace in Ukraine with a special ceremony in the Basilica.
The theme of this year's Novena is 'A Journey in Hope' - words that will resonate deeply with members of the Ukrainian community attending Knock Shrine.
Ukrainian Ambassador Larysa Gerasko said Irish people had extended the hand of friendship to her fellow Ukrainians and they felt safe here.
"We are strong people and we hope to win this war and have peace in our country. But Ukrainian women want to work here and give something back to local communities."
Victoria Ivanouska, who worked as a manager in an electronics store in Ukraine, is tending to flower beds at Knock Shrine.
"It's not my usual work but I'm very happy to be gardening here. Knock is a beautiful place and brings peace to my heart.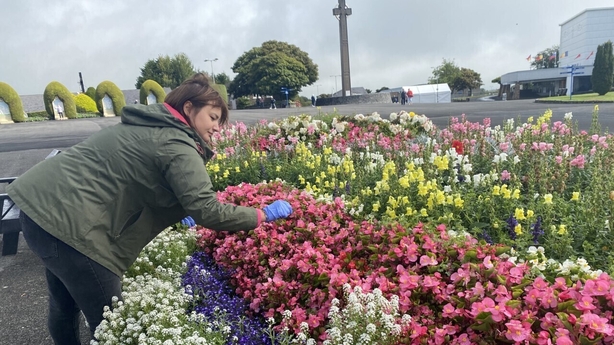 "I miss my country terribly but I'm safe and happy here."
Fr Richard Gibbons, parish priest of Knock and Rector of the Shrine said: "The Novena is a very special highlight of the year and it's wonderful to see people return again in person.
"There are over 8,000 pilgrims travelling to the shrine daily and today we pray for peace in Ukraine, looking to the future with the hope of renewal, and asking for God's guidance."
---
Read more on Russia's invasion of Ukraine
---
Tom Coleman is a retired garda Garda living in Knock. He and his wife Mary are host family to Ukrainian woman Iryna Brunner and her two children.
They said their experience of taking a Ukrainian family into their home has been deeply enriching, and Ms Brunner agreed.
"They are a wonderful Irish couple and we have been treated like family.
"I work as a housekeeper in Knock House Hotel but miss my job back home as a tour guide. I'm grateful for everything I've received in Ireland but fear for the future and my children going forward," she said.
With accommodation reaching crisis levels as students prepare return to college, the couple are appealing to people to open their homes to those in need.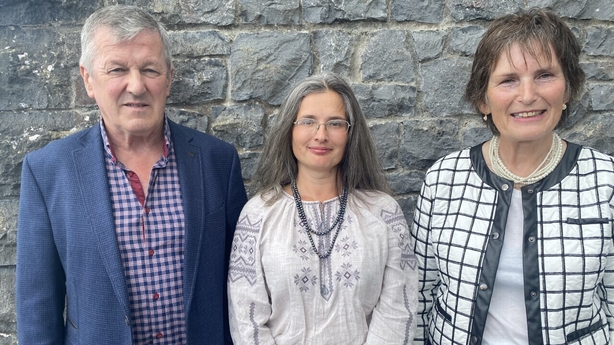 Halyna Teslyuk is an Old Testament scholar and Associate Professor at the Ukrainian Catholic University in Lviv, Ukraine.
In her speech, "A Hope that Inspires", she drew upon the poetry of Seamus Heaney to reflect the emotions that she and her fellow Ukrainians have been going through over the last 176 days of the war.
"Human beings suffer
They torture one another,
They get hurt and get hard.
No poem or play or song
Can fully right a wrong
Inflicted and endured."
She said the crimes and atrocities committed in Ukraine and the risk of disaster at Europe's largest nuclear power have shaken the world.
"Ukrainians with your help are fighting against the evil, you opened your hearts, the doors of your houses and the borders of your country for us and show incredible hospitality and empathy".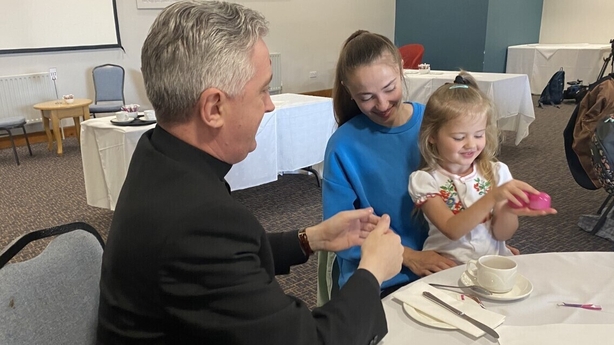 The Novena offers nine days of reflection and prayer for pilgrims and is under way until Monday, 22 August.
This year marks its first return since the onset of the Covid-19 pandemic.