The Minister for Further and Higher Education has appealed to homeowners to consider renting rooms to students ahead of the start of the new academic year.
The Union of Students in Ireland has previously said there is a student accommodation crisis, with many people who are due to start college in September struggling to source a place to stay.
Students have also recently reported that offers of accommodation have been withdrawn in some parts of the country.
Minister Simon Harris described the situation as "a very challenging environment", saying there is "absolutely no doubt that there is a real housing supply issue".
We need your consent to load this rte-player contentWe use rte-player to manage extra content that can set cookies on your device and collect data about your activity. Please review their details and accept them to load the content.Manage Preferences
A young man who posted images of lengthy queues of people waiting to view a rental property in Dublin has described the hunt for a house as a big challenge.
Conor Finn said he was invited to attend a viewing between 8.30pm and 9.30pm on Monday.
When he arrived at the three-bed property at around 8.35pm, he said there were "about 100 people queued down the entire street in Drumcondra, which I'd never seen before".
He said he left after an hour because "we hadn't really moved far at all and there were still people joining the queue at the end".
Mr Finn said he had never witnessed a scene "as mad as that" for rental properties and he said he felt it was "a lost cause".
He said it was only his second viewing from hundreds of emails he has sent applying for a room to rent.
"Just think about the other people that are around the country who are trying to come to Dublin either for studying or for work or moving from another country, it's just insane."
Mr Finn said there was a varied mix of people in the queue including students, who were all "clearly desperate for housing".
He said it "wasn't really a viewing, it was a queue for a viewing" and that it was "almost like queuing up for a club that nobody was getting into".
He said the situation "highlights the scarcity of rooms to rent" in Dublin.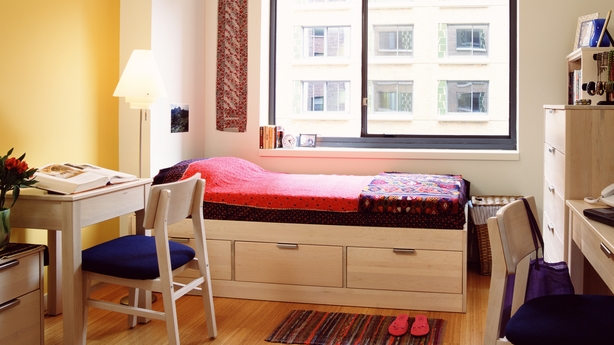 The President of the UCD Students' Union has called for the accommodation challenges facing students to be declared an emergency.
Molly Greenough said students, who are struggling to find a place to stay ahead of the new term, are at "breaking point".
She said the UCD Students' Union regards the current situation as "an absolute emergency" and she said "the accommodation crisis is an ongoing problem".
"I think the Government are doing their absolute best to kind of fob this off as a one time blip on the radar, but this time last year students unions across the country were demanding immediate action, and we still saw nothing so I think now we're at an absolute breaking point."
Ms Greenough said students are making contact with the union seeking help in locating a place to stay and it is not just new college entrants.
"We've seen a lot of returning students to UCD struggling, particularly international students, who are struggling as well," she said.
She said while it was disappointing to see the lengthy queues on social media of people waiting to view a rental property in Dublin, she said "it's nothing new for anyone working in a student's union.
"We frequently hear of students going into viewings with say upwards of 60 or 70 people there all vying for the same one room in a house and you also have to keep in mind that anytime students are competing for these places, there's an overall supply issue as well, so they're often pitted against working professionals who may have larger budgets to spend than students and their families would."
Ms Greenough described the situation as "very disheartening for students" and she expects the problem will be exacerbated when CAO college offers are made.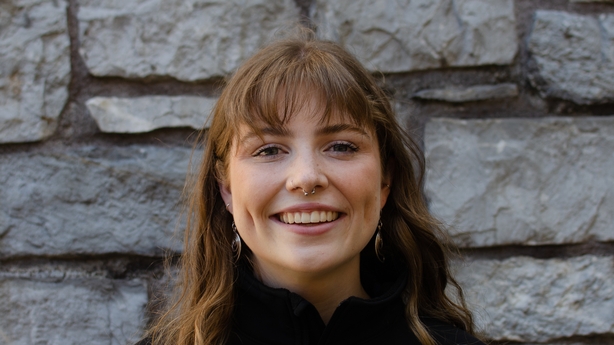 'I can't find a room anywhere'
Alannah O'Connor, University College Cork's Student Union Welfare Officer, agreed, saying she and her colleagues are being contacted by dozens of students every day seeking help.
Ms O'Connor said that in previous years her role had involved helping students to find accommodation, but this year she finds herself among the number of people seeking assistance.
"My lease is actually up at the end of this week and I've been looking all summer for a house, and I can't find a room anywhere," she said.
"One of my friends has kindly said I can stay at her house for the next two weeks, but after that I'll have to commute. I'm really struggling with not being able to find a room.
"Between myself and the accommodation officer in UCC, we're getting about 60 queries every day of people looking for accommodation and there's only so much we can do.
"Most of the problem is that while these rooms exist they're too expensive for people.
"Someone who's getting a full rate SUSI grant, their full maintenance is €625 but in some of these new student accommodation blocks being built you're expected to pay €225 a week, which is amounting to nearly €900 a month.
"We've seen people looking for rooms putting up ads saying they won't even be in the house during the day, they won't bring their stuff with them, all they want to do is sleep in a bed or on a couch for the night," Ms O'Connor said.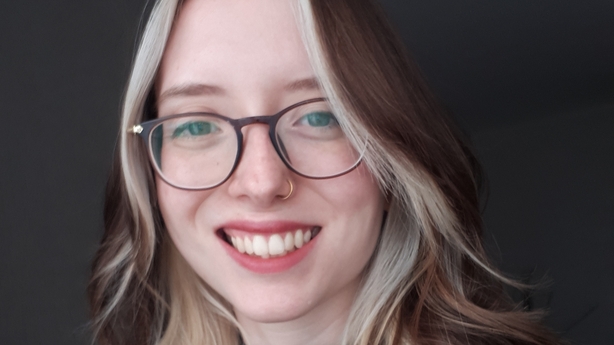 'I honestly don't know what I'll do'
One student affected is Aoife Dunne, a first year student from Co Laois who is trying to find accommodation in Co Limerick to take up an offer of an arts and design course at Limerick's School of Art and Design.
Ms Dunne said she has both autism and a physical disability which prevents her from being able to travel long distances.
After previously taking a Post-Leaving Certificate [PLC] course in Co Laois, she said she felt she was now prepared to live away from home and applied for the course in LSAD.
However, despite being accepted for the course, she now faces the prospect of either paying for accommodation far in excess of her budget or having to turn down the course entirely.
"I'm really struggling to find accommodation in Limerick. I need it to be close to the college because of my disability, I can't walk very far, and that's proving very difficult," she said.
"I'm on a waiting list for one student village, this was March or April, and I've been kind of emailing them every few weeks asking for updates and I still do not have a place. I have no other leads in terms of accommodation.
"I was looking on Daft.ie and there are exactly, as of two days ago, there were two whole properties in all of Limerick and both of them were over €1,000 a month, which obviously is not very viable for me as a college student.
"I honestly don't know what I'll do if I don't get accommodation. If I don't get somewhere to live my only option would be to not go to college next year," she said.
Efforts to 'increase capacity now'
Minister Harris said he had to do "everything we possibly can now to increase capacity now", including promoting the rent-a-room relief scheme, which he said is "an immediate practical measure" that colleges and local communities can help with today.
Mr Harris said he believes "it's an attractive scheme for a homeowner who has a spare room, who can earn up to €14,000 a year without paying a cent in tax" or impacting social welfare benefits.
He said the Government has made changes to make the scheme more attractive and "we're beginning to see the benefits".
The minister said when it was last pursued to its full extent in 2018, around 3,000 students were accommodated across Ireland through the scheme.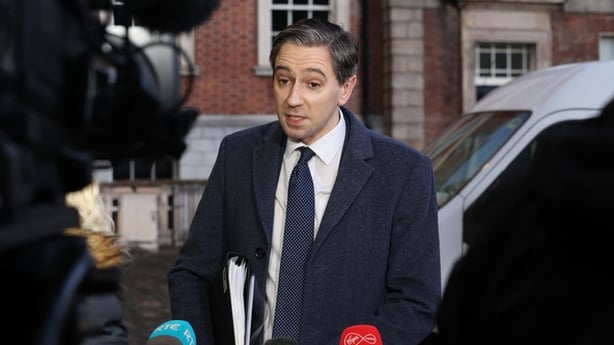 "Almost every college, if not every college in Ireland, is now keeping a register of local rental rooms," Mr Harris said.
"I was looking at websites this morning and there's already hundreds of beds offered on these hubs."
Mr Harris added that the level of college accommodation for students has increased this year across the country.
"We are starting this college year with more student accommodation than ever before. There are many hundreds and, probably during the course of the college year, there'll be about 1,200 additional student accommodation beds opened compared to this time last year," he said.
He also said the Minister for Housing issued "a very strong circular to the local authorities that if you have built purpose-built student accommodation that you can't use that during term time for things other than students".
For students who are within a commutable distance, Mr Harris said the Government has halved the public transport costs for anyone under the age of 24.
Mr Harris also said he does not believe the current student accommodation policy is adequate.
"I haven't believed it's adequate since I've taken up this role and that's why we've worked to change it," he said.
"And that is why for the very first time, the Government will invest hard-earned taxpayer money in helping colleges bridge that gap so that they can build college-owned affordable accommodation."
We need your consent to load this rte-player contentWe use rte-player to manage extra content that can set cookies on your device and collect data about your activity. Please review their details and accept them to load the content.Manage Preferences
Additional reporting Fiachra Ó Cionnaith