"Nothing changes, if nothing changes" is the mantra that Westmeath footballer Luke Loughlin now lives by.
Over the last twelve months the 27-year-old has faced the biggest struggle of his life, but he's now in recovery and last weekend he lined out on the Westmeath team that won the inaugural Tailteann Cup.
"A year ago I was in a very bad place, and I had to come to terms with an addiction to alcohol and drugs," Luke explained.
"Basically, my addiction was anything that could take me out of reality. I was ruining my life every time. It was like there was a big button on my chest, 'self-destruct', time and time again," he said.
We need your consent to load this rte-player contentWe use rte-player to manage extra content that can set cookies on your device and collect data about your activity. Please review their details and accept them to load the content.Manage Preferences
In July last year he left Mullingar for treatment in the Cuan Mhuire addiction centre.
"The day before I went in, I remember being all over the place, but I went on to Instagram and searched bodyweight workouts, and I wrote out about 30 or 40 workouts.
"I didn't think the place could sort me out, so I thought I'll bring the workouts and I'll come out of this place fit at least," he laughed
"I remember doing one of the workouts the first day I was there. I was doing it in the room between two beds and someone walked in on me, and the sweat was dripping off me. I thought to myself, how am I so unfit?"
His recovery was only beginning.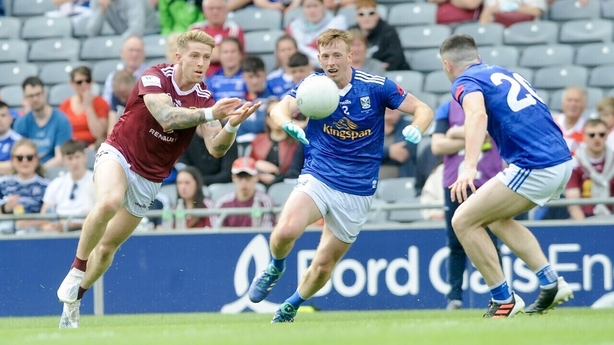 "I could go on the beer for two weeks or go missing for two weeks and missing from work. I was so consumed by what other people thought about me and about my image. I was so insecure about the way I looked," he explained.
"I genuinely got to the stage where I hated everything about myself so when I was drinking and doing drugs, I was becoming someone else but ultimately that person I was becoming was killing me.
"It was killing everything, my reputation, my family life."
However, in Cuan Mhuire, Luke Loughlin became stronger, and he began to open up about his problems.
"It changed my life. I was able to focus on myself for the first time ever. I was able to deal with the problems that I had from when I child. I was able to deal with my addiction," he said.
After three months in Cuan Mhuire, Luke returned home and fitness became another important part of his recovery.
"I spent so much time in my local gym, Wolfhound Fitness with the owners Joe and Katie. They were basically my aftercare. I came in here and was able talk openly and freely," he said.
"I've never left this gym in bad form. Exercise is so important. Even going for a walk, it's so good for the mind.
"Football has been unbelievable too. This is the first year that I've made it from pre-season with Westmeath to the last game of Championship without getting dropped, without getting dropped and called back in or without doing something stupid with drink.
"To be honest I'm very proud of myself. It might sound so small to someone else but that's huge for me."
We need your consent to load this rte-player contentWe use rte-player to manage extra content that can set cookies on your device and collect data about your activity. Please review their details and accept them to load the content.Manage Preferences
Luke Loughlin's battles off the pitch made last weekend's win even sweeter.
Exactly a year into his recovery, he said his thoughts as he ran out in Croke Park last Saturday, were of those who had helped him when he needed it most.
"I thought about my mother Oonagh. I've put her through such hardship over the last ten years and seeing the smile on her face," he said.
"She was the first person I seen after the final whistle. She's not the biggest football fan but she's my biggest fan and my best friend. My brothers were there too. It was very special.
"This time last year a video went around of me asleep at the side of a train track. I had been on a bender for two months.
"I just thought about all the people who messaged me to say how happy they are to see me healthy and happy now."
Arriving home to Mullingar last Saturday evening was "unbelievable", the footballer said.
"I can't put into words how good it was. There were maroon and white flags everywhere because there were times, like when we played Limerick in the league, there wasn't ten people there," he laughed.
"I just wanted to make sure that I took it all in. These things don't happen every day. I wanted to soak it all up and I'll have these memories forever.
"The Westmeath team is such a special group of people, so close. Everyone is so special. I keep saying the word special because that's what they are.
"I'm delighted we won something because it's something to show for all the hard work."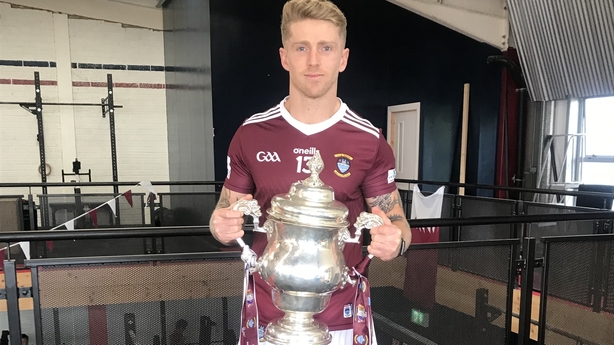 For now, Luke Loughlin is savouring his success both on and the field.
This weekend his focus turns to the club championship. As a dual player with Clonkill (hurling) and the Downs (football) he has a busy summer ahead.
And although he admits he still struggles, he now deals with his problems head on.
"A year ago, I was so full of fear, fear of being rejected and today I still struggle with a lot of those things, but I know how to deal with now," he said.
"I can talk about them openly and I think if people did more of that we wouldn't have half the problems we have."
He has urged young people and in particular young men to reach out for help.
"Being yourself is the most important thing in life. People are so worried about what others think but you can waste your life trying to be someone different and that's exhausting," he said.
"Everyone has problems. Everyone on this planet has problems. It's all about talking about them. This went on with me for ten years and it just got worse.
"If you are going through something, share it. You don't have to be macho. You don't have to be like that. You can show weakness, you can let things out.
"You feel so much better if you talk about stuff. I think that's the important message."
Luke Loughlin admits that telling this story is outside his comfort zone, but he also believes opening up is allowing him to heal.
The GPA's member support line is open 24/7/365.

It's good to talk.#mentalhealth #addiction pic.twitter.com/1jR0EiWUVT

— GPA (@gaelicplayers) July 14, 2022