Cork Airport says it is on target to reach 2019 passenger levels over the next two years having seen a massive rebound in business since the lifting of Covid-19 restrictions.
Speaking today, as Ryanair announced new services to Rome, Fiumicino and Newcastle, Cork Airport acting Managing Director Roy O'Driscoll said that while passenger numbers plummeted to just over 250,000 last year, growth so far this year "has been immense".
He said the country's second largest airport is on target to see some 2.1 million passengers by the end of the year, and is confident it will be back to the 2019 level of 2.6 million passengers by 2024.
As well as announcing the three new services from Cork, Ryanair also plans to extend six summer routes into the winter - Faro, Milan Bergamo, Bordeaux, Gran Canaria, Venice, and Valencia.
In all, it will operate 27 routes out of Cork this year, just over half of the airport's current 42 routes offering.
Mr O'Driscoll said the airport was fortunate to have Government funding which allows them to give a 30% discount on airport charges which "is now clearly bearing fruit".
But with the incentive scheme due to run out at the end of the year, Mr O'Driscoll said in the past they would have had growth schemes to incentivise growth and "I suppose we will be back to that unless there is an extension of any supports", he said.
"Throughout Covid we have been lucky to add some really key carriers such as KLM, Lufthansa, and Ryanair have huge growth ambitions," Mr O'Driscoll said.
"We have a very good mix in Cork across all our airline partners and there is definitely pent up demand that we are seeing in 2022, but early signs are that 2023 will also see strong leisure demand.
"So we are very hopeful that we can get back to our 2.6 million passenger level of 2019."
Today's routes announcements coincided with the 35th anniversary of Ryanair operating out of Cork.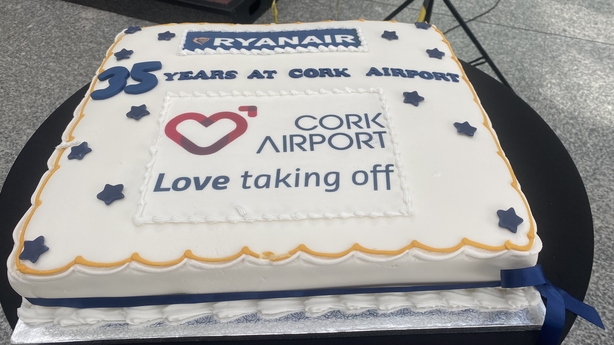 The airline's Head of Communications Jade Kirwan said since 1987, Ryanair has carried 16 million passengers to and from Cork.
But she warned while they hope to consolidate this relationship "this would wholly depend on Cork Airport not increasing their charges, as other Irish airports have proposed".