Ireland West Airport Knock and Shannon Airport have been recognised as age friendly airports by the World Health Organisation.
Key criteria include low noise levels, places to rest and sit, safe footpaths, accessible toilets and clear signage.
Following consultation with older people, both airports identified improvements needed including age friendly parking and seating, covered walkways and dedicated staff to assist older people to and from aircrafts.
Chief Officer of Age Friendly Ireland, Catherine McGuigan, welcomed the new initiative saying many older people enjoyed the opportunity to travel in later life but navigating airports can be a challenge for those with reduced mobility who find it difficult to stand and queue for long periods of time.
Speaking at a ceremony in Ireland West Airport, Marie Flanagan, Chair of Mayo's Older People's Council said: "I am delighted to be part of the process that recognises our local airport as age friendly.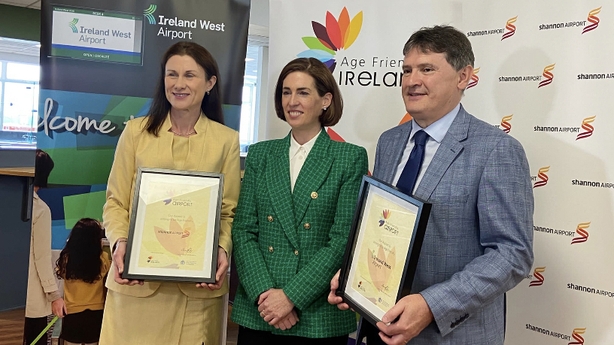 "I am greatly reassured of the ease of access and customer support that is available.
"There is great comfort in planning your journey knowing that it will be stress free"
Joe Gilmore, Chief Executive of Ireland West Airport Knock, said: "Over the past two years the airport has been working to enhance our services and facilities for older people in order to meet the requirements of the Age Friendly Recognition Programme."
Minister of State at the Department of Transport Hildegarde Naughton officiated at the launch.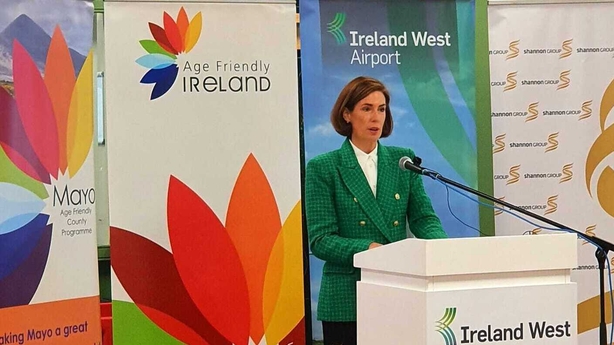 She said: "Ireland has taken an international lead in making the airport environment age friendly and we now look forward to sharing this learning with other airports around the world.
"Making sure that airport facilities are age friendly is an effective way to enhance their accessibility and usability for everyone.
"It ensures that domestic passengers feel confident in organising a trip abroad and it makes Ireland more attractive as a destination to older travellers from other countries."
CEO of Shannon Group Mary Considine outlined the commitment to age friendly principles: "It is wonderful to be one of two airports on Ireland's west coast leading the way to being age friendly by enhancing facilities for older people and becoming as inclusive as possible.
"Achieving Age Friendly Airport status not only benefits our older passengers, but all of our customers and staff. It facilitates the promotion of Ireland as an 'Age Friendly' country."