President Michael D Higgins has unveiled a monument in Kenmare in Co Kerry dedicated to volunteers from the area who took part in the War of Independence, including the Headford Junction Ambush of 1921, during which the British Army suffered some of its heaviest losses of that war.
It was part of a day-long series of events by President Higgins and his wife Sabina in the town attended by hundreds of people.
Many of those were children from local primary and secondary schools.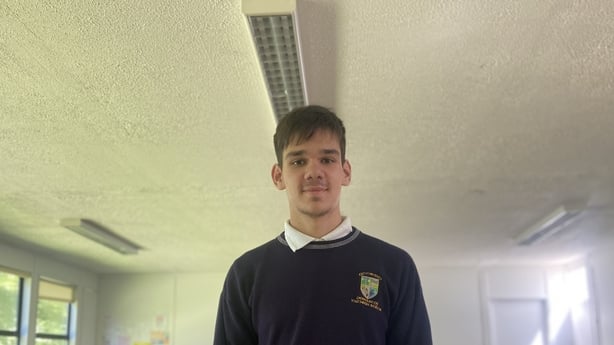 Pupils from Pobalscoil Inbhear Scéine in Kenmare read the proclamation in several languages, reflecting the diversity of nations from which they are drawn.
Among them was 16-year old Pavlo Marin, who fled Kyiv in Ukraine on 3 March with his mother Olena.
They are now living at Lauragh, outside Kenmare, and Pavlo is in transition year in Pobalscoil Inbhear Scéine and hoping to study languages.
He already speaks Ukranian, Russian, English and German.
Pavlo met President Higgins after today's ceremony.
"My life has changed after I came from Ukraine to here," Pavlo told RTÉ News.
"For me to meet the Irish president - it is unbelievable," he said.
President Higgins said the thousands of people fleeing Ukraine for Ireland allowed the public to look again at migration.
"In a way, we should know about migration more than most," President Higgins said.
"My wish for Pavlo and, indeed, all the Ukranian boys and girls who are coming here is that we meet their needs."
President Higgins unveiled the War of Independence monument at the Square in Kenmare at the invitation of Cathaoirleach of the Seanad, Mark Daly.
President Higgins also visited the 13-acre Kenmare Peninsula lands near Kenmare Pier. Kerry County Council and the local community are developing the lands as a public park. President Higgins planted an oak tree to mark the occasion.
Later, Ms Higgins spoke at an event at Cumann na mBan Park in the town.
She pointed out that it was Kenmare woman Rosalie Rice who sent a telegram from Kenmare Post Office on Easter Monday 1916 to her cousins, Timothy and Eugene Ring at Valentia Cable Station, who relayed the message to the United States that the Easter Rising had begun.