A new all-weather RNLI lifeboat has reached its permanent home in Clifden in Connemara.
The arrival of the St Christopher marks the culmination of a sell-out fundraising campaign which sees the names of 10,000 people inscribed on the vessel.
They were placed there by members of the public to commemorate loved ones. The lettering is 3-4mm in height and contained within the RNLI letters and numbers of the lifeboat.
The long awaited St Christopher set sail from Poole Lifeboat Centre in Dorset, England, on Friday with stopovers in Plymouth, Penlee, Ballycotton, Kinsale and Valentia before coming home to Clifden.
This life saving vessel means so much to so many people whose loved ones will be remembered in a very special way; 10,000 names will go to sea with the crew every time the lifeboat launches.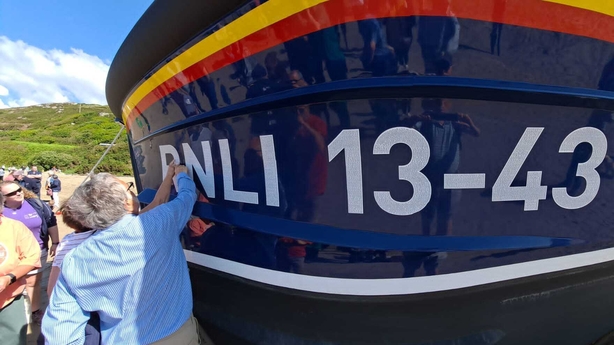 Among them the Mulkerrin family from nearby Claddaghduff who lost two brothers, Liam a fisherman who drowned at the age of 25 in 1984 and Fechín who died in a separate fishing incident in 2009. He was 49-years-old.
Their sister Mary McDonagh is filled with great pride to see their names displayed along with that of their father, Feichín Mulkerrin Senior.
"We are delighted that their names are displayed together, united forever on this boat and in our hearts," she said.
"It's an incredibly emotional day but we feel it is so fitting that they will be part of every future rescue launch. The RNLI were a huge support to our family during the toughest of times."
The first name displayed on the hull of St Christopher is that of 26-year-old Lee Early from Donegal.
The RNLI volunteer lost his life a number of years ago following an accident on Arranmore Island.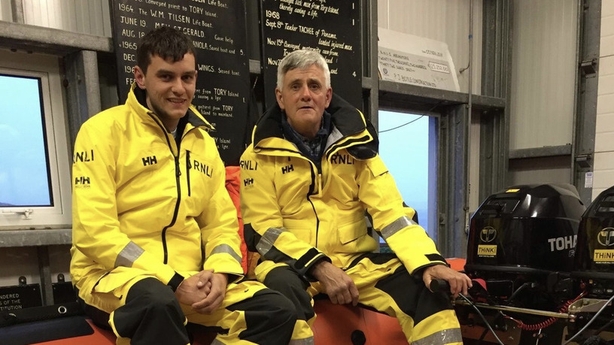 Mr Early was the Deputy Coxswain at Arranmore RNLI and a skipper of the local ferry.
His dad Jimmy is a lifeboat coxswain with Arranmore RNLI.
"I was so proud when Lee followed in my footsteps," he said.
"The sea is in our blood. Now he will be with us every time we launch this lifeboat and bring people to safety. This is such a meaningful way to commemorate my dear son."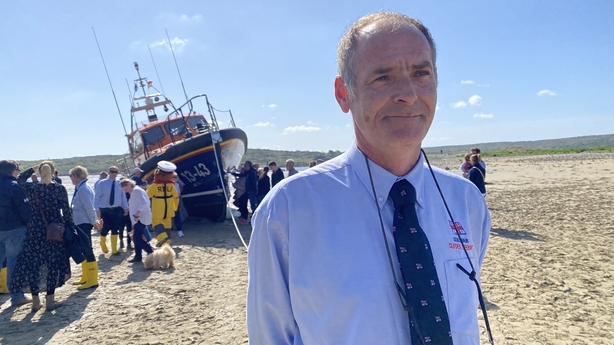 Commenting on the arrival, Clifden RNLI Coxwain John Mullen said: "We have been working towards this day for a long time.
"It is an honour for us to carry these 10,000 names onboard our new lifeboat, the St Christopher.
"My own grandparents names are displayed which means a lot to me on a personal level.
"Every time we launch, the names of everybody's loved ones will accompany the lifeboat crew on its mission to save lives at sea.
"There are many incredibly moving stories behind each name and we hope to do them all proud."
Supporters and members of the public have been viewing the Shannon class lifeboat at low tide today.
Those who have a loved one's name onboard, can get up close and and see where the inscription is recorded.
Galway couple David Wylie and Eilín Griffin Wylie are remembering their baby son, Darach who they lost at 26 weeks.
The 'Launch a Memory' campaign invited people to have a loved one's name placed on the boat in return for a suggested donation of €30 to the RNLI.
Two years on, the initiative has been a sell out success. Some 10,000 names later, it brings joy to loved ones and much needed funds for the RNLI.
Information on the campaign and a search tool to find a particular name is available on the RNLI website.