A memorial service has been held to mark the 30th anniversary of the murders of five Catholics by loyalist paramilitaries in south Belfast.
The findings of an investigation into allegations of collusion between police and the killers will be published next week.
At around 2.20pm on this date in 1992 two loyalist gunmen walked into Sean Graham's bookies shop in south Belfast and shot all 12 customers.
One opened fire with an automatic rifle before the other used a handgun to shoot victims as they lay on the ground.
In less than a minute, five people were killed: Jack Duffin (66); Willie McManus (54); Christy Doherty (52); Peter Magee (18); and James Kennedy (15).
All of those shot that day - including five of the injured who have died in the years since - were remembered in a service at a permanent memorial at the side of the bookies this afternoon.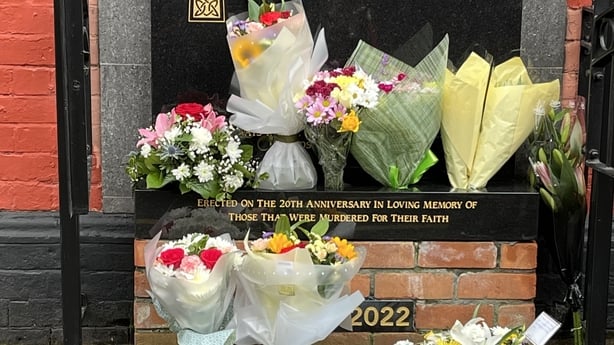 Flowers were laid, candles lit, music played, and doves released. A priest led a decade of the rosary for those killed and injured, and prayed that their families "will get justice".
The findings of an inquiry by Northern Ireland's Police Ombudsman into allegations of collusion between the police and those responsible for the attack, and the murders of 6 other Catholics in the south Belfast area, will be published on Tuesday.
The families of those shot say they expect it to confirm what they have suspected and claimed for many years: that RUC Special Branch and British army intelligence between them armed the killers and then ensured they were never prosecuted.
Bosco Kennedy was 17 when the life of his 15-year-old brother James was ended that day.
"On my way home, I just remember everybody standing at their doors looking at me because they already knew that my brother had been shot, and I didn't know," he said.
"Two years later my mum died of a broken heart, she just could never get over the death of her second born son."
He expects the Ombudsman's report to confirm that forces that were supposed to uphold law and order were involved.
"We don't want the people who walked into that bookies with the guns," he says.
"We want to know who put the guns in those people's hands, and who protected them for the other thirty years, and allowed them to act with impunity and never ever face prosecution."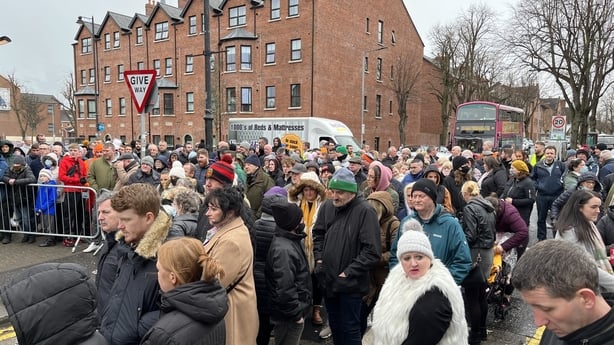 Mark Thompson, of the campaign group Relatives For Justice, told the crowd the evidence of collusion is clear and quoted eyewitnesses from the time who reported both overt and covert British army activity in the area before and during the attack.
"These murders were preventable," he said.
"The people that carried them out carried out countless murders and we know they were protected by the Special Branch, British military intelligence and MI5."
The victims' families say British government plans to end prosecutions for Troubles killings are an attempt to cover up the involvement of state forces in the deaths of their loved ones and many others.