One of Cork's best known contemporary artists is selling her collection of sketchbooks and drawings in a bid to raise money to secure a permanent home.
Eileen Healy's figurative work is in some of the country's top collections including those of the OPW and the Crawford Art Gallery.
A musician too, the 54-year-old said the pandemic brought home the need for a home and studio of her own as she grows older.
"It is a worry, it is there in my head everyday as to where am I going to be in my older years."
Eileen had to leave her rented home of 20 years last year, but while she has managed to find another place to rent, she is increasingly worried about finding a permanent home in the current housing crisis.
Soon she will also have to leave her studio with the Backwater Artists Studio in Cork as her tenancy there comes to an end after 20 years.
"I know friends who have had to go into homeless shelters because they just can't find anywhere to live. They are middle aged, later in life, and its just not right. There has to be another way."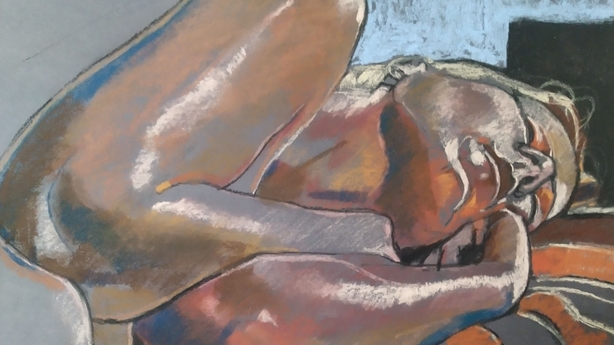 Originally from Youghal, Eileen says she can't get a mortgage because of the precariousness of her income working in the Arts.
She has now decided to sell her vast amount of paintings and sketch books online in a scheme she calls 'Lay A Brick'.
"I was sitting in my studio looking at my work and I thought there has to be a way out of this problem and why not use my own creativity and my own talent to try and get me out of this situation and help me along.
"So, I decided to try and sell all of my work, or as much of it as I can before I leave the studio, and then hopefully put that towards buying, yes, getting a home of my own."
Eileen graduated from the Crawford College of Art and Design in 1988.
Student of the Year, she has exhibited in Dublin, Berlin and New York, and her work can be found in the Crawford Art Gallery's permanent collection as well as in the art collections of UCC and the OPW.
Along with being a painter and musician, she also teaches on a part-time basis at the Crawford College of Art and Design.
Her popular portrait of writer Conal Creedon in the Crawford Collection was recently chosen as one of the 'Cork in 50 Artworks'.