Two pop-up soup kitchens in Dublin, which serve food and drinks to people who are homeless, may have to close due to compliance issues with food safety standards, following inspections from the Health Service Executive.
The 'Homeless Street Café' and 'Friends Helping Friends' were inspected last month by Environmental Health Officers and issued with letters listing evidence of infringements on food safety standards.
The soup kitchens are set up on the street once or twice a week in Dublin city centre, using trestle tables where sandwiches, fruit, drinks, cakes and hot food are laid out.
There are up to 30 other pop-up soup kitchens operating on different days and in different locations across the city.
The food is entirely donated from the general public from their home kitchens.
After an inspection, the HSE recommended that the soup kitchens only receive food from people or businesses that are registered with the HSE.
Co-founder of Homeless Street Cafe Denise Carroll said the food they serve is made "with love" and said she believes they serve around 300 people when they operate on a Tuesday night, which they done every week for the past five years.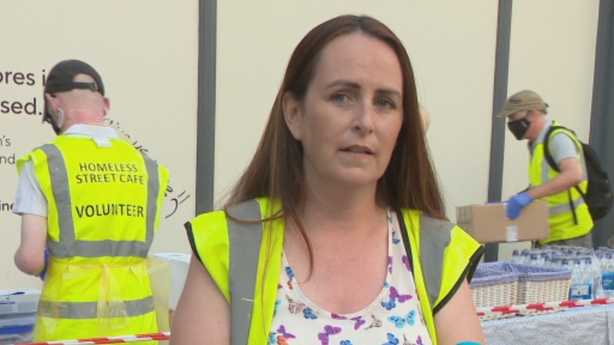 The HSE inspection found that the soup kitchen was in violation of several food safety standards, including: that the food business was not officially registered, there was no temperature monitoring of food, workers were not fully trained in food hygiene, there was no information provided as to who made the food, there was no facility for hand washing, and there was no allergen information available for the food.
The letter also states that there will be a follow-up inspection next week and failure to comply may result in formal enforcement action being initiated by the HSE.
Ms Carroll said: "We have utmost respect for any sort of recommendations, but when it's taken to a level where it's impossible for us to meet; that every kitchen that makes a sandwich, that makes a pot of dinner for us has to be a HSE registered site, they have to be HAACP trained, they have to be inspected.
Two pop-up soup kitchens in Dublin, which serve food and drinks to people who are homeless, may have to close due to compliance issues with food safety standards, following inspections from the Health Service Executive | https://t.co/vWlVOv86Ss pic.twitter.com/fEo5CfwEx7

— RTÉ News (@rtenews) July 22, 2021
"Straight away that's going to deter people. They have to open their family home to make a sandwich? I just think our priorities are all wrong."
While Ms Carroll said they would do whatever they could to improve the service, adding that hand sanitiser is available and those queuing are asked to wear face masks.
They use hot and cold boxes to store the food before it is served, and Ms Carroll said they could carry out food temperature monitoring.
However, she said getting kitchens registered with the HSE is beyond their means and she is worried it will stop the service.
Kingsley Igbinosa has been homeless for the last 30 months, and eats from the pop-up soup kitchens nearly every day.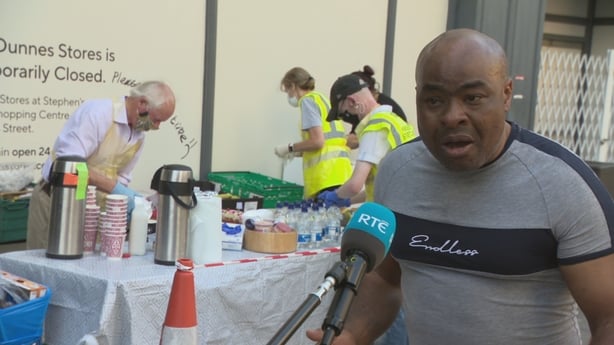 "Nobody should even contemplate shutting them down, that's how important they are. The food is always neatly wrapped, I don't have any complaints.
"For the past 30 months almost, I have lived in this situation where I feed from this kitchen, so that's how important they are," he said.
Mr Igbinosa said the service Ms Carroll runs gave him the clothes he was wearing, and when asked what it would mean if the service disappeared, he said: "It would mean starvation."
In a statement to RTÉ News, the HSE said all food businesses must comply with the requirements of food law and this type of service is included under the definition of a food business.
The statement also said that those accessing homeless services are among the most vulnerable in our community and may be immunocompromised and therefore may be at risk of serious illness as a result of food borne infection.
Dr Bernard Hegarty, Director of Enforcement Policy with the Food Safety Authority of Ireland, said that compliance with food safety standards is necessary under the law.
"We can't create a situation where we segregate out the poor people and deem it acceptable to give them a lower level of safety.
"A similar situation, for example, wouldn't be acceptable in a prison kitchen, again operating on a not-for-profit basis. It wouldn't be socially accepted to say that because they are in prison they are subject to a lower level of food safety. We have to come up with better answers than that," he said.
Under the awning on College Green in Dublin City, Glenda Harrington, founder of Friends Helping Friends, sets up for a busy, and balmy evening of serving food to those most in need.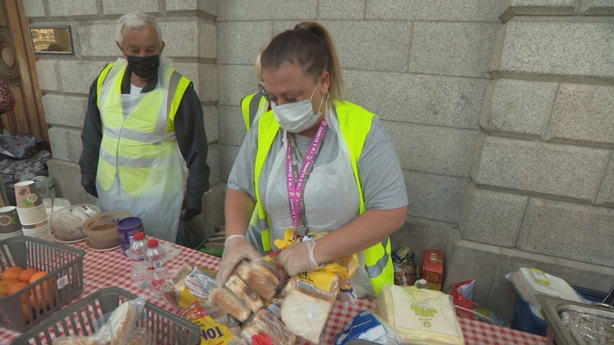 She will also be subject to a follow-up inspection next week to check compliance with the food safety standards and said she could not possibly have every kitchen registered.
Ms Harrington said that should her service close, she thinks people would die.
"There are people in that queue that come here for food, yeah, but they come for emotional support.
"They come for the respect they receive, compassion, things like that, that they are not getting anywhere else in the day. So we feel very very very strongly about not being shut down."