Like elsewhere in the country, large crowds are likely to congregate over the bank holiday weekend in Cork, while also from Monday pubs, cafes and restaurants will be able to serve outdoors that will bring a further influx.
Preparations have been under way by Cork City Council, which was one of the first local authorities to respond to its traders and businesses in the wake of the economic impact of the pandemic.
Last summer, it temporarily pedestrianised six of its streets including Princes Street. Such was the success that it has fully pedestrianised 17 city centre streets in recent weeks as part of a Reimagining Cork City plan.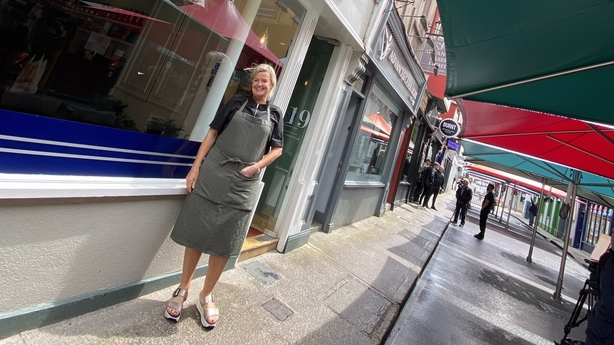 As Claire Nash, owner of restaurant and shop Nash 19 on Princes' Street, said: "We did it last year, we covered it this year", referring to outdoor dining.
On Princes Street, the 29 traders got together and with the support of Cork City Council, and funding from Fáilte Ireland.
They have put 80 metres of the street under colourful, bespoke, heated pergola umbrellas, from which ten of the businesses will operate beginning Monday - a first, the traders say, in the country.
As well as 4km of new cycle lanes city wide, and 1.3km amenity space at the Marina (a river side walkway in the city), the city council sponsored 12 so-called 'parklets', including one outside one of the city's best known hotels, the Imperial.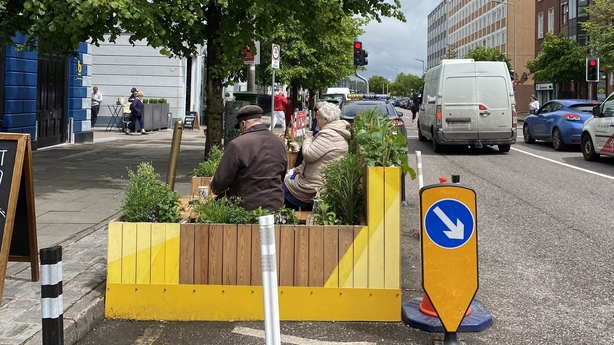 Imperial Hotel general manager Bastien Peyraud said Cork City Council invited businesses to consider looking after a parklet and they immediately applied for one.
"Customers have really responded well to the idea," he said. The parklet was designed and made locally and is stocked with locally grown plants.
"Very, very popular, it is a great bit of green space in Cork city, they were very much needed and are very appreciated by the people of Cork," Mr Peyraud said.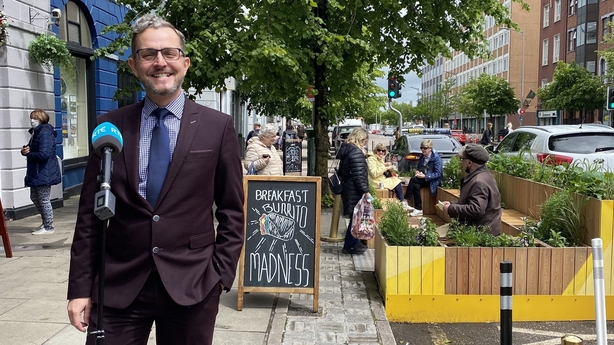 "I have watched for the past 12 months Cork City blossoming, between the pedestrianisation of the streets, this parklet and all the projects Cork City Council and the people of Cork have run together.
"It's absolutely fantastic, especially me being French seeing all this city coming into play so quickly - wow, I really, really am impressed."