Plans for a significant redevelopment of part of Galway Harbour have been announced.
Centring on the so-called "inner dock" area, the proposals include the construction of a number of high-rise buildings, on lands currently used for storage and car parking.
However, the plans are largely dependent on approval for an extension of the port, which is still under consideration at present.
The Galway Harbour Company lodged a planning application for the extension in 2014. It would involve the reclamation of around 27 hectares of land, south of an existing business park.
That proposals were referred to the European Commission, as part of a submission that the project was necessary for 'Imperative Reasons of Overriding Public Interest' (IROPI). This is a rarely used derogation of the EU Habitats Directive.
The Commission has responded to that submission in recent months and the matter has been referred to the Minister for the Environment by An Bord Pleanála.
The plan unveiled today would take in a seven hectare site running westwards from the railway bridge on Lough Atalia Road to Dock Street, behind the Long Walk.
The Galway Harbour Company says the development would provide housing, commercial units and recreational spaces. CEO Conor O'Dowd said the plan would revive the dockland area of the city.
Subject to approval, it is envisaged that the harbour extension would be completed by 2032 with the inner dock works finished a year earlier.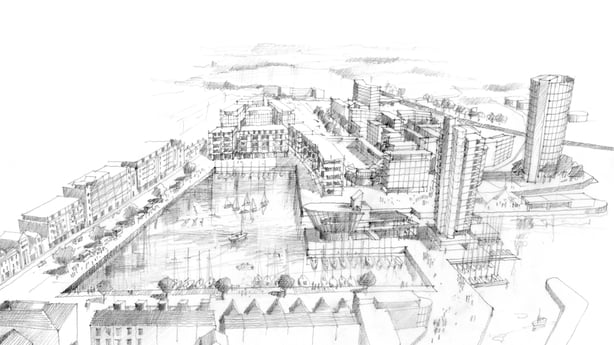 Meanwhile, an application to significantly expand Galway Harbour is being considered by the Ministers for Housing and Culture.