It has been an eventful time for 13-year-old Becky Hynes from Co Cork, who calved her first set of twins on her family's farm over the weekend.
The second year student says she has been buzzing since it happened.
Becky has always been heavily involved in the family farm in Aherla, along with her two sisters Chloe (17) and Georgina (8).
The past month has been a very busy time with lots of sleepless nights for the family, with 140 new calves born so far on the farm since the end of January.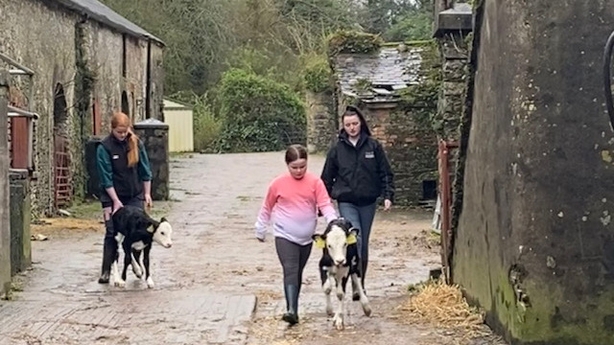 On Sunday night, Becky took on the role of calving the set of twins by herself, after offering to give her parents a break.
She kept an eye on the twins' mother via an app on her father Peter's mobile phone. Just before two o'clock it was clear the mother was ready to deliver, and soon after with Becky's help, a pair of healthy Hereford twins were born.
"By the time we got down, the first calf was out, so then I put my hand in to make sure the second calf was coming right - because 9 out of 10 times the calf could be coming backwards and if you don't get them out quick enough it might not end well, like - but he was coming fine, thank God."
She said she was a little nervous but very excited because it was her first time to deliver twins on her own.
"I've watched Mom and Dad do it many times but it was my first time dealing with it myself. I was buzzing for the day after it, it was very exciting."
We need your consent to load this rte-player contentWe use rte-player to manage extra content that can set cookies on your device and collect data about your activity. Please review their details and accept them to load the content.Manage Preferences
Her dad Peter says there is a great sense of pride that she got on with it herself, that she had the confidence to go and calf a cow with twins, because twins can always be a little more complicated.
And given that the Irish agriculture industry is very much family based and known for family farming around the world, he said "it's great to see the next generation, the kids, getting stuck in and getting confidence in a job hopefully they will continue".
As on many farms, it is a tradition to name their animals. Mum Paula says choosing names is all down to spending time with them.
The family already have a Snowball, Biden, Bear and Kiara, to name but a few.
"It's mainly their faces and the look in their eyes for me. You will be just spending time with them and it (the name) will just come to you. It's kind of hard to explain but that's literally how it happens," she said.
"There was Tim and Tina, but they just don't look like a Tim and Tina, so I think Jack and Jill is definitely suitable for them - they look like a Jack and Jill."
So, Jack and Jill it is!
Becky plans to go to college and study Business and Agriculture, travel for a while, before returning home to do her own "bit of farming".